Stand up for the facts!
Our only agenda is to publish the truth so you can be an informed participant in democracy.
We need your help.
I would like to contribute
About 800 people refused to get a drug screening because they are "out there on drugs."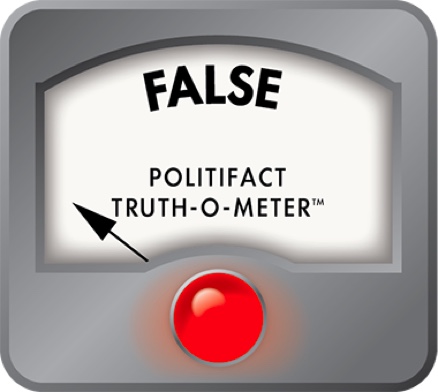 About 800 people refused to get a drug screening because they're on drugs, said Paige Kreegel
Florida leaders are reviving failed efforts to require drug tests of people who get taxpayer money.

The Legislature ordered drug-testing of welfare recipients in 2011, but a federal judge halted the program. Gov. Rick Scott ordered random testing of state employees within his purview, but he suspended the tests in June 2011 after another legal challenge.

Regardless of the lawsuits, state lawmakers are still trying to put drug-testing for state employees into law.

To bolster support of HB 1205, lawmakers discussed on Feb. 15, 2012, the results of their drug-testing initiative for welfare recipients.

During a committee hearing, Rep. Paige Kreegel, R-Punta Gorda, said he read in a newspaper that only 83 people who applied for temporary cash assistance from the state failed the required drug screening. The number is low, he said, but there are hundreds more who are on drugs but were deterred by the drug screening. (Kreegel, by the way, has said he intends to run for the U.S. House of Representatives later this year.)

"In the last line they (newspapers) do admit that there are about 800 and some people who refuse to take the drug test," he said, "which tells me if you add 'em all together there's 1,000 people out there on drugs. Nine out of ten of them are smart enough not to take the drug test."

He went on to say people would have used the money on drugs "and now they're not." 

We were struck by Kreegel's numbers and assumptions. Is there evidence to back it up?

Kreegel's reasoning

Kreegel defended his statements when we reached him by phone. "I think it is a fairly safe assumption that a person would refuse to take a urine drug test because they were afraid of being caught with drugs," Kreegel said.

The drug test is the final requirement to receive temporary cash assistance, or TANF as it's called, after the agency verifies an applicant's income, background, child support and ID.

Applicants pay an average of $35 for the test up front and are reimbursed by the state if they pass.

We're not sure where Kreegel learned that 80 or so people failed the test, or that 800 or so people declined to take it, though he said it was from a newspaper story. We found several stories that measured the requirement's effectiveness throughout its tenure, but they didn't use those numbers.

Let's take it one step at a time.

Who failed the test: Kreegel's figure of about 80 failed tests is not far from the tally over four months of practice, according to the Department of Children and Families, which administers the TANF program. He actually underestimated it.

Of the 4,086 applicants who scheduled drug tests, 108 people failed their tests, a fail rate of 2.6 percent, according to DCF. About 1 percent of applicants, or 42, scheduled tests but canceled them.

About 96.3 percent of applicants passed the screenings. The high pass rate means the state paid out more than $100,000 in reimbursements to applicants who passed over the four-month period.

Who started their application but didn't take the test: Kreegel said 800 or so people walked away before taking the drug test. The department reported a number nearly three times as high -- 2,306.
We asked the department if it had any way to know why people didn't take the test.
"There is no way to determine why someone did not take the test," said Joe Follick, DCF spokesman. "We did not have the capacity or legal authority to survey each applicant's decision-making process."

Other reasons someone might not take a drug test
The American Civil Liberties Union has sued the state against the drug policy on behalf of Luis Lebron, an Orlando student and a Navy veteran. Derek Newton, an ACLU spokesperson, said there were many reasons people might apply for benefits and then not take the drug tests.

They might not have enough money to pay for the tests up front and wait for state reimbursement. They might find a job in the meantime and not need benefits. They might leave the state for work or for personal reasons. They might qualify for other benefits that make them ineligible for the program. They might be unable to find a nearby testing center.

Lebron refused to comply with the drug-testing requirement, arguing it was an unreasonable search because there wasn't a reason to assume he was on drugs. The judge who issued the temporary injunction agreed with him, writing in her order, "The constitutional rights of a class of citizen are at stake."

In a subsequent discussion of the state-employee drug testing bill, Kreegel repeated the gist of his assumption that applicants did not take the test because they were on drugs.

"People made allusions to the fact that … a very small percentage of people tested positive," he said Feb. 21, 2012. "But the rest of the truth in that story is that about 10 percent of the people who refused a drug test didn't receive welfare. I personally believe that those would-be welfare recipients were probably not concerned as much about their constitutional rights as they were about the possibility that would test positive. So I think in that case we saved our voters from subsidizing drug abuse."

Our ruling

Let's review. Kreegel said about 80 people failed a 2011 drug screening requirement to receive welfare, and about 800 more applied for benefits but refused to be screened because they are "out there on drugs." One of our principles for fact-checking is that people have to have evidence for what they say. In this case, Kreegel doesn't have evidence to back up that statement. Meanwhile, drug-testing opponents have offered a number of other reasons why someone might not want take a drug test. And the department that administers the tests can't say why people don't take it. 

Kreegel's numbers are also off. They're actually higher than he stated, as 108 people failed the test and 2,306 applied for benefits but did not take the test. 

So Kreegel gets the numbers wrong. But more importantly, he makes a blanket statement about people who don't take the test being on drugs, when evidence doesn't exist. We rate his claim False.
"After dying in the House, Constitutionally-questionable drug-testing requirement revived," Miami Herald Naked Politics blog, Feb. 15, 2012

"Governor Rick Scott Commends Legislative Action on Drug Testing, Announces New Staff Drug Testing Policy," Gov. Rick Scott's website, March 22, 2011

Executive Order 11-58

"Gov. Rick Scott orders random drug tests for state workers," Tampa Bay Times, March 23, 2011

Interview with Mary Leslie, Department of Management Services spokeswoman, Feb. 17, 2012

Interview with Lane Wright, Gov. Rick Scott spokesman, Feb. 17, 2012

Interview with Rep. Paige Kreegel, R-Punta Gorda, Feb. 17, 2012

Interview with Ann Howard, Department of Corrections spokeswoman, Feb. 21, 2012

Interviews with Joe Follick, Department of Children and Families spokesman, Feb. 17-27, 2012

"Judge blocks welfare drug tests," Palm Beach Post, Oct. 25, 2011, accessed via Nexis

Email interview with Derek Newton, ACLU of Florida spokesman, Feb. 27, 2012
Browse the Truth-O-Meter
More by Katie Sanders
Support independent fact-checking.
Become a member!
In a world of wild talk and fake news, help us stand up for the facts.