Stand up for the facts!
Our only agenda is to publish the truth so you can be an informed participant in democracy.
We need your help.
I would like to contribute
Says there's no proven instance where hydraulic fracking has polluted groundwater.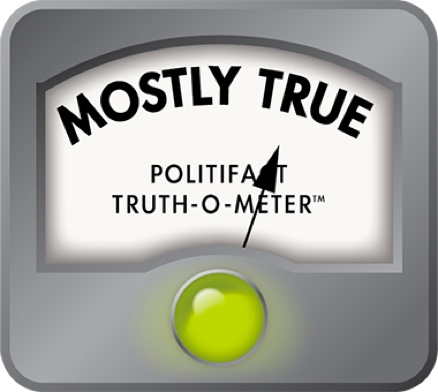 Rick Perry says there's no proven instance of groundwater polluted by fracking
Before he suspended his candidacy for president, Texas Gov. Rick Perry gave a spirited defense of fracking, a process that extracts natural gas from thousands of feet underground.

"You cannot show me one place where there is a proven – not one – where there is a proven pollution of groundwater by hydraulic fracking," Perry told a college student who raised the topic at a December 18, 2011, stop in Decorah, Iowa, according to the Texas Tribune.

Not one?

Perry's sweeping claim tracks with the November 2011 release of preliminary findings of a study by the University of Texas Energy Institute. A November 10, 2011, Austin American-Statesman news article quoted the study's leader, UT geologist Charles "Chip" Groat, saying hydraulic fracturing "doesn't seem to be of concern to groundwater."

Groat said the study had looked at regulatory violations and frameworks in states with major shale drilling operations, including Texas, Louisiana, New York and Pennsylvania. "The violations that we've seen are of no, minor or small impact," he said.

Perry's claim also echoed more than 25 others made by regulatory officials, as compiled by a pro-drilling group, as well as a May 2011 assessment by the head of the Environmental Protection Agency. The EPA's administrator, Lisa Jackson, was asked at a May 24, 2011, hearing of the U.S. House Committee on Oversight and Government Reform whether hydraulic fracturing can affect aquifers and water supplies. Jackson replied: "There is evidence that it can certainly affect them. I am not aware of any proven case where the fracking process itself has affected water."

The "fracking process itself"?

Fracking might be fun to say, but it's a little slippery to define.

Both Jackson and Perry were using a very specific definition of fracking, their spokeswomen told us by email, referring only to the step in the process where the shale rock is fractured.

In high-pressure hydraulic fracturing for natural gas, a mix of water, sand and chemicals is shot down into the well, bursting out of holes in the pipe lining the well and cracking the gas-bearing shale rock. Gas then flows from the cracks back up the pipe for collection. The immense increase in fracking since the mid-2000s came about because companies began to use this process in horizontally drilled wells, which cost more but also reach more of the layer of shale that lies as deep as two miles below the earth's surface.

But the energy industry and environmental groups use the term fracking in very different ways.
Fracking expert Terry Engelder, a professor of geosciences at Pennsylvania State University, mapped out the two positions for us.

"Industry likes to restrict the use of the term hydraulic fracturing to just that process taking place underground during which time high-pressure water opens natural cracks or creates new cracks at the depths of the reservoir rock," Engelder told us by email.

Conversely, Engelder said, opponents of drilling "consider fracking to encompass the entire process from leasing land through drilling and sending natural gas to market."

PolitiFact Ohio acknowledged as much in a July 14, 2011, article. Evidence supported an Ohio lawmaker's claim that state agencies had no proof of groundwater contamination from fracking, though the statement was rated Mostly True because in one case, a state panel found that a well's cement casing allowed gas to seep into water wells (and up into homes, causing an explosion).

Even by the narrow definition, some environmentalists say that EPA reports from 1987 and 2011 prove that fracking has contaminated water.

The 1987 report (unearthed last year by the national nonprofit Environmental Working Group) said that "residual" fracking fluid "migrated" into a private water well after a nearby gas well had been fractured in West Virginia. The Dec. 8, 2011, preliminary report found fracking was a possible cause of groundwater contamination in Pavilion, Wyo., where a company was fracking inside an aquifer -- an unusual case, according to the report.

EPA spokeswoman Betsaida Alcantara offered us no comment on the 1987 report, though an Aug. 4, 2011, news story by an independent nonprofit news organization, ProPublica, quotes an unidentified EPA official as saying the agency was reviewing that case.

The 2011 report, Alcantara told us, "tentatively found a link between groundwater contamination in an aquifer with hydraulic fracturing. The report is not final and it will now go through independent scientific review."

Also using the narrow definition, other regulatory officials said they did not know of groundwater pollution by fracking.

The Texas Railroad Commission regulates fracking in Texas. Commission spokeswoman Gaye Greever McElwain told us, "Commission records do not indicate a single documented water contamination case associated with the process of hydraulic fracturing in Texas.

Similarly, an official with the National Groundwater Protection Council told us in a telephone interview that fracking has not been proven to contaminate groundwater. Mike Paque, executive director of the council comprising groundwater regulators and oil/gas regulators from state agencies, said the depth at which shale is fractured makes contamination by fracking itself practically impossible.

"There's no water down there to drink," Paque said. "Private wells go a couple hundred feet down, and these are 11,000 feet down. So the fact that people say that, and that my state regulatory agencies say that, and the drinking water agencies say that, is correct, period."

To get our own fix on possible water pollution by fracking, we examined lists of incidents that were described as fracking-related by EarthJustice, a nonprofit law firm; the National Resources Defense Council, an environmental advocacy nonprofit group; and ThinkProgress, a blog run by the American Progress Action Fund, a liberal think-tank.

Because we were seeking "proven" groundwater contamination, we first eliminated claims not related to water pollution and accounts that did not include independent evidence, such as a state investigation or newspaper story. Of the remaining 56 claims of groundwater contamination, not a single one fit the "industry" definition of fracking -- the one Perry was using, his spokeswoman, Lucy Nashed, told us.

Yet how close to that step in the process were they? We identified 11 incidents that appeared to be both substantiated by outside evidence and linked to an essential part of the process of hydraulically fracturing a well. The 11 included events such as fracking fluid leaking from wastewater pits or from pipe lining a fracked well. Several were "blowouts," which Engelder defined for us as the (normally controlled) process in which "high pressure gas blows fracking water out of the well to clear the way for natural gas production."

A few examples:
The two views of fracking seem irreconcilable.

Jason Pitt, a spokesman for the Sierra Club, told us by email: "Fracking is just one small part of an overall industrial process to extract natural gas. When speaking about ground water contamination, it is very misleading to refer back to just the fracking process." He said there are many cases of water contamination "that have occurred as a result of natural gas extraction across the country."

Engelder, the Penn State geologist, disagreed. "Anti-drillers," he said, "have lots of proof of spills and leaks and other stuff including noise pollution and so forth because they consider fracking to be the all-encompassing, creeping industrialization of rural areas."

Attempts to tie events such as surface spills to hydraulic fracturing miss the point, he said. "Fracking is such a toxic word in the English language that Americans are blaming all sorts of bad things on it when, in fact, Governor Perry was using the term hydraulic fracturing correctly in his comment."

Our ruling

Perry's comment, focused on "proven" incidents of groundwater polluted by the specific step of breaking the shale rock, holds up. However, the definition of fracking is debated -- and if we rope in all incidents that take place at such wells, there have been more than a few reported incidents of groundwater contamination.
We rate the claim Mostly True.
Texas Tribune news story, "Perry Confronted Over Fracking and Gay Rights," December 18, 2011

Austin American-Statesman news article, "UT study: 'Fracking' no worse for water," November 10, 2011

Energy in Depth document, "State Regulators on Hydraulic Fracturing," accessed February 29, 2012

Testimony of Environmental Protection Agency administrator Lisa Jackson to the U.S. House Oversight and Government Reform Full Committee, May 24, 2011

Email and telephone interviews with Lucy Nashed, deputy press secretary with the Office of the Governor, January 27-30, 2012

Email and telephone interviews with Betsaida Alcantara, press secretary for the EPA, January 25, 2012

Email interviews with Terry Engelder, professor of geosciences at Pennsylvania State University, January 30-February 2, 2012

PolitiFact Ohio article, "State Sen. Kris Jordan says 'fracking' hasn't contaminated Ohio groundwater," July 14, 2011

Ohio Department of Natural Resources report, "Report on the Investigation of Natural Gas Invasion of Aquifers in Bainbridge Township of Geauga County, Ohio," September 1, 2008

Environmental Working Group report, "Cracks in the Facade," August 3, 2011

EPA release, "EPA Releases Draft Findings of Pavillion, Wyoming Ground Water Investigation for Public Comment and Independent Scientific Review," December 8, 2011

ProPublica news story, "Does an Old EPA Fracking Study Provide Proof of Contamination?," August 14, 2011

Email and phone interviews, Texas Railroad Commission public outreach information officer Gaye Greever McElwain, February 1-22, 2012

Email and phone interviews, National Groundwater Protection Council executive director Mike Paque, February 13-22, 2012

EarthJustice map, "Fracking Across the United States," accessed February 1-22, 2012

ProPublica news story, "Buried Secrets: Is Natural Gas Drilling Endangering U.S. Water Supplies?," November 13, 2008

Vanity Fair news story, "A Colossal Fracking Mess," June 21, 2010

ProPublica news story, "Louisiana Well Blowout Forces Hundreds From Homes," April 20, 2010

(Wilkes-Barre, Pa.) Times-Leader news story, "Operator suspends fracking in state," November 4, 2011

Email interview with Jason Pitt, press secretary for Sierra Club's Natural Gas Reform Campaign, January 13, 2012
Browse the Truth-O-Meter
More by Sue Owen
Support independent fact-checking.
Become a member!
In a world of wild talk and fake news, help us stand up for the facts.