Get PolitiFact in your inbox.
"Santorum also voted for a teapot museum in North Carolina."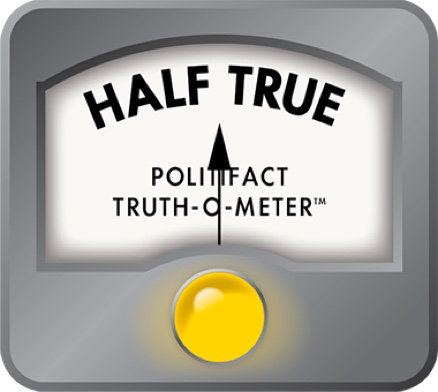 Rick Perry says Rick Santorum voted for a teapot museum
Heading into the Iowa Caucus, Texas Gov. Rick Perry was working to stir a tempest in Rick Santorum's teapot.

Perry's campaign released a Web ad, taking Santorum, the former Pennsylvania Senator, to task for supporting a string of earmarks during his time in Washington.

The ad, launched Jan. 2, 2012, on Perry's Website, accuses Santorum, who had surged in Iowa polls, of voting to spend taxpayer money on a teapot museum in North Carolina, among other earmarked projects.

"Why are these pigs so happy? … Because Rick Santorum is a porker's best friend," reads the ad, titled "Rick Santorum - Unelectable," which depicts a herd of pigs.

"Santorum voted to spend millions on the Bridge to Nowhere," the ad reads. "Santorum also voted for a teapot museum in North Carolina."

PolitiFact looked into Perry's claim about the "Bridge to Nowhere" earlier this week, ruling it Mostly True. But is Perry right that Santorum voted in favor of the teapot museum, as well?

In the advertisement, the Perry campaign cites Senate Roll Call vote 264 of 2005, in which the U.S. Senate passed the related appropriations bill by a 93-1 vote.

The legislation, sponsored by Sen. Sam Brownback, R-Kan., included $450,000 in funding for the New River Community Partners Museum Development Project, which was responsible for the Sparta Teapot Museum of Craft & Design in North Carolina. Museum Managers started working in 2003 to raise funds for a new building to house a private collection of more than 6,000 teapots.

In October 2005, Santorum voted in favor of the Senate appropriations bill, along with each of his Republican colleagues present at the time. And he reaffirmed his support the next month when he allowed the legislation, which had been combined with the House version, to pass by unanimous consent.

The only other current presidential candidate serving in Congress at the time, U.S. Rep. Ron Paul, R-Texas, did not vote either on the House bill or the combined proposal.

But does Santorum's vote indicate support for the museum itself? Analysts say maybe not.

Representatives from the Santorum campaign didn't return requests Tuesday for comment about the teapot museum. But, last week, he defended his support for earmarks to a crowd at an Iowa town hall meeting.

"Go and look at the Constitution. Who has the responsibility to spend money? Clearly, in the Constitution it is the Congress," Santorum said, according to the Des Moines Register.

"Now what has happened is that the system was abused, and it got a bad name, and as a result of that, I have said, 'Look. the Congress has lost the public trust, and (earmarks) have to be suspended.'"

Relating specifically to the 2005 appropriations bill, Santorum's positive vote does not necessarily indicate support for the teapot museum, according to some analysts.

In total, the bill included billions of dollars in funding for more than 1,100 earmarks, according to the House report.

Among the thousands of earmarks, the final version of the bill directed funding to nearly 70 projects in Santorum's native Pennsylvania, including $750,000 for a Sept.11 memorial garden in Lower Makefield Township; $250,000 for the YWCA in Chester; and $200,000 for the Pittsburgh zoo, according to the bill report.

"(The teapot museum) became a very symbolic needle, but it's a needle in the haystack nonetheless," said Steve Ellis, vice president of Taxpayers for Common Sense, a non-partisan group that tracks federal earmarks.

"Did he vote for it? Yeah. He voted for funding the Department of Transportation, Housing and Urban Development and everything else," Ellis said. "That said, don't vote for things if you don't want to be called out for supporting them."

As a side note: the federal money for the Sparta Teapot Museum was returned in 2009 after the museum board disbanded and the facility closed due to lack of funding, according to the museum website.

Our ruling: The 2005 appropriations bill did fund the teapot museum, along with more than 1,100 other earmarked projects. But, Santorum didn't vote for the museum in particular. He voted for the total appropriations bill, which provided billions in funding for federal transportation and housing projects, among others. Perry is right about the vote, but he leaves out important detail, which fits our definition of Half True.
Rick Perry presidential campaign, video, "Rick Santorum - Unelectable," January 2, 2012

PolitiFact Texas, "Rick Perry says Rick Santorum voted for the Bridge to Nowhere," January 2, 2012

U.S. Senate, "Vote No. 264, 109th Congress, 1st Session," October 20, 2005

U.S. Senate, "Report 109-109," July 26, 2005

U.S. House of Representatives, "Conference Report 109-307," November 17, 2005

Des Moines Register, "Santorum defends votes for 'Bridge to Nowhere' and other political earmarks," December 29, 2011

Interview with Steve Ellis, vice president of Taxpayers for Common Sense, January 3, 2012
Browse the Truth-O-Meter
More by Jake Berry
Support independent fact-checking.
Become a member!
In a world of wild talk and fake news, help us stand up for the facts.