Stand up for the facts!
Our only agenda is to publish the truth so you can be an informed participant in democracy.
We need your help.
I would like to contribute
President Obama has "said he is going to cut veterans' benefits."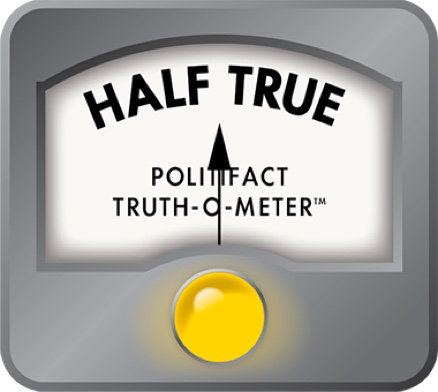 Rick Santorum says President Barack Obama wants to cut veterans' benefits
Rick Santorum says the president wants to solve the budget deficit by picking the pockets of America's military veterans.

In a debate on Jan. 19, 2012, in Charleston, S.C., Santorum said he grew up in VA housing and saw Vietnam vets who were badly in need of medical and psychological care. He said service members returning from war now should have better support.

"We need to be much, much more aggressive. We have the president of the United States who said he is going to cut veterans' benefits, cut our military, at a time when these folks are four, five, six, seven tours, coming back, in and out of jobs, sacrificing everything for this country," Santorum said.

We decided to check: Does President Barack Obama intend to cut benefits for veterans?

Expansions to benefits

Obama's proposed budget for fiscal year 2012 increases the overall Veterans Affairs budget by more than 10 percent. The numbers are big: from $53 billion in FY 2010 to almost $59 billion in FY 2012.

It provides new benefits for veterans' caregivers, including health care and mental health services, and invests nearly $1 billion in VA services for homeless veterans and those at risk of becoming homeless.

The White House pointed us to several examples of how VA services have been beefed up, summed up in a comment Obama made in 2009:

"We dramatically increased funding for veterans' health care: more care for women's veterans, for our wounded warriors from Iraq and Afghanistan suffering from post-traumatic stress disorder, traumatic brain injuries," Obama said at a 2009 signing of a bill that funds veterans' medical care a year in advance.

Separately, PolitiFact has given Obama seven Promise Kept ratings on pledges he made to improve services to veterans, compared with zero Promise Brokens.

Proposed cuts

Santorum's campaign did not respond to our email about his statement, but he may have been referring to Obama's deficit reduction plan, which increases fees for some programs.

In September 2011, Obama submitted his outline for how to pay for his American Jobs Act. It was intended to serve as a guide to the joint committee tasked with finding savings in the federal budget.

In that plan, Obama proposed three possible "reforms" or increases in fees in military programs:

* A new $200 annual fee for TRICARE for Life recipients. Open to veterans 65 and older, TRICARE for Life pays out-of-pocket expenses not covered by Medicare. This proposed fee is estimated to save approximately $6.7 billion over 10 years, according to the plan.

* Increases in pharmacy co-pays. The plan says "co-payments for military members have lagged behind other federal and private plans. For example, the average co-payment for a costly brand-name drug purchased at a drug store by a federal retiree in the most popular medical plan option is estimated to be $45, compared to $9 for a military retiree."

* Review and reform military retirement benefits. The current system, the plan states, "provides generous benefits to the relatively few members who stay for at least 20 years and no benefits for the roughly 80 percent of service members who stay less than 20 years. To consider reforms the Administration plans to set up a commission to develop recommendations for reforming the current military retirement system." We should add that the president suggests grandfathering in those now serving so that major reforms don't affect them.

What others say

We contacted a few veterans groups to get their take on how the president has served veterans.

Joe Davis, director of public affairs for Veterans of Foreign Wars, said Obama "has been consistent in statement and action on protecting the Department of Veterans Affairs budget."

But the changes Obama has floated are a concern.

"We are, however, concerned that budget cuts currently under consideration by the Department of Defense could undermine the viability of the all-volunteer force by changing the current military retirement system and by diverting more health care costs—higher enrollment fees and prescription co-payments—onto the backs of military retirees who were first required to donate 20 or more years of their youth to their nation. This is in addition to previously announced plans to shrink the size of the active-duty force," Davis said in an email.

Joe Violante, national legislative director for Disabled American Veterans, echoed that sentiment.

"The president has increased vet funding over the years and has expanded many programs, women vets, caregivers and PTSD and TBI (traumatic brain injury), to name a few. He is also responsible for supporting advance appropriations for VA health care funding. While you are correct in saying there are proposals to TRICARE fees, these are not usually considered vet programs and come under DOD. Thus far, vet programs have done well under this administration," Violante said in an email.

Our ruling

Santorum said that Obama has pledged to cut veterans' benefits.

That is not the case with the VA budget, which Obama wants to increase.

But there are some proposals for programs in the Defense Department budget that might shift more expenses to veterans. On balance, we rate Santorum's claim Half True.
CNN Southern Republican Debate, Charleston, S.C., Jan. 19, 2012, transcript accessed via Nexis

President's proposed budget FY 2012

President's deficit reduction plan, "Living within our means and investing in our future," Sept. 2011

Email interview with Joe Davis, Veterans of Foreign Wars, Jan. 20, 2012

Email interview with Joe Violante, Disabled American Veterans, Jan. 20, 2012

PolitiFact.com, "Promises about Veterans on the Obameter"

WhiteHouse.gov, "Remarks by the President at signing of the Veterans Health Care Budget Reform and Transparency Act," Oct. 22, 2009

CNN.com, "Truth Squad: Santorum's tally of Obama cuts don't add up," Jan. 20, 2012

USAToday.com, "Fact check: CNN South Carolina debate," Jan. 20, 2012
Browse the Truth-O-Meter
More by Molly Moorhead
Support independent fact-checking.
Become a member!
In a world of wild talk and fake news, help us stand up for the facts.