Get PolitiFact in your inbox.
The Pasco County budget "has doubled in the past three years."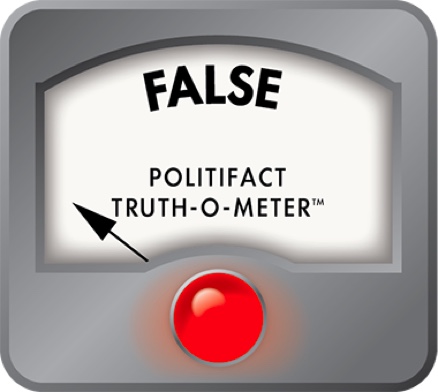 Rachel O'Connor says Pasco County's budget has doubled in three years
Rachel O'Connor is running against three-term incumbent Pasco County commissioner Ted Schrader and another well-financed businessman, Ron Oakley. So, the University of South Florida graduate student and Republican activist is trying to use her conservative message to stand out from the pack.
During a recent interview with an editorial writer and reporter from the Times, O'Connor said she brings a different perspective to Pasco's problems.
One problem? Excessive spending, she said, casting Pasco County's budget in stark terms.
"Our budget has doubled in the past three years," she said, echoing a claim she made at a recent candidate forum. "I think we need to prioritize spending."
The claim prompted a double take. Here's what happened next:
Editorial writer C.T. Bowen: "I've got to back you up. The budget's doubled the last three years?"
O'Connor: "Yeah."
Bowen: "How's that possible?"
O'Connor: "It's possible. I talked to Mr. Nurrenbrock (the county's longtime budget chief). You can double-check it with him. It has. In the past three years. It's now over $1 billion."
Reporter Lee Logan: "Um, there must be… I guess… That's not the general revenue portion of the budget?"
O'Connor: "That's the total budget."
Clearly there's something funky going on here.
So we called budget chief Mike Nurrenbrock. He pointed us to the budget's final summary page. Sure enough, under "total county budget," it includes $554 million for Fiscal Year 2011, $1.1 billion for Fiscal Year 2012, and $1.1 billion for the proposed budget that begins Oct. 1.
But Nurrenbrock explained that line doesn't exactly compare apples to apples. Here's the key: the FY2011 figure lists what was actually spent that year. The next two numbers are the total budget, even though officials know a good chunk of the money won't be spent that year.
Nurrenbrock said that "dramatic difference" is money that is rolled from each year to the next. That includes reserves, large capital projects and money for bond issues.
"There's a major portion of our budget that just goes forward the next year, pretty much every year," he said.
Some high-profile examples: The county has $32 million in general fund reserves in case a major storm hits, and there is a similar $5 million pot in the municipal service fund. About $11.5 million in tourism taxes have been collecting for 20 years, and commissioners recently earmarked the money for a sports complex in Wesley Chapel.
There is a $7 million fund for economic development incentives or infrastructure. And there's a total of $93 million in transportation impact fees. Those are set aside for specific projects that simply haven't gone out to bid. That figure includes about $40 million for the long-stalled Ridge Road extension.
And so on.
Nurrenbrock said it's more accurate to compare the total spending plans from each year. Here are the last five bottom-line budgets: $980 million (FY09), $949 million (FY10), $1.03 billion (FY11), $1.09 billion (FY 12), and next year's proposed $1.1 billion.
O'Connor acknowledged the mistake. She said it stems from trying to make sense of a complex, 292-page spending plan. Challengers are often at a disadvantage to incumbents regarding budgetary details, because sitting commissioners are supposed to know how the county's money is spent.
"As candidates, it's very difficult to look at that budget and come up with specific things to cut," she said. "When you try to get insight with the county administration, they're not the easiest to work with."
Fair enough. Also, O'Connor isn't the only candidate to make a wild claim about Pasco's spending. District 3 hopeful Kathryn Starkey recently retracted a line about reining in "runaway local government spending" that was on her campaign flier. In an interview, she said, "All in all, I think our county government has done a good job of being fiscally conservative in a tough time."
But O'Connor's claim about a ballooning county budget is shocking — especially as property tax collections have shriveled in the past several years. The claim is also incorrect. O'Connor's statement earns a False.
Pasco County Fiscal Year 2013 budget, accessed July 20

Pasco County Capital Improvement Plan FY 13-17, accessed July 20

Interview with Pasco County Commission candidate Rachel O'Connor, July 12 and 20, 2012

Interview with Pasco County budget chief Mike Nurrenbrock, July 13, 2012

Interview with Pasco County Commission candidate Kathryn Starkey, July 16, 2012
Browse the Truth-O-Meter
More by Lee Logan
Support independent fact-checking.
Become a member!
In a world of wild talk and fake news, help us stand up for the facts.