Stand up for the facts!
Our only agenda is to publish the truth so you can be an informed participant in democracy.
We need your help.
I would like to contribute
"The Florida Legislature raised taxes and fees by almost $2 billion" in the 2009 session.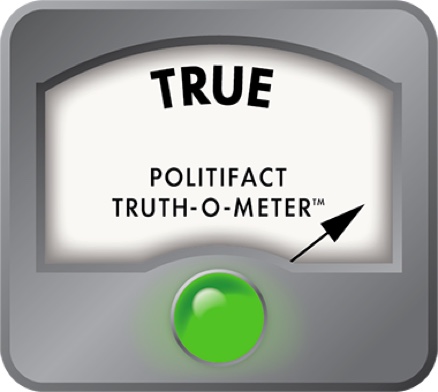 Charlie Justice says the Legislature raised $2 billion in new taxes and fees
Facing a staggering budget shortfall last year, Florida's Republican-dominated Legislature had to make some tough decisions. Lawmakers relied on $5 billion in federal stimulus money, trimmed Medicaid reimbursement rates and cut several hundred government jobs. They also raised taxes and fees, a move that didn't sit well with Sen. Charlie Justice, D-St. Petersburg, who is running for the congressional seat now held by Republican Rep. C.W. Bill Young.

"The Florida Legislature raised taxes and fees by almost $2 billion" in the 2009 legislative session, Justice claimed in a press release. He said the new taxes fell disproportionately on the middle class and that lawmakers should end exemptions to the sales tax and corporate income tax that "cater to corporate special interests."

Republicans say their goal was to maintain basic levels of service while still cutting government. (State spending has dropped more than $7 billion since 2006-07, largely because of plummeting tax collections.)

"We were in kind of a unique situation last year," said Todd Reid, the staff director for House Majority Leader Adam Hasner. Reid said that Florida had to maintain previous levels of education and health care spending to qualify for stimulus funds. "We felt we had reduced about as much as we could at that point."

Given the size of the budget shortfall and the state's high unemployment rate -- it was 11.8 percent in December -- lawmakers sought new revenue sources. But $2 billion in tax and fee hikes? From a Legislature dominated by Republicans? We wondered if that was right.

According to the Office of Economic and Demographic Research, the number mostly checks out. The office, which crunches budget figures for the Legislature, published a handy spreadsheet that details all of the laws passed in 2009 that affected state revenue, either positively or negatively. They include:

- $935 million from a $1-per-pack tax increase on cigarettes.
- $797 million from sharp fee increases to get a driver's license or new car tags.
- $304 million in higher business taxes to replenish Florida's bankrupt unemployment compensation trust fund.
- $195 million from fee increases for filing various types of court motions.

The bottom-line projection for the budget year that ends in June: A little more than $2.2 billion in new taxes and fees (in a total state budget of $66.5 billion). So Justice was actually a little low.

Two caveats: On the first day of the 2010 legislative session, lawmakers voted to delay the increased unemployment compensation tax for two years. (The rate was scheduled to jump from $8 per employee for most businesses to more than $100.) Without that increase, the total in new taxes and fees drops below $2 billion. But even though they put off the tax increase, lawmakers still approved it in 2009.

Also, it's worth noting the Legislature didn't increase taxes all by itself. Gov. Charlie Crist had veto power over every revenue increase and chose to strike only two small items from the budget.

Still, Justice's comment about new taxes is generally correct. State economists confirm that lawmakers passed new taxes totaling more than $2 billion last session. Even though he was slightly low, Justice was close enough to earn a True.
Sen. Charlie Justice, Florida's Tax System: 2nd Worst in U.S., Dec. 18, 2009

Office of Economic and Demographic Research, Measures Affecting Revenue - 2009 Session, accessed Feb. 26, 2010.

St. Petersburg Times/Miami Herald, "Crist signs $66.5 billion budget, breaks tax pledge," May 28, 2009.

St. Petersburg Times/Miami Herald, "Florida budget begins to take shape," April 29, 2009.

Interview Todd Reid, policy director for House Majority Office, March 2, 2010.
Browse the Truth-O-Meter
More by Lee Logan
Support independent fact-checking.
Become a member!
In a world of wild talk and fake news, help us stand up for the facts.