Stand up for the facts!
Our only agenda is to publish the truth so you can be an informed participant in democracy.
We need your help.
I would like to contribute
Says Ted Cruz slurred Republican senators including John Cornyn as "graybeards" and "spineless jellyfish."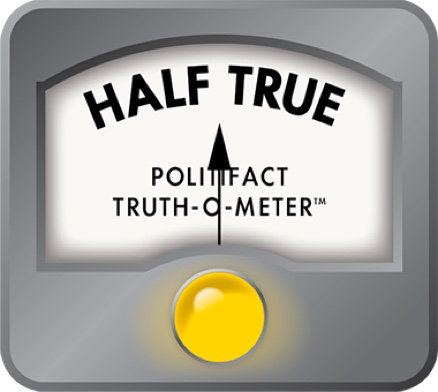 David Dewhurst says Ted Cruz slurred Republican senators including John Cornyn as "graybeards" and "spineless jellyfish"
David Dewhurst says another Republican candidate to succeed U.S. Sen. Kay Bailey Hutchison isn't likely scoring points with incumbent Senate Republicans.

Dewhurst, the Texas lieutenant governor, said of Ted Cruz in a Feb. 22, 2012, statement: "How effective will a senator be who slurs his GOP colleagues and party activists, including Sen. (John) Cornyn, as 'graybeards'and 'spineless jellyfish?'"

Did Cruz, a lawyer and former Texas solicitor-general, refer to established GOP senators -- all 47 --  in those terms?

The Dewhurst statement refers to a Feb. 21, 2012, Dallas Morning News news article noting Cruz's decision not to endorse Cornyn at that time to be the party's Senate whip. In contrast, the story says, several other Texas Republicans running for the Senate--Dewhurst, former ESPN announcer Craig James and former Dallas Mayor Tom Leppert--aired support for Cornyn.

The News' story quotes Cruz saying he won't decide his vote for the whip post until after November's elections once it's clear how many "constitutional conservatives" got elected. "I'm not going to prejudge," the story quotes Cruz saying. It later quotes him saying he's not ruling out support for Cornyn in the end.

According to the story, Cruz and Sen. Jim DeMint, R-S.C., argue that the Senate is at a "tipping point" and they predict a dramatic power shift with a handful of new conservatives to prod fellow Republicans toward more urgency when it comes to slashing spending and curbing government.

"It's not a win for conservative principles to get a spineless jellyfish," Cruz is quoted saying.

The story then says that Cruz routinely compares himself to Florida Sen. Marco Rubio, who won his seat in 2010. "In every one of those states," Cruz said, "the party graybeards were supporting somebody else. The establishment had somebody who was already picked to be quote 'a member of the club.'"

The story then says Cornyn, as part of the Senate leadership, "apparently is one of those graybeards," reporter Todd J. Gillman wrote.

Cornyn chairs the National Republican Senatorial Committee, which is dedicated to electing Republican senators. And in 2010, Cornyn supported then-Florida Gov. Charlie Crist over Rubio for the Sunshine State's Senate seat, the News' story notes, after which he conceded he'd made a mistake and further agreed to remain neutral in party primaries. DeMint pledged not to undermine incumbent Republicans in his quest for allies willing to "rock the boat," the story says.

A Nexis search revealed no other Cruz references to graybeards, though he previously invoked jellyfish. According to a July 26, 2011, Dallas Morning News commentary by Gromer Jeffers Jr., Cruz said at a July 2011 meeting of the Denton County Republicans: "All of us have been burned before by candidates who sound good on the trail and got into office and turned into spineless jellyfish. The basis of my campaign is a proven conservative record of over and over again standing up, fighting for conservative principles and winning on a national level."

By email, we asked Dewhurst campaign spokesman Matt Hirsch if Dewhurst had additional backup for Dewhurst's claim.

Hirsch pointed out a November 28, 2011, Morning News' blog post, based on blogger David Jennings' interview of Cruz. Jennings had written that day that Cruz told him that before each of four senators -- DeMint, Rand Paul of Kentucky, Mike Lee of Utah and Pat Toomey of Pennsylvania -- endorsed his candidacy, "their single most important question was this: Could he stand up to the leaders of the Republican Party? Cruz said that each of the men told him that the leadership of their own party had been their biggest hurdle, not Majority Leader Sen. Harry Reid, D-Nev. They wanted to make certain that he knew this and would be willing to look Minority Leader Sen. Mitch McConnell in the eye and tell him no."

Morning News' reporter Robert Garrett added: "By indirectly attacking McConnell, ...whose No. 2 sidekick in the leadership is expected to be (Cornyn), isn't Cruz unnecessarily alienating his party's leaders even before he gets to Washington?"

We asked Cruz's campaign if it had anything to share regarding Dewhurst's claim.

By email, Cruz spokesman James Bernsen called Dewhurst's claim false and scurrilous. Cruz has never called Cornyn by those names, Bernsen said. And when he bemoans "spineless jellyfish," Bernsen said in a telephone interview, Cruz is not referring to any senators in particular. "It's referring to people in the Republican Party in general who are not as committed to conservatism," Bernsen said. "He doesn't mention individual people like that."

Bernsen said in a follow-up email: "Ted has never once stated, suggested, or referred to Sen. Cornyn as anything other than what he is - an honorable and effective public servant who fights for Texas."

Our ruling

Cruz used the terms "spineless jellyfish" and "graybeards" when talking about Republican candidates and conceivably even senators whom he views as insufficiently conservative. On that, Dewhurst has a defensible point.

However, It's less clear that Cruz was talking specifically about Cornyn. True, his "graybeards" reference can be read to draw in Cornyn. But there's no evidence that Cruz has directly labeled Cornyn (or any individual senator) as a spineless jellyfish.

We rate Dewhurst's statement Half True.
Dallas Morning News, commentary, blog post and news article, "Senate hopefuls in Texas prepare to outduel Dewhurst," July 25, 2011; "Is purity more important than a GOP Senate majority to Cruz?" Nov. 28, 2011; "Ted Cruz surprises Senate analysts by hesitating to back fellow Texan John Cornyn for top post ," Feb. 21, 2012

Email and telephone interview, response to PolitiFact Texas, James Bernsen, communications director, Ted Cruz campaign, March 1, 2012

Emails, responses to PolitiFact Texas, Matt Hirsch, deputy communications director, David Dewhurst U.S. Senate campaign, Feb. 28 and 29, 2012
Browse the Truth-O-Meter
More by W. Gardner Selby
Support independent fact-checking.
Become a member!
In a world of wild talk and fake news, help us stand up for the facts.