Stand up for the facts!
Our only agenda is to publish the truth so you can be an informed participant in democracy.
We need your help.
I would like to contribute
"Student loan rates set to double because a Democratic-controlled Congress voted to double them."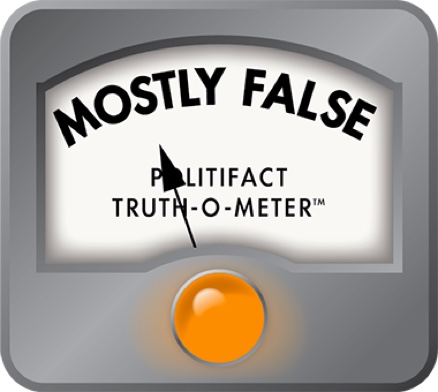 John Boehner tweets that Dems voted to double student loan interest rates
The U.S. House of Representatives voted April 27, 2012, on a measure to stop interest rates on student loans from doubling this summer.
Speaker John Boehner announced the surprise vote at a hastily called news conference on Wednesday, hours after President Obama named the Ohio Republican as a chief obstacle to the Democrats' plan to keep the loan benefit from expiring.

"This week the president is campaigning and trying to invent a fight where there is none and never has been on this issue of student loans," Boehner said. "We can, and will, fix the problem — without a bunch of campaign-style theatrics."

But the speaker himself had weighed in earlier on the issue, with a posting on Twitter that caught the attention of PolitiFact Ohio.

"Student loan rates set to double because a Democratic-controlled Congress voted to double them," he tweeted on @speakerboehner, his official account, in Twitter's 140-character shorthand.

It ended with a link to the speaker's blog, on his website, which added this: "In 2007, the Democratic majority in Congress enacted legislation to double interest rates on new federal student loans from 3.4 percent to 6.8 percent in 2012."

Voting to double student loan rates would hit a lot of wallets. We asked Boehner's office how he backed up the charge. They referred us to an Associated Press story linked on his blog.

"While Obama blames Republicans for voting against new ways to make college more affordable for middle-class families," the story said, "it was House Democrats who cut interest rates on the school loans in 2007 and included an expiration provision that placed the looming increase in the middle of an election year."

That does not describe a vote to double rates, and it did not clarify the issue to our satisfaction. We looked further.

The 2007 vote in question was on the College Cost Reduction and Access Act, H.R. 2669. It gradually reduced the interest rate on federally subsidized loans to undergraduate student borrowers from 6.8 percent in July 2006 to 3.4 percent in July 2011.

Advanced by a newly Democratic-majority Congress, the law had bipartisan support. Democrats were joined by 77 House Republicans and 35 Senate Republicans. The bill was signed by President George W. Bush.

The law was temporary. It expires this July. If no action is taken, the interest rate will return to 6.8 percent.

The increase would affect more than 7 million borrowers, and add $1,000 a year to the repayment cost of the average loan, according to Education Secretary Arne Duncan.

Obama's budget proposal for fiscal 2013 included money to extend the rate cut, but only for one year.

The Republican budget -- advanced by Rep. Paul Ryan of Wisconsin, supported by GOP leadership and passed by the House -- returns the interest rate to 6.8 percent.

Extending the program for one year would cost $6 billion.

Democrats have offered proposals to pay for extending the lower interest rate. One would end a payroll tax exemption given some business owners. Another would end tax subsidies for oil and gas companies.

Neither of those proposals was considered likely to draw any Republican support.

The GOP measure advanced by Boehner had its own poison pill that made it unlikely to get past, or to, Obama's desk: Boehner said the bill would pay the cost of the loan program with money for preventive health care programs from the Patient Protection and Affordable Care Act.

Boehner labeled the money a "slush fund," a characterization Republicans have long used for the program. PolitiFact rated the term as a Pants on Fire falsehood when Boehner applied it to the health care act a year ago.

But the statement we're reviewing now is this: "Student loan rates [are] set to double because a Democratic-controlled Congress voted to double them."

It is accurate in saying that Democrats were in the majority when Congress passed the College Cost Reduction and Access Act in 2007. It is accurate in saying that the loan rate reductions in the measure are scheduled to expire in July, and that the result would double the current rate.

But to describe that initial vote five years ago as one in which the Democratic majority "voted to double" rates this year is misleading at best.  

On the Truth-O-Meter, Boehner's statement rates as Mostly False.
Twitter @speakerboehner, April 24, 2012

Speaker Blog, "With Student Loan Mess, Democrats Reaping What They Sowed," April 24, 2012

Associated Press via Yahoo News, "Obama casts GOP as barrier to low-cost education," April 21, 2012

Email from Speaker Boehner Press Office, April 25, 2012

110th Congress, Bill Summary & Status, H.R.2669

The Hill, "House to vote on student loans," April 25, 2012

The New York Times, "Two Parties Find a Way to Agree, and Disagree, on Student Loan Rates," April 25, 2012

The Washington Post, "Obama officials push Congress to block doubling of student loan interest rate," April 20, 2012

Speaker Boehner news release, "House Will Vote to Extend Student Loan Rates, Cut ObamaCare Slush Fund," April 25, 2012

Inside Higher Ed, "Preview: Obama's 2013 Budget," Feb. 13, 2012

U.S. House Report 112-421, Concurrent Resolution on the Budget, FY2013

The Hill, "Pelosi says Dems are whipping votes against the GOP's student loan bill," April 26, 2012

PolitiFact Ohio, "House Speaker John Boehner labels money in health care bill 'slush funds'," March 31, 2011
Browse the Truth-O-Meter
More by Tom Feran
Support independent fact-checking.
Become a member!
In a world of wild talk and fake news, help us stand up for the facts.