Stand up for the facts!
Our only agenda is to publish the truth so you can be an informed participant in democracy.
We need your help.
I would like to contribute
"The United States imprisons more than any nation in the world."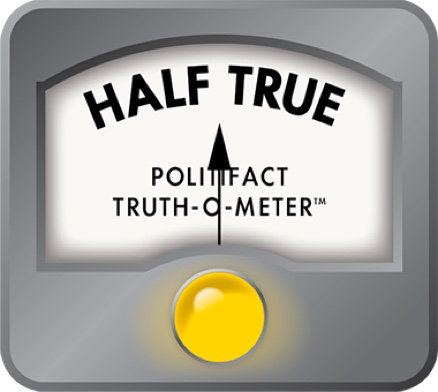 U.S. locks up more people than any nation, congressman says
The U.S.A. Land of the free and the home of the imprisoned?

U.S. Rep. Hank Johnson says the United States puts a lot of people in prison.

How many?

"Mister Speaker, the United States imprisons more than any nation in the world," the liberal Democrat from DeKalb County said one day in the House of Representatives. "We currently incarcerate 2.3 million people. The incarceration rate is not fitting for a nation which is routinely touted as the greatest nation in the world."

PolitiFact Georgia wondered whether Johnson was correct about his claim that America has more people in its prisons than any other country. Or should the congressman go into our fact-checking holding cell?

Johnson's main reason for the statement was a verbal volley at the American Legislative Exchange Council, which he accused of lobbying for harsher prison sentences that benefit some members that run for-profit jails. Johnson's office posted a video of his speech on YouTube.

The congressman's office sent us several news articles and reports to fortify his claim. The news coverage all said the United States led the world in prison incarceration. The coverage was based on data from the International Centre for Prison Studies, based at the University of Essex in Great Britain. The center consistently tracks prison populations worldwide, and its World Prison Population List is widely used in studies and by reporters.

The most recent study, using data as of May 2011, found there were nearly 2.3 million people in U.S. prisons, the same number Johnson used in his congressional floor speech. A 2010 congressional report said 2.3 million Americans were in prison. The report was based on 2008 data.

In the most recent World Prison Population List, the U.S. had more prisoners than any other country. China was second with 1.65 million people in prison, but the report said it does not include people in pre-trial detention or "administrative detention." Russia was a distant third, with about 806,000 people in prison.

The center also measured the numbers by the percentage of people in prison. The report estimated the U.S. population at 308.4 million. It concluded that 743 of every 100,000 Americans were in prison. Again, the U.S. was first on the list.

Rwanda and Russia were second and third, respectively,  with 595 and 568 people in prison per 100,000 citizens.

The congressional report shows the U.S. prison population was about 100 per 100,000 between the 1920s and the late 1970s. Afterward, it went up like a rocket. One turning point, the report said, was New York state's 1973 imposition of mandatory sentencing laws for drug offenses under the administration of Gov. Nelson Rockefeller. Other states followed. Georgia ranked eighth nationally in the number of prisoners in that 2010 report, with 540 per 100,000. Louisiana was first, and eight of the top 10 states are in the South.

The World Prison Population List includes totalitarian regimes and nations often on the world's bad actors list such as Iran, Libya, Syria and Venezuela. But it does not include two Communist countries: Cuba and North Korea. So how many inmates do those countries have?

Amnesty International gave us a report it released in May 2011 on political prisoner camps in North Korea. It concluded there were an estimated 200,000 people being held in such camps, using satellite images and eyewitness accounts. That equates to 813 per 100,000, higher than the U.S.

As for Cuba, a 2003 study reported in The Miami Herald found an estimated 100,000 inmates in its 200 prisons and labor camps spread across the Caribbean island. Several prominent human rights organizations did not dispute the figure. In 1995, the United Nations estimated there were "between 100,000 and 200,000 prisoners in all categories,'' the Herald reported.

"If accurate, the figure of 100,000 inmates in an island of nearly 11.3 million people would give Cuba 888 inmates per 100,000 people, far ahead of the United States," the Herald article said.

The Herald reported that the last time the report included Cuba was in 1997, when it used data from an academic in Norway to estimate there were about 33,000 inmates in Cuba's prisons.

For various reasons, neither country is willing to open up its prisons for independent verification of the number of inmates in its jails.

The people who put together the World Prison Population List told PolitiFact Georgia that it is possible one or both of those countries may have more inmates than the United States.

"[T]he U.S. is accepted as having the highest prison population rate, but it is possible that Cuba and North Korea are depriving a higher proportion of their citizens of their liberty," Roy Walmsley, who helps put together the report, told us via email.

According to most reports, the United States does imprison more people than any other nation. But the figures are not as clear on the percentage of the population it locks up. Some reports do not include countries such as Cuba and North Korea. Those countries, according to some research, may have a higher ratio of inmates in their prisons.

Johnson's statement is based on accurate data. But it needs additional context to move the needle higher on the Truth-O-Meter. We give the congressman a Half True on this one.
YouTube, Hank Johnson floor speech, April 18, 2012
Amnesty International report on North Korea political prison camps, May 3, 2011
CIA factbook, North Korea
Congressional Research Service report on the U.S. prison system, April 2010
Email from Andy Phelan, spokesman, U.S.Rep. Hank Johnson, May 2, 2012

Email from Roy Walmsley, associate, International Centre for Prison Studies, May 4, 2012

International Centre for Prison Studies 2012 report on world prison population
Miami Herald, "Cuba's Many Prisons May Hold 100,000," Sept. 22, 2003
MSNBC, "Hey America, You're Blaming the Wrong 1%!," April 26, 2012
New York Times, "U.S. Imprisons One in 100 Adults, Report Finds," Feb. 29, 2008
Browse the Truth-O-Meter
More by Eric Stirgus
Support independent fact-checking.
Become a member!
In a world of wild talk and fake news, help us stand up for the facts.