Stand up for the facts!
Our only agenda is to publish the truth so you can be an informed participant in democracy.
We need your help.
I would like to contribute
Says the average Ohio student graduates from a four-year college or university with nearly $27,000 in tuition debt.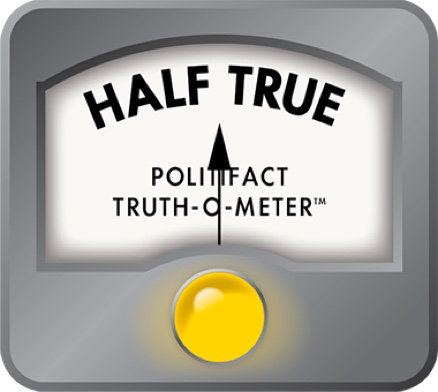 Sherrod Brown says Ohio students graduate from college with an average tuition debt of $27,000
Editor's note: We originally rated this claim True. After receiving feedback from readers, we have downgraded that rating to Half True because the claim applies the average debt of about $27,000 to a much broader group than did the study from which it was cited.
Interest rates on federally subsidized student loans went on the front burner as a political issue after Mitt Romney followed President Obama in saying he did not want those rates to go up.
Congressional Republicans -- who earlier passed a budget allowing the rates to double in July to their 2007 rate of 6.8 percent -- closed ranks behind their  presumptive presidential nominee.

They voted for a hastily introduced bill that would keep the rate at 3.4 percent, and pay for it with funds intended for preventive health care programs under the Patient Protection and Affordable Care Act.

Raiding that fund made the legislation unpalatable for Democrats -- just as the Democratic proposals to extend the lower interest rates were unpalatable to Republicans.

One of the proposals would have paid for the college loan subsidies by ending tax subsidies for oil and gas companies. Another would end a payroll tax exemption given some business owners.

Ohio's Sen. Sherrod Brown was a co-sponsor of the latter bill and of earlier legislation to stop the loan rates from going up.

"Federally-subsidized Stafford loans have allowed thousands of students—who might not otherwise be able pay for to college—afford the ever-increasing cost of higher education," he said in a news release. "With the average Ohio student graduating from a four-year institution with nearly $27,000 in tuition bills, the last thing we should be doing is adding to their already-heavy debt load."

The figure of $27,000 caught the notice of PolitiFact Ohio. It is more than $6,700 per year for four years of school.

We asked Brown's office for his source and more information. They referred us to the Project on Student Debt, a project of the independent, nonprofit Institute for College Access and Success.

Its most recent survey of public and private four-year institutions in Ohio found that 68 percent of students graduate in debt, and that the average debt on college loans is $27,713 -- the 7th-highest statewide average in the nation. (New Hampshire was highest, with average debt of $31,048; Wyoming was lowest, with $20,571.)

The actual debt level is probably higher, the Project on Student Debt noted, because the data is voluntarily reported by colleges and not available for all of them.

The report also reflects only graduates of public and private nonprofit colleges because few for-profit colleges report the student debt data. Based on national surveys by the U.S. Department of Education, graduates of for-profit four-year colleges are much more likely to borrow student loans, and borrow significantly more, than counterparts at nonprofit institutions.

Nationally, according to a report from the Federal Reserve Bank of New York, the average student loan balance per borrower is $23,300. The median balance is roughly half of that, $12,800. About one-quarter of borrowers nationally owe more than $28,000, and about 10 percent owe more than $54,000, according to the New York Fed.

In aggregate, the bank said, the outstanding student loan balance now stands at about $870 billion, surpassing the nation's total credit card balance ($693 billion) and the total auto loan balance ($730 billion). About 37 million people hold outstanding student loan debt.

The key with all these figures is that they deal specifically with students who borrow and then graduate with loan debt.

So how does that mesh with Brown's claim? In his statement he said "the average Ohio student graduating from a four-year institution." That describes a bigger pool of people than just the students who graduate with debt. In that most recent survey it would also include the 32 percent of the graduates who had no debt. But the figure Brown cited, nearly $27,000, was an average covering just those students who graduated with debt.

Brown's statement is partially accurate. He cites the correct figure from a survey on debt among college students. But he describes those affected by debt too broadly, applying the average to all rather than just those who graduate with loan balances. Including all students would lower the average for loan debt by about a third. That's an important detail needed to fully understand Brown's claim.

On the Truth-O-Meter, Brown's statement rates as Half True.
NPR, "Presidential Politics Hits The Hill, And Students Win," April 28, 2012

PolitiFact Ohio, "John Boehner tweets that Dems voted to double student loan interest rates," May 1, 2012

Sen. Sherrod Brown, news release, "More Than 24,000 Cuyahoga County Students Could See Student Loan Interest Rates Double," April 15, 2012

GovTrack.us, "S. 2051: A bill to amend the Higher Education Act of 1965"

GovTrack.us, "Stop the Student Loan Interest Rate Hike Act of 2012"

Emails from Sen. Brown staff, April 27 and May 1, 2012

College InSight, Institute for College Access and Success, Higher education data

Project on Student Debt, "Student Debt and the Class of 2010," November 2011

Federal Reserve Bank of New York, "Grading Student Loans," March 5, 2012
Browse the Truth-O-Meter
More by Tom Feran
Support independent fact-checking.
Become a member!
In a world of wild talk and fake news, help us stand up for the facts.