Stand up for the facts!
Misinformation isn't going away just because it's a new year. Support trusted, factual information with a tax deductible contribution to PolitiFact.
I would like to contribute
Georgia crackdown on illegal immigration costs state farmers $400 million last year.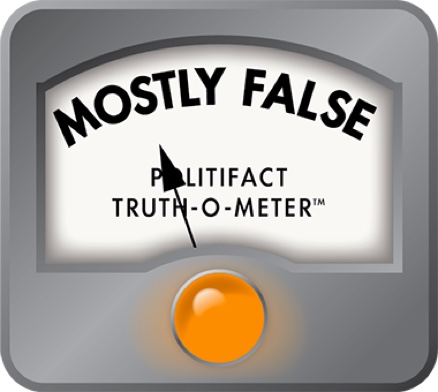 Immigration bill cost Georgia farmers 'close to' $400 million, labor leader says
Georgia labor leader Charlie Flemming took the microphone at a May 1 rally at the state Capitol to talk about the challenges facing working people around the world and ended up taking on the state's new immigration law.

"I was trying to stay away from that," Flemming said. But concerns about HB 87 -- Georgia's immigration law -- were too hot a topic not to mention, he said.

A Morris News Service article about the rally attributed to him a claim that the legislation cost farmers $400 million last year.

"I said, 'close to $400 million,' " said Flemming, president of the Georgia AFL-CIO.

Flemming said he got the number from an Oct. 4 article in The Atlanta Journal-Constitution, which itself was based on a University of Georgia study commissioned by the Georgia Fruit and Vegetable Growers Association.

It's a pretty big number and raises a couple of questions: Is the number right and are the losses attributable to the new immigration bill?

We tracked down report co-author John McKissick, a UGA distinguished professor of agriculture marketing emeritus, to explain the report.

McKissick said he and co-author Sharon Kane surveyed 189 farmers representing nearly half the state's acreage for seven fruit and vegetable crops about their labor troubles during last spring's harvest. The crops -- including blueberries, onions and watermelons -- were chosen because they are "most dependent on timely seasonal harvest."

The results showed an acute labor shortage cost those farmers just under $75 million.

Since the sample size was so large -- 46.4 percent of the state's total acreage in those crops -- McKissick said it is fair to project the direct cost to farmers was about $140 million. The report couches that conclusion because responses to the survey were voluntary, but McKissick feels confident the projection is valid.

"It wasn't a random survey," he said. "But you rarely ever get a survey that covers that amount of acreage."

So, if the impact to farmers was $140 million, where did Flemming get his figure?

Along with the direct impact on farmers, the UGA report projected an indirect impact of the lost harvest on the rest of the state's economy. Truck drivers, grocery store workers, even accountants get hurt indirectly when crops don't get to market, McKissick said.

The report calculated both the direct (to the farmers) and indirect (to the rest of us) impacts of the labor shortage to be $391 million. That's the "close to $400 million" that Flemming got from the AJC article he scanned on his way to the rally.

For the record, the AJC article reported the projected loss was for the entire state economy, not just farmers. Flemming said he may have misread the story before speaking, but he said the larger point remains.

"It was a significant hit for our state," he said. "This law has cost the state a lot of money. It's hurt and is continuing to hurt."

That's the second question: Is HB 87 the culprit?

The UGA report is based on losses from the spring harvest -- which is the largest and most significant harvest in the state for fruits and veggies. But HB 87 did not take effect until July 1, so how could it have caused the shortage?

That's conjecture, McKissick said, but it is not that hard to make the connection.

"The bill had been passed, but even though it had not gone into effect, it created an atmosphere where people had a lot of questions," he said.

The report itself does not draw that conclusion, but McKissick said both the labor shortage and legislative promises to crack down on illegal immigrants occurred simultaneously.

A follow-up study has not been done, but McKissick said he expects the economic ripples will continue as farmers cut back on their spring crop acreage.

"We did ask in the survey whether or not the results of the labor shortage would impact their production decisions for the fall and the following year's crop," he said. "There was a good number that said it would affect their decisions, so there probably is a multiyear impact."

So Flemming was wrong in attributing the entire loss to farmers, but he was in the neighborhood when he said agricultural losses were about $400 million if you count indirect losses. It is impossible to say with absolute certainty that HB 87 caused the labor problem, although McKissick and others believe the two are linked.

There are a couple of problems with Flemming's statement. It's not completely clear that HB 87 is responsible for all of the farm losses. But even if it is, the amount of those losses if far less than he stated.

There's a kernel of truth to what he said. But just a kernel.

That's fits our definition of Mostly False. 
The Florida Times-Union, "May Day marchers say Georgia immigration laws unfair," May 1, 2012.

John C. McKissick and Sharon P. Kane, "An Evaluation of Direct and Indirect Economic Losses Incurred by Georgia Fruit and Vegetable Producers in Spring 2011 - A Preliminary Data Analysis and Summary Working Paper," The University of Georgia Center for Agribusiness and Economic Development, Oct. 6, 2011.

Georgia Fruit and Vegetable Growers Association news release on the UGA report, Oct. 4, 2011.

Telephone interview with Charlie Flemming, president of the Georgia AFL-CIO, May 9, 2012.

Telephone interview with John C. McKissick, professor emeritus, University of Georgia, May 9, 2012.
Browse the Truth-O-Meter
More by Chris Joyner
Support independent fact-checking.
Become a member!
In a world of wild talk and fake news, help us stand up for the facts.