Stand up for the facts!
Our only agenda is to publish the truth so you can be an informed participant in democracy.
We need your help.
I would like to contribute
Says Mitt Romney would deny gay people the right to adopt children.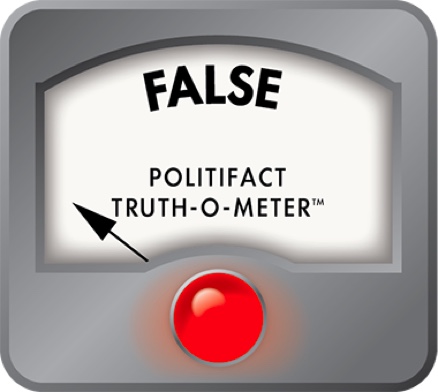 Obama ad says Romney opposes gay adoption
Within a day of President Barack Obama announcing his support for same-sex marriage, his campaign released an ad chiding Republican rival Mitt Romney for opposing it.

It's true that Romney does not support gay marriage -- he reaffirmed that position the same day as Obama's historic announcement. But the Obama campaign video claims that Romney would deny certain rights to gay partners, including the right to adopt children.

The ad shows short clips of both candidates talking about gay marriage -- Obama saying he supports it, Romney saying he doesn't -- then the words "What rights would Romney deny?" appear onscreen.

"Health insurance for your partner and kids," it says on the screen, followed by "adopting children together," and finally "emergency medical decisions for partners." The words are all stamped with "DENIED" in red letters.

We wondered about the adoption claim: Does Romney's opposition to gay marriage go that far?

Obama campaign's evidence

Asked for evidence to back up the ad, the Obama campaign pointed to Romney's support for a federal constitutional amendment that would define marriage as a relationship between one man and one woman. That bill, as proposed, would override any state laws, such as the one in Massachusetts, making marriage between people of the same gender legal. The amendment does not address adoption by gay couples. The day of Obama's announcement, May 9, 2012, Romney said he also opposes civil unions "if they are identical to marriage other than by name."

But we found Romney has repeatedly expressed support for domestic partnership rights, on a state-by-state basis. The Obama campaign cited this "states' rights" stance -- in which states would be empowered to allow or deny certain domestic partner benefits -- as evidence that Romney would deny the rights. But we find a flaw in that logic, because when Romney has argued that position, he has listed those rights in positive terms.

"My preference again would be to have a national standard, with one standard for the nation. Now that doesn't mean that same-sex couples can't enter into domestic partnerships, and the benefits associated with domestic partnerships could be, developed from, by enterprise, by the state, by the federal government," he told the Ames (Iowa) Tribune editorial board in 2011. "So one could say for instance that in Iowa, a same-sex couple can come together, can adopt a child. And they can have hospital visitation rights and so forth. I mean you could decide what benefits, each state can decide the benefits associated with people who live in domestic partnerships."

In other words, Romney didn't frame the issue in terms of rights the states could deny gay couples. He listed adoption and hospital visitation as rights that states could grant.

More from Romney on the topic

Other statements from Romney do not offer resounding support for the rights of gay couples to adopt. His words are measured, and often accompany a statement about his opposition to gay marriage. But they make clear that, at least, Romney does not favor state laws prohibiting gay couples from adopting.

2006: In saying he planned to pursue a law in Massachusetts exempting religious groups from allowing adoption by gay parents, Romney was quoted in the Boston Globe, "I know that there will be some gay couples who will say that this could be discriminatory against us, except that there are many, many other agencies that can meet the needs of those gay couples, and I recognize that they have a legitimate interest in being able to receive adoptive services."

June 2007: "There are other ways to raise kids that's fine: single moms, grandparents raising kids, gay couples raising kids. That's the American way, to have people have their freedom of choice," he said, according to the Associated Press.

July 2008: Wolf Blitzer, then on CNN, asked, "If the states -- whatever state said, you know what, it's fine for gay couples to adopt kids, that would be OK with you?" Romney answered, "I didn't oppose that here in Massachusetts. My view was the best setting for a child to be raised is where there's a mom and a dad, but I did not say let's put in place a law that would prevent a court from deciding that a child, instead of being in an orphanage, should be with a same-sex couple or with a single mom or a single dad. You leave that up to the court and let them make the decision."

Romney spokeswoman Andrea Saul told BuzzFeed in February 2012: "Gov. Romney believes a family with one mother and one father is the ideal setting to raise a child. That doesn't mean adoption by other parents — whether they be single or same-sex — should be outlawed. States have to make decisions that are in the best interests of children, and where possible that should be in a home with one mother and one father."

And the day after Obama's announcement, Romney told Fox News host Neil Cavuto: "I also know many gay couples are able to adopt children. That's fine."

He also said, "If two people of the same gender want to live together, want to have a loving relationship, and even want to adopt a child -- in my state, individuals of the same sex were able to adopt children. In my view, that's something which people have the right to do. But to call that marriage, is, in my view, a departure from the real meaning of that word."

Our ruling

Obama and Romney have starkly different positions on gay marriage, but Obama's ad distorts Romney's position when it says he would deny gay couples the right to adopt children.

We found nothing in Romney's past statements to support that claim. He is a clear opponent of gay marriage, and does not seem to favor civil unions if they afford all the same benefits as marriage. But he is on record as supporting domestic partnerships, with specific rights determined individually by states. The Obama campaign interprets this as Romney saying states would be allowed to deny gay couples the right to adopt. But when he has articulated his position, he has often mentioned adoption as one of the rights states could grant. And this year, Romney called adoption by same-sex couples "something which people have the right to do."

The claim in the Web ad is not accurate. We rate it False.
BarackObama.com, "Mitt Romney: Backwards on Equality," May 10, 2012

MittRomney.com, section on Values, accessed May 10, 2012

KDVR-TV in Colorado, ""Romney in Colorado: 'I do not favor civil unions,'" May 10, 2012

Library of Congress website, proposed marriage amendment, accessed May 11, 2012

Ames Tribune editorial board interview with Mitt Romney, Dec. 29, 2011

Associated Press, "Romney praises gay mother, but defends stance against gay marriage," June 6, 2007, accessed via Nexis

Boston Globe, "Romney shifts on gay adoption," March 14, 2006, accessed via Nexis

CNN interview with Wolf Blitzer, July 16, 2008

Buzzfeed, "Mitt Romney Didn't Oppose Gay Adoptions As Governor," Feb. 27, 2012

FoxNews.com, "Gov. Romney: Marriage issue isn't about fundraising," May 10, 2012

Email interview with Kara Carscaden, Obama campaign, May 10, 2012

Email interview with Ryan Williams, Romney campaign, May 11, 2012
Browse the Truth-O-Meter
More by Molly Moorhead
Support independent fact-checking.
Become a member!
In a world of wild talk and fake news, help us stand up for the facts.