Get PolitiFact in your inbox.
Because of voter fraud, Republican candidates "need to do a point or two better" to win statewide elections in Wisconsin.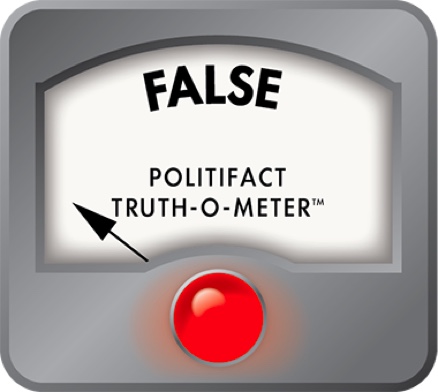 Voter fraud means GOP candidates in Wisconsin "need to do a point or two better" to win, GOP chairman Reince Priebus says
Not four hours after Republican National Committee chairman Reince Priebus made a provocative statement about voter fraud in Wisconsin, news surfaced that three cases of suspected voter fraud were being investigated by law enforcement in suburban Milwaukee.

The coincidence, of course, isn't proof of anything.

But how extensive is illegal voting in Wisconsin?

In a May 30, 2012, conference call with reporters, Priebus said that because of voter fraud, Republican candidates "need to do a point or two better" to win statewide elections in Wisconsin.

Priebus, who headed the Wisconsin Republican Party before taking charge of the national party in January 2011, was referring to percentage points of the total votes cast.

GOP Wisconsin Gov. Scott Walker made essentially the same claim to The Weekly Standard, a conservative publication, in an article posted online more than a week earlier.

Both statements, of course, were in advance of the June 5, 2012, recall election, pitting Walker against Democratic challenger Tom Barrett.

In the 2010 race for governor -- which featured Walker, Barrett and several minor candidates -- more than 2.16 million votes were cast. One percent of the total would be some 21,600 votes; 2 percent, 43,200 votes. (Walker won with 52.3 percent to Barrett's 46.5 percent.)

In the 2008 presidential election, more than 2.98 million votes were cast in Wisconsin. One percent would be nearly 30,000 votes and 2 percent would be nearly 60,000.

Priebus' evidence

Republican National Committee spokesman Ryan Mahoney cited two items to back Priebus' claim:

Milwaukee police report: A Milwaukee Police Department report on the November 2004 election, released in February 2008, blamed shoddy record keeping by city election officials and error-prone poll workers for flaws that allowed illegal and improper voting in Milwaukee.

The task force found numerous problems in the voting process that could lead to fraudulent voting. The report concluded by saying the task force "believes that there was fraud committed in the 2004 election, but as one investigator stated, 'I know I voted in the election, but I can't be certain it counted.'"

Police Chief Edward Flynn distanced himself from the report, however, saying it contained the views of the investigators, not the department.

Priebus opinion article: A Priebus column published in June 2011 cited voter fraud-related allegations in several states, but his only mention of Wisconsin was the Milwaukee police report.

Really, that's it?

Needless to say, Priebus' evidence doesn't begin to back his claim, which applies a specific percentage to how much fraud occurs.

But there has been a history of voting irregularities in Wisconsin, from felons improperly voting to more votes being counted in Milwaukee than people listed as having voted.

Would that tally the 1 percent to 2 percent?

Flaws in election process

The Milwaukee Journal Sentinel found myriad voting problems occurred in Milwaukee and other parts of the state in the 2004 election, the one later investigated by the Milwaukee police and state and federal prosecutors.

Three of the newspaper's findings provide some perspective:

1. In Milwaukee, there was a discrepancy between the ballot count and the number of people listed as having voted of about 7,000.

(Investigators were later able to whittle the discrepancy to 4,600 votes, or 1.67 percent of the 277,000 votes cast in the city.)

2. Some 1,300 on-site voter registrations in Milwaukee could not be processed for a variety of reasons, including missing addresses and missing names. More than 140 of those who voted listed addresses outside the city.

3. At least 278 cases statewide where felons may have improperly voted, though the number was likely considerably higher, since only a partial review of those who voted was possible.

The Journal Sentinel reports prompted a joint federal-state investigation in 2005. Those investigators found more than 200 cases of felons voting illegally in Milwaukee and at least 100 cases of double voting in the 2004 election, numbers that echoed the newspaper's findings.

About a dozen cases of voter fraud were pursued, with mixed results, but then-U.S. Attorney Steven Biskupic concluded there had been no findings of widespread fraud.

Then-Milwaukee County District Attorney E. Michael McCann said in June 2005 he was troubled by the 4,600-vote discrepancy that remained, suggesting that questions will linger about whether systematic fraud occurred in the city.

"I have a reservation about those 4,600 votes," he said.
Situation today
Meanwhile, a host of reforms that came after the 2005 Journal Sentinel investigation -- including the start of a statewide voter list and comparisons of it to a database of felons -- means the situation today has changed since 2004.

For a current assessment, we asked Kevin Kennedy, director of the state Government Accountability Board, which runs Wisconsin's elections, to respond to Priebus' claim.

Kennedy cited a number of reforms in addition to the statewide voter list, including routine checks of the voter list for felons, recently deceased persons and duplicate registrations; and post-election checks for duplicate and felon voting.

Kennedy also said the board has found no more than 20 instances of voter fraud in any statewide election dating back to 2000 and that Priebus has never filed a voter fraud complaint with his office.

Our rating

Priebus said that because of voter fraud, Republican candidates "need to do a point or two better" to win statewide elections in Wisconsin.

Past reports have highlighted flaws in the city of Milwaukee, including cases of fraudulent votes. But Priebus made a specific numerical claim -- that a Republican candidate, to compensate for fraudulent votes, would need to get 1 to 2 percentage points worth of additional votes in order to win a statewide election.

Priebus did not provide information that supports the claim. We rate his statement False.  
(You can comment on this item on the Journal Sentinel web page.)
Wisconsin Radio Network, Reince Priebus conference call with reporters, May 30, 2012

Milwaukee Journal Sentinel, "RNC chairman alleges rampant voter fraud," May 30, 2012

Milwaukee Journal Sentinel, "Tighter voting laws urged," Feb. 27, 2008

Milwaukee Journal Sentinel, "Bad vote tally revives reform debate," June 9, 2005

Milwaukee Journal Sentinel, "Election reforms focus on workers More are needed, with more training, mayoral panel says," June 28, 2005

Milwaukee Journal Sentinel, "A new push to repair elections," May 15, 2005

Lake Country Reporter, "Suspected vote fraud reported in Delafield," May 30, 2012

The Weekly Standard, "High noon in Wisconsin," May 28, 2012

U.S. News & World Report, "Anti-voter fraud reforms are practical, not partisan," June 6, 2011

Interview, Wisconsin Government Accountability Board executive director Kevin Kennedy, May 31, 2012

Interview and email interview, Republican National Committee regional press secretary Ryan Mahoney, may 31, 2012

Email interview, One Wisconsin Now spokesman Mike Browne, May 31, 2012

Brennan Center for Justice, "The truth about voter fraud," 2007

Milwaukee Police Department, investigation report on 2004 election
Browse the Truth-O-Meter
More by Tom Kertscher
Support independent fact-checking.
Become a member!
In a world of wild talk and fake news, help us stand up for the facts.