Facts are under assault in 2020.
We can't fight back misinformation about the election and COVID-19 without you. Support trusted, factual information with a tax deductible contribution to PolitiFact
I would like to contribute
"Mitt Romney made over a hundred million dollars by shutting down (a Marion, Ind. paper) plant."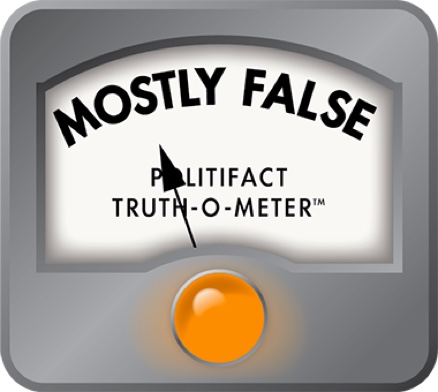 Ad claims Mitt Romney made 'over a hundred million dollars' shutting down paper plant
A dramatic TV ad featuring an employee of a plant shuttered by Bain Capital is getting new life in Ohio, Pennsylvania, Colorado, Virginia and Florida.

It claims Mitt Romney "made over a hundred million dollars" by shutting down a paper products factory in Marion, Ind.

Priorities USA Action, a pro-Obama super PAC, created the TV ad, which has also been viewed more than 2.7 million times on YouTube since its debut in June.

The ad, designed to portray Romney as an enemy of the middle class, tells the story of employees who built a stage — only to watch company officials announce they had all lost their jobs.

"Turns out that when we built that stage, it was like building my own coffin. And it just made me sick," says Mike Earnest, one of the workers.

Near the end of his story, Earnest claims: "Mitt Romney made over a hundred million dollars by shutting down our plant, and devastated our lives."

It's a heart-wrenching story. We wondered: Is it true that Romney "made over a hundred million dollars" by shutting down the plant?

As it turns out, there are several things wrong with this claim.

Bain, Ampad and SCM Office Supplies

Romney was CEO of a private equity firm, Bain Capital. A Bain company called Ampad did buy the Marion paper plant in 1994, while he was on leave running for Senate, and shut it down in 1995.

At the time, Ampad was profitable. But there's disagreement about the health of the Marion plant, known as SCM Office Supplies. Workers argued it was fine before Ampad came along, and the super PAC and the Romney camp marshal various documents to argue it made a profit, and that it didn't.

Either way, it was quickly in trouble when workers, who had to reapply for their jobs after the Ampad purchase, decided to strike rather than accept lower-paid positions.

But what is clear is that no one made "made over a hundred million dollars" from shutting down a paper plant.

Bain and its investors made over a hundred million dollars from their entire investment in Ampad, which they purchased in 1992, before the company was liquidated in 2001. (They sold off most of their investment and gave up control of the company with a public offering in 1996, according to Bain spokeswoman Charlyn Lusk.)

A chart from the Boston Globe shows Bain and its investors made their money primarily through two main events: as part of Ampad's borrowing to buy an envelope and stationery maker in 1995, and by selling Ampad stock in 1996. Under Bain, Ampad grew to generate hundreds of millions of dollars in sales, far beyond the scale of the single Marion plant.

We contacted Priorities USA Action for support for its ad's claim.

Spokesman Brennan Bilberry pointed us to evidence that Romney was directly involved with the decision to shut down the Marion plant, and to prospectuses and news articles showing Bain earned a more than 2,000 percent return in its Ampad investment — at least $102 million.

He argued that reducing costs from the Marion plant helped drive Ampad's profit.

Still, the evidence he provided shows that was the profit for a much larger investment involving multiple acquisitions over years.

Our ruling

A former plant employee in an ad from Priorities USA Action says, "Mitt Romney made over a hundred million dollars by shutting down our plant."

The Marion plant's purchase and closure was part of a larger investment in paper products manufacturing that earned Bain and its investors over $100 million. It's a sad tale for Marion workers: Their plant was sold. They lost their jobs, had to reapply to make less, and went on strike. Ultimately Bain closed the plant.

But shutting down the plant didn't make Romney $100 million. That was the profit made by Bain and its investors, only some of which would have been earned by Romney. And it was earned for the entire Ampad investment — not as a result of closing a single manufacturing site.

We rate the ad's claim Mostly False.
Priorities USA Action, "Stage," June 23, 2012, via YouTube

Priorities USA Action, "The Real Romney Record: Ampad," accessed Nov. 2, 2012

Email interview with Brennan Bilberry, spokesman for Priorities USA Action, Nov. 2, 2012

Email interview with Robert Terra, spokesman for the Romney campaign, Nov. 2, 2012

Email interview with Charlyn Lusk, public relations for Bain Capital, Stanton Public Relations & Marketing, Nov. 2, 2012

Email interview with Josh Kosman, reporter at the New York Post, author of book "The Buyout of America: How Private Equity is Destroying Jobs and Killing the American Economy," May 30, 2012

Interview with Theo Francis, senior reporter, footnoted*, Nov. 5, 2012

NPR, "How Mitt Romney's Firm Tried — And Failed — To Build a Paper Empire," Feb. 23, 2012

Boston Globe, "As Bain slashed jobs, Romney stayed to side," Jan. 27, 2008

POLITICO, "The Bain of Mitt's campaign," July 14, 2011

Los Angeles Times, "To assess Romney, look beyond the bottom line," Dec. 16, 2007

Boston Globe, "WORKERS PRESS ROMNEY ON LAYOFFS AS IN '94, BAIN IMPACT AT ISSUE," Oct. 29, 2002, via Nexis

Boston Globe, "Ampad: A controversial deal," accessed Nov. 2, 2012

New York Times, "THE 1994 CAMPAIGN: LABOR; Bitter Strike in Indiana Echoes in Massachusetts," Oct. 10, 1994

Daily Caller, "Strongest case against Romney a few sheets short of a ream," Jan. 18, 2012

Boston Globe,"'Their mission is to make money'; But in doing so, Romney did more building than slashing," Oct. 9, 1994, via Nexis

Boston Globe, "Business record helps, hinders Romney," Oct. 24, 2002, via Nexis

Associated Press, "Kennedy Ads Feature Workers Laid Off In Romney-Engineered Takeover," Oct. 10, 1994, via Nexis

Washington Post, "Democratic leaders back Obama's Bain strategy vs. Romney, acknowledge risks," May 27, 2012

New York Magazine, "The Romney Economy," Oct. 23, 2011

Wall Street Journal, "Romney at Bain: Big Gains, Some Busts," Jan. 9, 2012
Browse the Truth-O-Meter
More by Becky Bowers
Support independent fact-checking.
Become a member!
In a world of wild talk and fake news, help us stand up for the facts.