Stand up for the facts!
Our only agenda is to publish the truth so you can be an informed participant in democracy.
We need your help.
I would like to contribute
Says Jeb Bush "extended early voting" after seeing "long lines."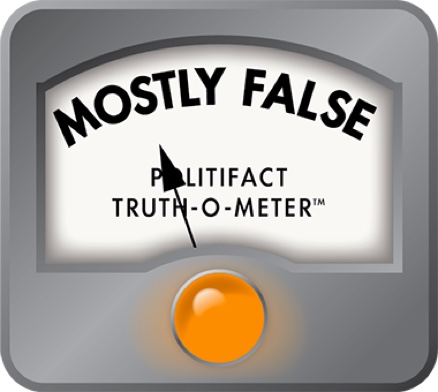 Charlie Crist says Jeb Bush extended early voting
Former Florida Gov. Charlie Crist emerged as a prominent critic of Gov. Rick Scott's decision not to extend early voting before the presidential election.

Crist, a Republican-turned-independent who campaigned on behalf of President Barack Obama, joined Florida Democrats in asking Scott to give voters more time to cast early votes, citing long lines in Orlando and South Florida on Nov. 4, 2012, the last day of early voting.

Scott declined to extend early voting to Sunday, a move Crist denounced as "unconscionable" given the hours-long wait times. In an interview with Miami-based CBS 4, Crist pointed to his decision as a Republican governor in 2008 to extend early voting, a move that irritated Republicans who thought (correctly) it would help Obama voters.

"Got a lot of grief from Republicans, but you know, when you're governor, you don't just work for one party or the other, you work for the people of the state,'' Crist said on Nov. 4, 2012. "I saw the long lines. I saw that it was still hot in South Florida, a lot of senior citizens were waiting in those lines. And I realized it was an emergency situation where people needed to have the opportunity to vote.

"The same thing, or a similar thing, happened under Gov. Jeb Bush, and he extended early voting as well as governor," Crist said.

We wondered if Bush really extended early voting during an emergency-like situation.

Early voting

Bush actually signed into law the statewide maximum of 14 days for early voting in 2004. Election supervisors said it was highly popular and asked the Legislature to expand early voting hours and add more locations.

But Bush and the GOP-led Legislature went the other way the next year, passing a law that capped the number of hours for early voting and confined it to election offices, city halls and libraries.

Early voting remained popular -- especially with Democrats. In 2011, the Legislature and Scott enacted a new law that reduced the maximum early voting days to eight days. Democrats in the Legislature said the law was designed to depress voter turnout among people in their party.

The 2002 primary

Things were going haywire in South Florida during the primary election on Sept. 10, 2002, the first statewide election since the infamous 2000 presidential recount. It was the election that determined Bill McBride, and not Janet Reno, would be the Democratic gubernatorial challenger for Bush.

Some precincts in Broward and Miami-Dade counties opened hours after their scheduled 7 a.m. start. New, untested touch-screen voting machines malfunctioned. Some people walked away without casting a vote.

Bush issued an executive order that called for polls to stay open two additional hours statewide. That meant the polls stayed open until 9 p.m. for most of the state and 10 p.m. for the Panhandle, which is in the Central Time Zone.

Neither Bush nor his top elections official, Secretary of State Jim Smith, were pleased with having to make the call.

"I frankly wonder what in the hell have they been doing for two years," Smith was quoted as saying about the South Florida elections officials in an Associated Press report. "I am hopeful that by November, at least they will be able to open the polls on a timely basis and the equipment will work."

Bush ordered the extension "out of fairness," according to the Associated Press.

"It's shameful. It's the responsibility of the supervisors of election to be prepared," Bush said. "The state put up money - significant sums of money - for training, for machines. ... There's no excuse for not having precinct workers in a precinct for voting, no excuse for not turning on the machines."
In a phone interview with PolitiFact Florida, Crist said the point he was trying to make about Bush was that "the guy had a heart" amid chaos at the polls.
"In a voting situation in Florida, when help was needed, he answered the call," Crist said.

Charley and 2004

Flash-forward to 2004, when Floridians faced an onslaught of hurricanes. Hurricane Charley walloped Southwest and Central Florida on Aug. 13, just days before the start of early voting for the Aug. 31 primary election.

Bush declared an elections emergency for 10 counties struck by Charley on Aug. 19, as the storm had ruined some voting equipment and made it difficult to locate and train poll workers.

In a letter, Bush authorized the state's top elections official to waive election law to delay the start of early voting and help counties hurt by the storm with logistics, according to an Orlando Sentinel report. Early voting had begun in all but three counties affected by Charley.

"The letter gives counties that were affected by the hurricane and the secretary of state the flexibility they need to meet the needs of residents," Bush spokesman Jacob DiPietre told the Sentinel. "That could be combining precincts if a building was destroyed. It gives them the ability to move polling places and to waive certain deadlines and fees."

To be clear, this does not count as an example of Bush extending early voting. He was allowing for greater flexibility in counties affected by Hurricane Charley.

Our ruling

In his attempt to portray Scott as more concerned about politics than voters, Crist argued that even Bush, a popular Republican, extended early voting as governor.

Well, not exactly. In 2002, Bush extended regular voting by two hours because of malfunctioning voting machines -- not early voting. And in 2004, he gave supervisors a handful of counties more flexibility in starting early voting days after a devastating hurricane.

It's important to note that both events were primary elections. Crist made it sound like Bush issued early voting extensions during a presidential election, as Crist did, to accommodate large turn-out.

We rate this claim Mostly False.
CBS 4, Facing South Florida interview with Charlie Crist, Nov. 4, 2012

Tampa Bay Times' The Buzz blog, "Crist slams Scott's early voting decision as 'unconscionable,'" Nov. 4, 2012

WSVN, "As Fla. voters face long lines, Scott stands firm," Nov. 3, 2012

Miami Herald, "A voting debacle in Doral causes chaos and confusion," Nov. 4, 2012

Interview with Daniel A. Smith, University of Florida political science professor, Nov. 5, 2012

Interview with Jaryn Emhof, Jeb Bush spokeswoman, Nov. 5, 2012
Interview with Charlie Crist, Nov. 8, 2012
Miami Herald, "Problems at the polls delay voters, primary results," Sept. 11, 2002

Interview with Chris Cate, Department of State spokesman, Nov. 5, 2012

Orlando Sentinel, "Elections officials can delay start of early voting," Aug. 20, 2004 (Accessed via Nexis)

Tampa Bay Times, "Law limits early voting," June 21, 2005 (accessed via Nexis)

Browse the Truth-O-Meter
More by Katie Sanders
Support independent fact-checking.
Become a member!
In a world of wild talk and fake news, help us stand up for the facts.