Stand up for the facts!
Our only agenda is to publish the truth so you can be an informed participant in democracy.
We need your help.
I would like to contribute
Says the state of Texas rates as "unacceptable" almost 500 of the state's 8,000 public schools.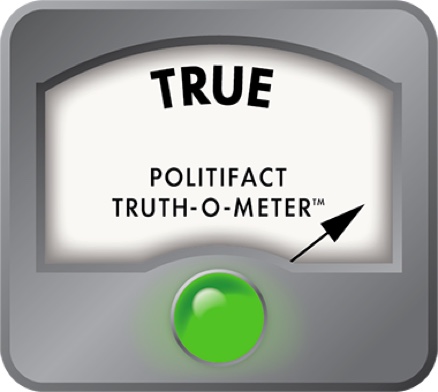 Dan Patrick says almost 500 of 8,000 Texas public schools have been rated unacceptable
State Sen. Dan Patrick says so many Texas schools lag that lawmakers should widen school choices, feeding speculation that he will champion changes helping students transfer to private schools.

The Houston Republican, chairman of the Senate Education Committee, has not spelled out a proposal. But he asked a Democratic colleague, Sen. Kirk Watson of Austin,  to join his cause during a Nov. 8, 2012, joint public interview with the Texas Tribune.

Patrick said: "I am willing to join you and do whatever it takes to give people an opportunity to succeed. But I need the Democrats also to join me and not draw a line in the sand, that money is the only thing that's going to turn a school around.

"If a student is in a failing school through no fault of their own — we have 8,000 campuses in Texas, almost 500 campuses are rated unacceptable — it should be unacceptable to every Republican, every Democrat in the state, every voter in the state, to say to a child you're going to succeed even though we're forcing you to go to a failing school," Patrick said.

Watson replied that he would read Patrick's plan when it is finalized.

And are nearly 500 of 8,000 Texas public schools rated unacceptable?

Seems so.

In 2011, according to information posted online by the Texas Education Agency, 496 of 8,526 Texas campuses (5.8 percent) were rated academically unacceptable by the state education agency. No campus or district accountability ratings were issued in 2012; the agency says a revised system is intended to tie ratings to indicators including results on the student exams being phased in, the State of Texas Assessments of Academic Readiness.

So, Patrick nailed the number of campuses rated unacceptable while slightly understating the total number of campuses.

According to an agency chart showing the 2011 figures, the nearly 6 percent of campuses marked as unacceptable in 2011 greatly exceeded comparable counts for previous years. From 2004 through 2010, the previous highest number of "unacceptable" campuses was 267 of 7,956 campuses, or 3.4 percent, in 2006, the chart indicates  In 2010, it says, 84 of 8,435 campuses (1 percent) drew the dismal rating.

According to news accounts including a July 30, 2011, article in the Austin American-Statesman, the five-fold increase in academically unacceptable campuses from 2010 to 2011 swept in several Austin middle schools and LBJ High School.

And why the statewide surge? School administrators attributed it to changes in passing standards for the then-prevalent state test, the Texas Assessment of Knowledge and Skills, the Statesman reported. The state also required a larger share of students to pass the TAKS than before and took into account more scores from special-education students, the story says.

State education officials also had decided to drop a performance measure that kept some schools from being low-rated.

A Houston Chronicle news story published the same day quoted an education agency spokeswoman, Debbie Ratcliffe, as saying the plunge in ratings was largely due to the state no longer using a statistical measure that gave credit for failing test scores if the students were on track to pass in coming years. "It's very important for parents to remember that the standards substantially increased this year," Ratcliffe said.

In the Houston school district, the Chronicle reported, state-determined "unacceptable" campuses more than tripled to 25 — or 9 percent of its rated schools. The Dallas district experienced more than a doubling in campuses rated as unacceptable, going from 14 to 33, according to a Dallas Morning News article posted online July 29, 2011.

By email, Graves told us the Texas Performance Measure not used for the 2011 ratings had given schools and districts credit for making progress, even if insufficient students reached required passing levels on the TAKS.

The Morning News story quotes Robert Scott, then the state's education commissioner, as saying his April 2011 decision to discontinue the performance factor meant there "will no longer be any allegations that we are pumping up the numbers. The numbers are real this year."

Next, we wondered how each school drew its low rating.

Of the campuses rated academically unacceptable, the agency says in a 2011 highlights summary, 479 experienced poor performance on the TAKS alone with remaining campuses getting the rating mostly due to a combination of factors.

Ratcliffe emailed us an agency chart indicating that 159 campuses were rated unacceptable for student performance on the math TAKS alone. The next-most frequent reason, for 81 campuses getting the rating, was too many students failing the state's math and science tests. The chart lists 29 other reasons for one campus or more being rated unacceptable.

By phone, Ratcliffe told us that a large, diverse high school can be rated academically unacceptable if enough students fail to meet state expectations across any of more than 30 sub-categories ranging from different subject-matter tests to completion, graduation or dropout rates across sub-groups of students broken out by race or whether they come from low-income families.

For instance: Austin's LBJ High drew its unacceptable rating because not enough African American students passed the math TAKS, according to a state posting. Some 144 of 260 African American students, or 55 percent, met the math standard, according to the post. By our calculation, if 15 additional African American students had passed that test, the school would have been rated academically acceptable.

Finally, there is at least one other way of gauging progress in individual schools. In August 2012, the state announced that about half of all Texas campuses statewide failed to meet federal standards based on the No Child Left Behind Act, as the Statesman said in an Aug. 9, 2012, news article. More Austin-area schools than ever also missed the mark because of tougher passing standards, the Statesman said.

Our ruling

Patrick's claim, that almost 500 of the state's 8,000 campuses are rated unacceptable, reflects the 2011 Texas ratings--and fresh ratings aren't expected until 2013. We rate the statement as True.
Documents, Texas Education Agency, "Texas Accountability System Summary of Ratings for 2004 through 2011 (as of November 2, 2011)" and "HIGHLIGHTS OF THE 2011 ACCOUNTABILITY SYSTEM," Nov. 2, 2011; "Summary of Reasons for Being Academically Unacceptable Campus and District Counts Standard Procedures," November 2011 (viewed and received Nov. 12 and 13, 2012)

News article, "School, district ratings drop; Austin ISD has 8 underperforming schools, Round Rock has 2," Austin American-Statesman, posted online July 29, 2011

News article, "Texas schools' sagging ratings leave confusing picture," The Houston Chronicle, posted online July 29, 2011

News article, "Ratings for Texas schools plunge with elimination of controversial rule," The Dallas Morning News, posted online July 29, 2011
Browse the Truth-O-Meter
More by W. Gardner Selby
Support independent fact-checking.
Become a member!
In a world of wild talk and fake news, help us stand up for the facts.