Get PolitiFact in your inbox.
Three thousand felons voted in Rhode Island in 2008.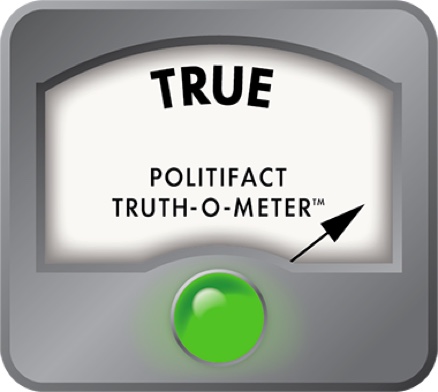 Leader of Alliance for Safe Communities says 3,000 felons voted in Rhode Island in 2008
Usually after an election, the biggest arguments are over who won or lost. But on WHJJ's "The Helen Glover Show" last week,  the big beef was over who was allowed to vote.

Glover's guest was Carolyn Medeiros, executive director of  the Alliance for Safe Communities, an organization that, among other things, monitors criminal justice issues and acts as an advocate for victims of crimes, that "they all be vindicated rather than further victimized."

In a segment billed as the "Outrage of the Week,"  Medeiros cited the fact that 3,001 felons on probation or parole had been allowed to vote in Rhode Island during the 2008 election, and she said that a larger but unknown number had probably voted in this month's election.

"Our question is, are politicians going to pander to this new voter base," she asked.

Whether allowing felons to vote is an "outrage" is a matter of opinion, not a question for the Truth-O-Meter. But we decided to check whether Medeiros' number is accurate.

We put in a call to Medeiros. While we awaited a response, we went to the Alliance's website, where we found a blurb about the "outrage," with a link to the website of OpenDoors, a Rhode Island nonprofit organization that provides job training and other services to help released inmates from the Adult Correctional Institutions adapt to living outside prison.

The OpenDoors website describes the group's efforts to help released inmates become voters, and includes this passage:

"The 2008 election cycle was [the] first in which RI felons on probation/parole could vote since [the] 19th century. Of 17,606 probationers and parolees re-enfranchised since 2006:
*6,330 registered to vote in time for the general election on November 4, 2008;
*3,001 voted in one or more of the three statewide elections in 2008."

So Medeiros accurately cited the OpenDoors number. But where did the number come from? First, a little background.

In 2006, OpenDoors -- then known as the Family Life Center -- was one of a number of organizations that pushed for a referendum to change the state Constitution to make it easier for convicted felons to become eligible to vote.

Under state law at the time, felons couldn't register to vote until they had finished not only their prison terms but any probation or parole as well.

The referendum question asked voters to amend the Constitution to allow felons to register to vote after their release from incarceration, regardless of how long they might be on probation or parole.

Supporters said that would help released inmates feel more connected to the law-abiding community and help reduce the odds of them committing new crimes. Opponents argued that those who committed serious crimes had to earn the right to vote by completing their whole sentence, including probation or parole.

The probation issue was particularly relevant in Rhode Island because the state tends to resort to probation more often than imprisonment. A 2007 Pew Center on the States study found that Rhode Island's imprisonment rate of 1 out of every 187 residents ranked 46th among the 50 states and the District of Columbia.

But Rhode Island's probation rate of 1 out of 31 residents was in the top five nationally.

Voters approved the change, 51.5 percent to 48.5 percent. It affected only the right to vote; felons still have to serve out their full sentences of probation or parole if they want to run for public office.

After the vote, OpenDoors worked with the Department of Corrections and the secretary of state's office to help released felons register and kept track of the results, yielding the numbers cited on its website.

OpenDoors Executive Director Sol Rodriguez said the organization only has numbers for the 2008 election.

Medeiros ultimately called us back and confirmed that OpenDoors was the source for her number.

Our ruling

Medeiros said 3,001 felons voted in Rhode Island in 2008. She accurately cited a number compiled by OpenDoors, which helps released inmates register and kept track of how many voted in 2008.

We find her statement True.

Note: In the beginning of her talk-show appearance, Medeiros said there were "17,606 re-enfranchised voters … that have begun voting since the 2008 election," mixing the numbers of felons eligible to register to vote with those who actually voted. But as she worked through her presentation, she cited the correct number.

(To suggest a statement for fact-checking, e-mail us at [email protected]. Follow us on Twitter: @politifactri. And comment on our rulings on our PolitiFact Rhode Island Facebook  page.)
Radio interview with Carolyn Medeiros, "The Helen Glover Show," Nov. 13, 2012

Interview, Sol Rodriguez, executive director, OpenDoors, Nov. 14, 2012

Rhode Island Department of Corrections, "Fiscal Year 2012 Annual Population Report, " accessed Nov. 15, 2012

The Providence Journal, "R.I. General Election Ballot: Question 2 -- Amendment gives felons right to vote," Oct. 12, 2006

The Providence Journal, "R.I. change on voting rights draws praise," July 30, 2009
Browse the Truth-O-Meter
More by John Hill
Support independent fact-checking.
Become a member!
In a world of wild talk and fake news, help us stand up for the facts.