Stand up for the facts!
Our only agenda is to publish the truth so you can be an informed participant in democracy.
We need your help.
I would like to contribute
"Since I took office in January 2011, we have created 11,100 Rhode Island-based jobs."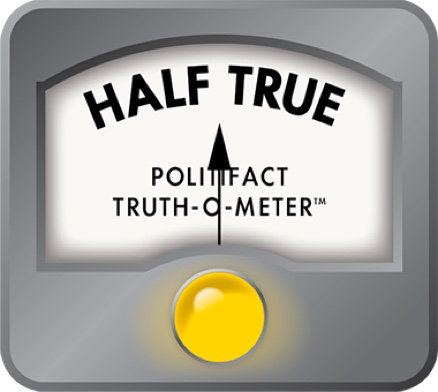 R.I. Gov. Lincoln Chafee says his administration created 11,100 jobs since 2011
In his Jan. 15 State of the State address, Governor Lincoln Chafee noted that while the state's economy still has a way to go to recover from the collapse of 2008, economic indicators such as the unemployment rate and the number of people working had moved "in the right direction."
It's easy to lose sight of the progress, he said, but the signs are there. He cited one statistic in particular.
"Since I took office in January 2011," he said, "we have created 11,100 Rhode Island-based jobs."   
At the time he gave his speech, the state's unemployment rate was 9 percent, tied with Nevada for worst in the nation. So we decided to check his numbers.
The 11,100 figure was derived from statistics compiled by the state Department of Labor and Training.
Donna A. Murray, the department's assistant director of labor market information, said it came from subtracting the January 2011 Rhode Island jobs number - 459,500 - from the November 2013 number - 470,600.
She qualified it somewhat by noting that the November 2013 figure is an estimate that will be refined later this year when the state has a chance to review all Rhode Island employers' unemployment insurance filings.
So the jobs number was correct. How about the "we created" part?
Determining how much credit a political leader should get when jobs numbers go up -- or down -- can be tricky. Generally, they're influenced far more by national economic trends than anything a mayor or governor does.
During the period Chafee cites, the national jobs number went from about 139.3 million to 143.2 million, a gain of around 2.8 percent, while Rhode Island's increase was about 2.4 percent.
Did the number of jobs in the state increase because of efforts by the Chafee administration or because of the slow but steady improvements in the national economy?
When we examined Cranston Mayor Allan Fung's claim that his administration created more than 1,000 jobs in the city, Fung provided a spreadsheet of 37 companies that had been directly helped by the city.
We checked with officials of some of those companies, who confirmed the city's help, leading us to rule Fung's claim Mostly True.
We asked the Chafee administration for such specific examples.
Spokeswoman Faye Zuckerman didn't have a similar position-by-position count showing how the administration's help create specific jobs. Instead, she pointed to Chafee's Workforce Board, which spent about $10 million in 2013 on training and education programs on its own and in cooperation with hundreds of employers in the state.
She also noted Chafee's efforts to increase state aid to public schools, arguing that better-educated graduates would be better able to get jobs.
Then we asked Edinaldo Tebaldi, assistant professor of economics at Bryant University, for guidance.
Internal economic policies can have an effect on jobs, he said. But because Rhode Island's economy is relatively small compared with the rest of New England, it is more sensitive to regional and national trends.
Tebaldi said all politicians like to claim credit for job growth but it's hard to tell how much they drove it and how much was floated by a tide that was coming in anyway.
"It's really impossible to quantify," Tebaldi said. "We know they have made a contribution, but we don't know how much."
Our ruling
Governor Chafee said "we have created 11,100 Rhode Island-based jobs" since January 2011.
The number of jobs added in that period is correct. But the gains came at the same time the national economy was improving. The Chafee administration provided no direct evidence that its actions led to any of those jobs.
Because the statement is partially accurate but leaves out important details or takes things out of context, we rate it Half True.
Gov. Lincoln Chafee, State of the State Address, Rhode Island State Capitol, Jan. 15, 2014.
Email, Donna A. Murray, assistant director of labor market information, Rhode Island Department of Labor and Training, Jan. 22, 2014.
Interview, Edinaldo Tebaldi, assistant professor of economics, Bryant University. Jan. 23, 2014.
U.S. Bureau of Labor Statistics, "Employment, Hours, and Earnings from the Current Employment Statistics survey (National)," accessed Jan. 31
Browse the Truth-O-Meter
More by John Hill
Support independent fact-checking.
Become a member!
In a world of wild talk and fake news, help us stand up for the facts.