Stand up for the facts!
Our only agenda is to publish the truth so you can be an informed participant in democracy.
We need your help.
I would like to contribute
Says veterans' disability claims backlog doubled in Obama's first term.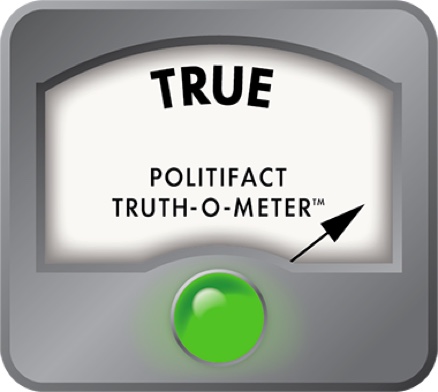 John Cornyn says veterans' disability claims backlog doubled in Obama's first term
In legislation filed this week, U.S. Sen. John Cornyn touts a Texas-tested method to address backlogged veterans' disability claims, a problem he recently highlighted on Twitter.

On Nov. 19, 2012, the Texas Republican tweeted, "Veterans' disability claims backlog had doubled during POTUS's first term. He needs to announce a plan to reduce it. ASAP."

Reducing the Department of Veterans Affairs backlog was one of the campaign promises Barack Obama made in 2008 as he ran for POTUS (president of the United States). PolitiFact rated it a Promise Broken in a Nov. 2, 2012, article that delved into some of the reasons the problem had grown worse.

The term "backlog" is used in this context as shorthand for claims that have gone unaddressed by the government for 125 days involving military veterans' disability compensation and pensions and compensation for surviving spouses or children of veterans who die because of their military service.

PolitiFact said the nationwide backlog "nearly doubled from roughly 36 percent in summer 2010 to 65 percent in June 2012," due in part to the influx of veterans returning from war in Afghanistan and Iraq.

Texas' backlog doubled from July 2010 to July 2012, the Austin American-Statesman reported in a July 16, 2012, news story. And the VA claims office in Waco has both the nation's longest wait and the nation's largest backlog, according to an Aug. 14, 2012, Statesman article and Cornyn's Nov. 12, 2012, opinion column in the Waco Tribune-Herald.

Cornyn's legislation, according to his Nov. 28, 2012, press release, would require the VA to come up with a national plan similar to its recent partnership with the Texas Veterans' Commission, which assists veterans with their claims individually.

We asked Cornyn spokesman Drew Brandewie for details on the senator's tweet about Obama's first term, which began Jan. 20, 2009. His second term begins Jan. 21, 2013.

Brandewie emailed us data from the U.S. Department of Veterans Affairs. Looking at numbers from the department's weekly reports, Brandewie said, there were 86,687 backlogged claims on Jan. 24, 2009, and 597,636 on Nov. 17, 2012. That, we calculated, is a 589 percent increase.

But, Brandewie noted, there's a hitch in those numbers. Before October 2009, he said, the VA considered a claim backlogged if it had gone unaddressed for more than 180 days. Then the department raised the bar. Beginning that month, a claim was backlogged if it had been pending for more than 125 days.

That meant a lot of claims were immediately reclassified as backlogged. The agency's Sept. 26, 2009, report has 88,195 claims older than 180 days; the next report, issued Oct. 3, 2009, has 158,290 claims pending for more than 125 days.

We wondered if 180-day-late claims had doubled on Obama's watch, but the VA reports stopped including that statistic after the 2009 change. As an alternative, we checked the longest span of days we could get with the 125-day measure -- Oct. 3, 2009 to Nov. 17, 2012. The result: a 278 percent increase.

Veterans' Affairs spokesman Randy Noller, whom we interviewed by phone, sent us data that matches the numbers Brandewie sent us.

Brandewie also pointed out that the backlog had doubled in another way: as a percentage of the whole. Two years ago, less than a third of all such veterans' claims were pending. Now, more than two-thirds of all claims are pending.

Why did the backlog increase so much? Noller told us, "We've got more claims being filed now than ever before."

PolitiFact said the VA added staff, but it wasn't enough to keep up with a sharp increase in claims volume, much less reduce the past backlog.

The undersecretary for the Veterans Benefits Administration, Allison Hickey, said the volume of claims rose 48 percent from 2008 through 2011 -- from 888,000 to 1.3 million -- in testimony to a U.S. House subcommittee July 18, 2012.

That's despite a decline in the number of veterans, which dropped about 6 percent in the same period --  from 23.4 million in 2008 to 22.2 million in 2011 by the department's VetPop estimates and from 23.2 million in 2008 to 21.5 million in 2011 according to the U.S. Census Bureau.

Noller told us "ten years' worth of war" in Iraq and Afghanistan is a large factor.

Because of advances in technology and tactics, "more of our people are coming back alive," he said, and they report more medical conditions per person than their Vietnam and World War II predecessors.

Those older veterans face additional problems of their own as they age, according to a Sept. 27, 2012, New York Times news story. "The department is administering pensions for World War II veterans while handling new claims from Vietnam veterans struggling with the multiplying ailments of age," the story said.

In her testimony, Hickey said another major contributor to the backlog pile-up has been claims involving Agent Orange, a herbicide the U.S. sprayed to reduce vegetation providing enemy cover in Vietnam.

The Aug. 4, 2012, Statesman news story said rules adopted in 2010 made it easier for Vietnam veterans to file claims based on post-traumatic stress disorder and exposure to Agent Orange.

The Times story said that even though Veterans Affairs "added nearly 4,000 new workers since 2008, the agency did not keep pace."

Our ruling

Cornyn said the backlog of veterans' claims doubled in Obama's first term.

Counting from Jan. 24, 2009, forward yields an increase of 589 percent. This is an overstatement, though, since the government lowered its threshold for declaring a claim as backlogged after Obama became president. Still, the backlog has tripled since the lower threshold was imposed in October 2009.

We often find fault in claims that assign the responsibility for broad results to a particular officeholder. That's because many factors are usually at play. In this instance, however, Obama promised to reduce the backlog of claims and PolitiFact recently rated this a promise Broken. In turn, we rate Cornyn's statement as True.
Tweet from U.S. Sen. John Cornyn, R-Texas, Nov. 19, 2012

Email interviews with Cornyn press secretary Drew Brandewie, Nov. 26-28, 2012

Austin American-Statesman news story, "Backlog of benefits claims for Texas veterans has doubled in two years," July 16, 2012

Austin American-Statesman news story, "Central Texas veterans face nation's longest wait for VA disability claims," Aug. 14, 2012

Waco Tribune-Herald opinion column, "John Cornyn, guest columnist: One way to significantly honor our veterans," Nov. 12, 2012

Cornyn press release, Nov. 28, 2012

Department of Veterans Affairs website, "Monday Morning Workload Reports," accessed Nov. 28, 2012

Email interviews with Randy Noller, public affairs officer with Department of Veterans Affairs, Nov. 26-28, 2012

Testimony of Veterans Benefits Administration Undersecretary Allison Hickey to House Committee on Oversight and Government Reform's Subcommittee on National Security, Homeland Defense and Foreign Operations, July 18, 2012

Department of Veterans Affairs VetPop2007 estimates, accessed online Nov. 28, 2012

Department of Veterans Affairs ASPIRE website benefits statistics, accessed online Nov. 28, 2012

U.S. Census Bureau "Facts for Features" files "Veterans Day 2012: Nov. 11" and "Veterans Day 2009: Nov. 11,", accessed online Nov. 28, 2012

The New York Times news story, "Veterans wait for benefits as claims pile up," Sept. 27, 2012
Browse the Truth-O-Meter
More by Sue Owen
Support independent fact-checking.
Become a member!
In a world of wild talk and fake news, help us stand up for the facts.