Stand up for the facts!
Our only agenda is to publish the truth so you can be an informed participant in democracy.
We need your help.
I would like to contribute
Says Romney invested in a firm that made goods in China that "could have been made here in America."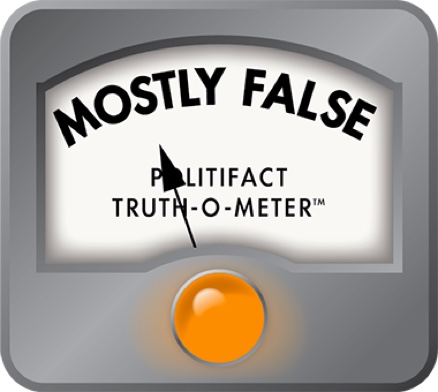 Obama ties Romney to Chinese exporter
President Barack Obama continues to go after Mitt Romney for investing in companies that sent jobs overseas.

A recent Obama ad combines the outsourcing charge with an attack on Romney's claim that he would take a tougher line than the president on trade with China.

It features grainy photos of Chinese factory workers in assembly plants. An announcer says:
"These appliances could have been made here in America. But a company called Global-Tech maximized profits by paying its workers next to nothing under sweatshop conditions in China.
When Mitt Romney led Bain, they saw Global-Tech as a good investment even knowing that the firm promoted its practice of exploiting low-wage labor to its investors.
Mitt Romney, tough on China? Since when?"
We have done other fact checks on claims related to Romney's investments in firms that engaged in outsourcing. This time, we decided to examine whether it is accurate to say that Global-Tech's appliances "could have been made here in America."

Romney and Global-Tech

Of course, any product could be made in the U.S. if a manufacturer built a plant. For this fact-check, though, we'll explore whether Global-Tech's small appliances could reasonably have been made here.

Romney's investment company, Bain Capital, bought a 10.3 percent share in Global-Tech Appliances through a subsidiary in 1998, according to a July article in Mother Jones. In a prospectus that year, Global-Tech described that it had two factories in China that produced coffee makers, bread makers, and other small appliances for some of the best known brands, such as Sunbeam, Hamilton Beach, Mr. Coffee, Oster and others.

It boasted that the combination of retail trends, superior manufacturing technology and low wage rates had fueled a three-fold rise in sales from $31 million in 1995 to $96 million in 1998.

The Romney campaign rebutted the ad's claims saying, "This is another 'overboard' ad from a president who is trying to distract from his failure to stand up to China." However, the campaign did not correct any of the ad's details about Bain and Global-Tech.

What was brewing with small appliances

The ad's larger point is that Romney boosted the trend toward low-cost overseas production at the expense of American jobs. The ad sets that up by saying "these appliances" -- meaning those coffee makers and hair dryers made by Global-Tech -- could in fact have been made in the U.S.

But is that a fair assumption?  We tried to get a picture of what was going on with the business of small home appliances in 1998, the year Romney invested in the Hong Kong based company.

Coffee makers are a good example. According to the United Nations Commodity Trade database, in 1993, China exported about $23 million worth of coffee makers to the U.S. By 1998, business had doubled to $46 million. Add in the exports from Hong Kong to America and the total reached over $100 million. Goods made in China destined for the U.S. often flowed through Hong Kong.

Americans seemed to have an almost insatiable demand for imported coffee makers and Chinese/Hong Kong imports satisfied over a third of it. At the time, the U.S. share of total world exports of coffee makers was about 3 percent, or $30 million.

Gary Hamilton, a professor of international studies and sociology at the University of Washington who focuses on consumer goods, says the situation with coffee makers was typical.

"The manufacture of most such consumer goods had already left the U.S." before Bain bought its stake in Global-Tech, Hamilton said. "Some as many as 10 to 15 years earlier."

Hamilton said this was the result of forces that had begun to take shape in the 1970s. It wasn't just low wages in China and other countries. Western companies invested in technology like barcodes and scanners that allowed them to manage inventory and supply chains across the globe. Container ships got bigger, which made transport much cheaper. The companies that made goods, such as Sunbeam, bought out similar brands and consolidated, while the on the retail side, firms such as Wal-Mart built enormous buying power.

The end result made American production of these goods increasingly less competitive.

"There is every reason to think that the manufacture of these items would not then and would not now return to the U.S.," Hamilton said.

The remaining manufacturers

There are still U.S. companies making things such as coffee makers and blenders but they occupy a tiny sliver of the market. David Riley runs Americans Working, a website that lists goods made in the U.S.. Riley noted that Bunn, an iconic coffee machine brand, is still operating in Illinois. But, "I think only high end personal units and commercial," he said. A similar website, Still Made in USA, said the same thing. We called Bunn and never heard back.

There are exceptions, but in general, the more expensive the item, the better the odds it can be made profitably in the U.S.

KitchenAid makes mixers and blenders at its plant in Greenville, Ohio, according to the website Still Made in USA. But its coffee grinders are largely made in India with final assembly in the U.S. It is not uncommon for manufacturers to outsource their more affordable lines while keeping the costlier versions domestic.

We took a look at companies in Germany, Switzerland and Italy where exports of coffee makers remain robust. In recent years, Italy favored the world with some $500 million a year in espresso and latte makers. But there too, those countries succeeded at the high-end of marketplace and some firms outsourced their more garden variety products to low-wage nations.

We should note that some big ticket products such as refrigerators and stoves retain a sizable footprint in America. General Electric told Consumer Reports it is investing $1 billion to expand its line of washing machines and dryers in Louisville, Ky..Frigidaire, owned by Sweden's Electrolux, produces dishwashers in Kinston, N.C.

If the Obama ad had referred to a broader set of home goods than just the ones made by Global Tech, then there is some basis to find that the appliances could have been produced in the U.S. But the ad was fairly specific about what products it had in mind. And in 1998, as now, those products were overwhelmingly made in other countries.

Our ruling

The Obama campaign ad said, "These appliances could have been made here in America."

For the coffee makers and other items that Global-Tech produced, that is conceivable but unlikely. The U.S. had the technology and the trained people to do the work. But the economics of global trade made that unworkable well before Romney and Bain invested in the firm.

We rate the statement Mostly False.
Obama for America, Since When, October 1, 2012

PolitiFact, Thousands (in China) owe their jobs to Mitt Romney's companies, July 25, 2012

PolitiFact,Mitt Romney's companies were pioneers in outsourcing U.S. jobs to low-wage countries, July 13, 2012

USA Today, Obama ad hits Romney of China, outsourcing, October 2, 2012

Global-Tech Appliances, Inc., Stock Offer Prospectus, April 8, 1998
Email exchange with Obama campaign

Email interview with Gary Hamilton, Professor of International Studies and Sociology,
University of Washington, October 2, 2012

University of Washington, Wal-Mart, China and You, PowerPoint by Gary Hamilton

Email interview with David Riley, Americans Working, October 2, 2012

Email interview with Timothy J. Sturgeon, senior research affiliate, Industrial Performance Center, MIT, October 2, 2012

Email interview with Susan Houseman, senior economist, Upjohn Institute for Employment Research, October 2, 2012

Psychology Press, Commerce and Capitalism in Chinese Societies, April 13, 2006

Consumer Reports, Which appliances are still American-made, April 19, 2011

Still Made in USA, Appliances

UN Commodity Trade Statistics Database, HS96-851671 - domestic coffee makers

UN Commodity Trade Statistics Database, All exporters of coffee makers

U.S. Census, 1997 Comparative statistics for United States and 2002 Comparative statistics for United States
Browse the Truth-O-Meter
More by Jon Greenberg
Support independent fact-checking.
Become a member!
In a world of wild talk and fake news, help us stand up for the facts.