Stand up for the facts!
Our only agenda is to publish the truth so you can be an informed participant in democracy.
We need your help.
I would like to contribute
"President Barack Obama (is) the first president in history to cut Medicare by $700 billion."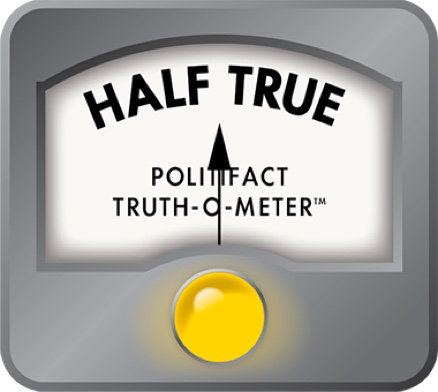 Ohio Republican Party says Obama cut Medicare by $700 billion
Claims about the Affordable Care Act, commonly called Obamacare, were staples of congressional campaigns in 2010. Many have resurfaced, or simply continued, in the 2012 federal elections.

Several appear in a brochure sent to voters by the Ohio Republican Party in support of Mitt Romney's presidential campaign.

Aimed specifically at seniors, the brochure says they can count on Romney, but not on President Obama, "the first president in history to cut Medicare by $700 billion."

If the claim has a familiar ring to it, it's because it similar to others that PolitiFact has reviewed. But its continued use, including in the presidential and vice-presidential debates, makes it worth another look.

The "cut" refers to an aspect of the Affordable Care Act, the health care reform known as Obamacare.

There are cuts and then there are CUTS. Neither Obama nor his health care law literally "cut" a dollar from the budget of Medicare, which operates as a government-run health insurance plan for Americans over age 65.

Rather, the health care law instituted a number of changes to reduce the growth of Medicare costs. At the time the law was passed, those reductions amounted to $500 billion over the next 10 years. Time's passage has only boosted that number.

What kind of spending reductions?

They were mainly aimed at insurance companies and hospitals, not beneficiaries. The law makes significant reductions to Medicare Advantage, a subset of Medicare plans run by private insurers. Medicare Advantage was started under President George W. Bush, and the idea was that competition among the private insurers would reduce costs. But the plans have actually cost more than traditional Medicare. So the health care law scales back the payments to private insurers.

Hospitals, too, will be paid less if they have too many re-admissions, or if they fail to meet other new benchmarks for patient care.

Still, the overall Medicare budget is projected to continue to increase. The health care law tries to limit that growth, making it less than it would have been without the law. But it doesn't reduce its overall budget.

That's why claims that Obama would "cut" Medicare need more explanation to be fully accurate. And in the past, PolitiFact has rated similar statements Half True or Mostly False, depending on the wording and context.

Because Medicare spending gets bigger every year, the cost-saving mechanisms in the health care law also get bigger. Also, it takes a few years for the health care law's savings mechanisms to kick in. In fact, the effects of time are the main reason the $500 billion number has turned into $700 billion.

The Congressional Budget Office, the nonpartisan agency with expert staff that generates projections about how laws affect the federal budget and economy, determined in 2011 that the federal health care law would reduce Medicare outlays by $507 billion between 2012 and 2021. In a more recent estimate released this year, the CBO looked at the years 2013 to 2022 and determined the health care law affected Medicare outlays by $716 billion.

That CBO estimate is cited as the supporting source for the claim in the brochure, that Obama is "the first president in history to cut Medicare by $700 billion."

That claim is partially accurate.

That amount refers to the savings expected from Obamacare's reductions in growth of Medicare spending over 10 years, primarily paid to insurers and hospitals. Those savings were credited to the health care law to keep it from adding to the deficit.

What the law does not do, as the claim implies, is chop $700 billion that was already allocated to Medicare for its programs..

One other point worth noting: The changes that lead to the projected savings are a result of legislation that was approved by both houses of Congress and signed into law by Obama -- not as a result of an executive order or decision Obama made individually in his administration.

Those are important details that give context to the statement.

On the Truth-O-Meter, the Ohio Republican Party's claim rates Half True.
Ohio Republican Party, "Ohio Seniors" brochure, September 2012

Congressional Budget Office, "Impact of Repeal of Affordable Care Act," July 24, 2012 letter to Speaker of the House John Boehner

PolitiFact, "Romney says Obama cut $716 billion from Medicare," Oct. 3, 2012

PolitiFact, "Clinton says Ryan attacked Obama for Medicare cuts reflected in Ryan's own budget," Sept. 6, 2012

PolitiFact, "$500 billion from Medicare for Obamacare, Mitt Romney says," June 16, 2011
Browse the Truth-O-Meter
More by Tom Feran
Support independent fact-checking.
Become a member!
In a world of wild talk and fake news, help us stand up for the facts.