Stand up for the facts!
Misinformation isn't going away just because it's a new year. Support trusted, factual information with a tax deductible contribution to PolitiFact.
I would like to contribute
Says U.S. Rep. John Barrow "left taxpayers on the hook for $950k study on genetic makeup of ants."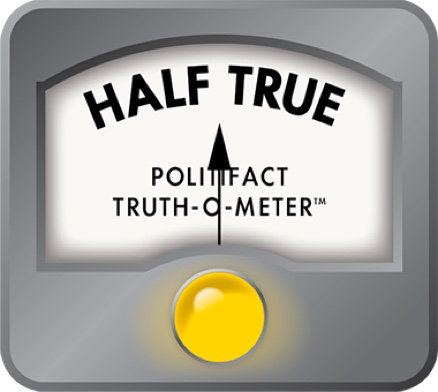 Barrow gets flak for vote that funded study of ants
Could Congressman John Barrow's re-election chances come down to, of all things, ants?

The Georgia Democrat recently released a television commercial portraying himself as a fighter against out-of-control spending in Washington. The National Republican Congressional Committee attempted to undercut Barrow's efforts with a claim it says proves he's no fiscal watchdog.

"Barrow left taxpayers on the hook for $950k study on genetic makeup of ants," read the headline of an article on the NRCC's website.

The article claimed Barrow voted for legislation in 2009 that included sending $500,000 to Arizona State University to study the genetic makeup of ants to determine distinctive roles in ant colonies; $450,000 went to the University of Arizona to study the division of labor in ant colonies.

"Georgia families know that in order to get rid of wasteful spending they need to get rid of John Barrow," NRCC spokeswoman Andrea Bozek wrote.

The Republicans' larger point about this is they want to link Barrow with President Barack Obama, who is portrayed by the GOP as a big-spending liberal.

"Congressman John Barrow has supported [Obama's] liberal spending agenda every step of the way," Bozek told PolitiFact Georgia. "His claims [otherwise] don't pass the smell test."

Republicans believe they have a good opportunity to defeat the four-term incumbent in November after the lines in the east Georgia congressional district he represents were redrawn. The new 12th Congressional District no longer includes Savannah, a traditional stronghold for Democrats. A 2011 Atlanta Journal-Constitution analysis found the district shifted from a 2 percent Democratic advantage to a 20-point Republican lean. Barrow is the only white Democrat in the House who represents a congressional district in the Deep South.

Barrow has tried to portray himself as a moderate Democrat. His congressional website includes an email address for people to send ideas to "fix Washington," saying, for example, that the federal government spends billions of dollars on vehicles it doesn't need. Barrow did not attend the recent Democratic National Convention. He claims to have voted 54 percent of the time with House Majority Leader Eric Cantor, a Republican from Virginia. In a recent TV ad, Barrow said he voted against funding for a lobster institute, holding one of the sea creatures for effect.

So why would a congressman from Georgia vote to spend federal funds for researchers from Arizona to study ants? The answer lies in one of the largest government spending measures in U.S. history.

Shortly after Obama became president in 2009, House Democrats took up legislation aimed at stabilizing the U.S. economy. The bill was called the American Reinvestment and Recovery Act. It was commonly known as the economic stimulus. It entailed $787 billion in federal spending on infrastructure projects, unemployment benefits, expanded medical benefits and other government programs. The bill passed the then-Democratic-led House of Representatives by a 246-183 vote. Barrow voted in favor of the program. Not one Republican voted for the bill.

Months later, Republicans began blasting the stimulus. U.S. Sen. John McCain of Arizona, who voted against the stimulus, complained about money funded for the ant research in his home state.

"I had no idea that so much expertise concerning ants resided in the major universities of my state," McCain quipped at a news conference. "I must say, I say that with an element of pride -- but I'm not sure that it is deserving of these taxpayer dollars."

Arizona State officials said the research helps further knowledge of evolution and societal behavior, which sheds light on understanding humans. A University of Arizona official said the research would help scientists learn more about how ants share scarce resources.

"You don't think of it every day, but ants are really good at division of labor," Leslie Tolbert, the UA vice president for research, said in The Arizona Daily Star.

Barrow spokesman Richard Carbo defended the congressman's vote on the stimulus. He said the 407-page bill did not include references to ants or research to study the insects. The money came from $2.5 billion through the National Science Foundation to be spent on research that was unspecified in the bill. Carbo said it is disingenuous for the NRCC to say Barrow supported that amount of money for the research.

"To say [Barrow] voted for it is inaccurate and false," Carbo told us. "If you look at the entire bill, there's no mention of ants."

Carbo said some Republicans from the Georgia Legislature have credited the package with helping the economy in this state. Bozek countered that Barrow's support for the bill disappeared after the NRCC publicized the money for ant research. She cited a Sept. 11 report in The Savannah Morning News that Barrow recently removed a sentence from his campaign biography that he stood with Obama in support of the stimulus act.

But is it fair to bash Barrow for voting in favor of the stimulus when it didn't include any information that some funds would ultimately be spent on ant colony research? Bozek said the congressman should have known the stimulus would result in "wasteful spending."

"John Barrow continues to try to and pass the buck for his failed leadership that cost Georgia taxpayers dearly," Bozek said. "While Barrow tries to hide the facts by deleting mentions of the failed stimulus from his website, Georgia taxpayers are left footing the bill for his wasteful stimulus plan."

OK, so where does this leave us? Barrow did vote for the stimulus bill. It did not mention anything, however, about ant research, but some of the funds were used for such purposes. The NRCC headline is technically accurate, but it omits some important information to fully understand this issue. We rate this claim Half True.
National Republican Congressional Committee, "Barrow Left Taxpayers On The Hook For $950k Study On Genetic Makeup Of Ants," Sept. 6, 2012.
Arizona Daily Star, "Ant study in Ariz. on list of questionable projects," Dec. 9, 2009.
Atlanta Journal-Constitution Political Insider item on John Barrow, Sept. 6, 2012.
Blog item by Alex Wild about the stimulus funding for ant research projects, Dec. 9, 2009.
Library of Congress, link of economic stimulus bill, known as the American Reinvestment and Recovery Act of 2009.
Recovery.gov website of stimulus projects.
Savannah Morning News, "Barrow drops 'stim' support from list of feats," Sept. 11, 2012.
Telephone interview with NRCC spokeswoman Andrea Bozek, Sept. 13, 2012.

Telephone interview with Barrow spokesman Richard Carbo, Sept. 13, 2012.

YouTube video of U.S. Sen. John McCain's comments about stimulus funding, Dec. 9, 2009.
Browse the Truth-O-Meter
More by Eric Stirgus
Support independent fact-checking.
Become a member!
In a world of wild talk and fake news, help us stand up for the facts.