Get PolitiFact in your inbox.
The Internal Revenue Service spent $60,000 on a "Star Trek" training video.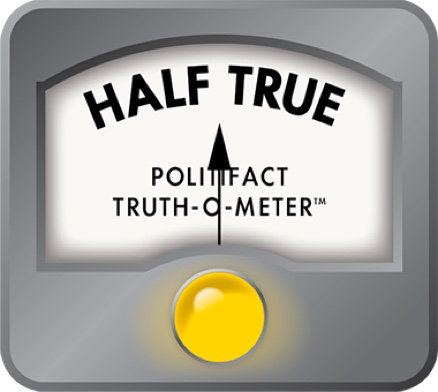 Congressman finds no humor in IRS Star Trek parody
Video. The final frontier for some federal workers.
A group of Internal Revenue Service employees went where few had gone before by creating a video in which they dressed as "Star Trek" characters.
The video was intended for training purposes.
When word got out about the video, particularly that tens of thousands of dollars were spent on it, many said the IRS workers should not have gone there. The critics included a Georgia congressman.
"Next time anyone (@barackobama) says they need to raise your taxes, send them this IRS star trek video -- cost you $60k," U.S. Rep. Tom Graves posted on his Twitter page.
PolitiFact Georgia went on a mission to see whether the North Georgia Republican was correct. Thankfully, our search for the facts didn't take as much time as Capt. Kirk, Mr. Spock and their crew spent on the Starship Enterprise.
CBS News filed a federal Freedom of Information Act to get a copy of a 6-minute video of IRS employees in "Star Trek" gear decrying various tax evasion schemes.
Here's how the video began:
"Space: the final frontier
These are the voyagers of the Starship Enterprise Y
Its never-ending mission is to seek out new tax forms
To explore strange new regulations
To boldly go where no government employee has gone before."
The video ends with the crew heading from space back to Earth to pick up a "tax gap vaccine." Many news organizations quickly picked up on the story. The video was made in 2010.
William Shatner, who starred as Capt. James T. Kirk in the television series, was not pleased about it.
"So I watched that IRS video. I am appalled at the utter waste of US tax dollars," Shatner posted on Twitter.
This was not the only video. In 2011, some IRS workers dressed as characters from the campy 1960s television series "Gilligan's Island" for another training video.
Combined, the IRS said two videos cost $60,000. Couldn't Thurston Howell III at least put up the money for the "Gilligan's Island" video? Some news organizations, however, reported just the "Star Trek" video cost $60,000. Graves' tweet did not mention the "Gilligan's Island" video.
PolitiFact Georgia contacted the congressman's office to see whether it was aware of the other video. We were told the best person to talk to about it was Graves' spokesman, John Donnelly, who was out of the country for a week and temporarily unavailable for comment. We caught up with Donnelly when he returned. He explained that the office saw some of the errant media reports and headlines and based its tweet on them.
"IRS admits $60,000 'Star Trek' parody video a mistake," was the headline of an NBCNews.com story.
The article reported the existence of both videos and noted they cost a combined $60,000. The vast majority of news outlets reported $60,000 was spent on both videos.
In a statement, Donnelly reiterated the congressman's concerns about how taxpayer dollars were spent.
"The fact that the IRS used even 1 cent of someone's hard-earned paycheck to make these bizarre videos is a horrific abuse of public funds and an embarrassing illustration of what happens when bureaucracies are bloated by billions of dollars in deficit spending," Donnelly said. "Pause for a moment and consider that your tax dollars were used to pay for props like replica Spock ears, and think about how the IRS spent well over Georgia's median household income to create these exorbitant spoofs -- it is absolutely shameful."
The IRS contends there was a cost benefit to the "Gilligan's Island" video.
The video "was used to train taxpayer assistance employees in approximately 400 locations across the United States, saving an estimated $1.5 million as compared to the potential costs to train these employees in person," acting IRS Commissioner Steven T. Miller wrote in a letter to U.S. Rep. Charles Boustany, R-La., chairman of a House oversight subcommittee.
Some news outlets reported that the "Star Trek" video cost more than the "Gilligan's Island" video. The IRS did not respond to our follow-up question concerning the cost of each video.
To sum up, Graves posted on Twitter that the IRS spent $60,000 on a training video in which some of its employees were dressed as "Star Trek" characters. The IRS says that video and another cost a combined $60,000. Graves' statement was based on inaccurate news coverage. Most news organizations, though, got it right.
The congressman's claim is partially accurate. The IRS did spend a lot of taxpayer money on a "Star Trek" video. But Graves' claim omits some important context, primarily that the $60,000 is inflated since that price tag covered two questionable videos.
Our rating: Half True.
U.S. Rep. Tom Graves Twitter post, March 26, 2013.
CBS News report on IRS videos, March 22, 2013.
Email from IRS spokesman Grant Williams, April 2, 2013.
Email from John Donnelly, spokesman to U.S. Rep. Tom Graves, April 8, 2013.
NBCNews.com story on IRS videos, March 22, 2013.
William Shatner Twitter post, March 25, 2013.
Browse the Truth-O-Meter
More by Eric Stirgus
Support independent fact-checking.
Become a member!
In a world of wild talk and fake news, help us stand up for the facts.