Stand up for the facts!
Our only agenda is to publish the truth so you can be an informed participant in democracy.
We need your help.
I would like to contribute
Says Texas "school systems" lose 45 days a year on testing.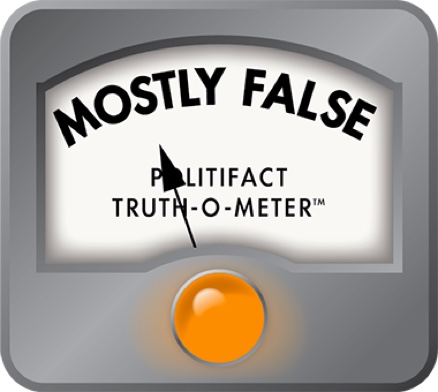 David Dewhurst says Texas 'school systems' lose 45 days a year on testing
Talking about education reform on a Dallas-area talk show April 8, 2013, Lt. Gov. David Dewhurst aired a number that PolitiFact Texas has studied before.
Dewhurst said during the program, hosted by Mark Davis on KSKY-AM 660, that he wants to "reduce this excessive number of days that our school systems lose every year, some 45 days on testing."
When Dewhurst spoke, the Texas Legislature was working on measures to reduce from 15 tests to five tests the number of end-of-course exams high school students must pass to graduate. The House passed such a proposal March 26, 2013; the Senate had yet to act.
The 15 end-of-course tests were first administered in spring 2012. Students in elementary school and middle school also take tests under the State of Texas Assessment of Academic Readiness program, which is gradually replacing the less rigorous Texas Assessment of Knowledge and Skills.
Dewhurst spokesman Travis Considine emailed us news and opinion articles from three Texas newspapers that gave the 45-day figure but did not explain its basis. We spoke to the authors of two items and a source from the third; nothing conclusive emerged.
Last year, we examined a statement similar to Dewhurst's when former state Sen. Ted Lyon said, "Most schools spend 45 days out of the 180 days in a school year in some form of mandated testing."
In that Aug. 29, 2012, fact-check, we found that the state's 2011-12 testing calendar showed 25 days plus flexible test periods for TAKS and STAAR, and we estimated that district-level "benchmark" tests might fall on another four to nine days. Not every school would take part in each test, though; elementaries, for example, would not be administering high-school exit tests. Overall, we concluded there was no evidence that most schools gave mandatory tests on 45 days, and rated Lyon's statement False.
Dewhurst referred to "school systems," which we took to mean districts rather than individual schools. So we set out to check the current levels of state- and district-mandated testing.
Our count of state-mandated exams on Texas' 2012-13 and 2013-14 testing calendars, with assistance and explanations from Texas Education Agency spokeswoman Debbie Ratcliffe, suggests there are a minimum of 22 STAAR/TAKS test days and a maximum of 36 (if a district uses all the dates in the flexible "windows," which are two-week spans during which districts schedule up to nine STAAR exams).
At the district level, we had bits of evidence but no complete picture. In our 2012 fact-check, we learned that the Mesquite district, just east of Dallas, gave four "benchmark" tests in a year. Another 2012 fact-check had shown that the Austin school district gave (depending on grade level) four to nine benchmark tests.
Do schools systems "lose" a day per test? STAAR exams take four hours, so one test wouldn't occupy a whole school day, but two tests would take either a whole day or, of course, half of two days.
Testing, however, can cause campus disruption outside of the exams themselves. Some campuses delay the start of school on test days, so the staff can focus on giving exams in the mornings. From readers, educators' associations and others, we heard anecdotal reports of time spent on test preparation; regular classes moved, hushed or halted during tests; and teachers pulled from classes to help administer tests.
So: What have we learned? Districts are required to conduct STAAR/TAKS testing on at least 22 days and at most 36 days. Adding in our guess of four to nine district-mandated test days brings that to a minimum of 26 days and a maximum of 46. If a district uses all 18 district-level test days permitted by state law, the maximum goes up to 54.
Again, it's important to note that no individual school is likely to conduct tests on all of those days, because only certain grades take certain tests.
Similarly, individual students would not take every test. Ratcliffe helped us calculate that a student might face as few as two STAAR days -- a third-grader, who's only tested in two subjects -- or, at the most, 15, in the unlikely event a 10th-grader failed five STAAR subjects last year, then fails five more this year and has to retake all 10. (About 70 percent of Texas high schoolers passed all five tests last year, Ratcliffe said.)
On the other hand, STAAR and TAKS aren't the only tests given, not by a long chalk. Exams that can be administered to cross-sections of the student body include the NAEP (National Assessment of Educational Progress), which is given to enable national comparisons of student performance in certain grades, and TELPAS (Texas English Language Proficiency Assessment System), given to chosen students to determine their knowledge of English.
 
Our ruling
Dewhurst said that "our school systems lose every year, some 45 days on testing."
The precise 45-day figure is widely cited without explanation or proof. Meantime, testing calendars and state law suggest that state-mandated plus district-required tests could -- might -- occupy parts of 22 to 54 days. School-level tests could affect more days, but Dewhurst (unlike Lyons) was speaking to districts, not individual schools.
If a number is floated without direct factual backup, it's hard for us to buy. Still, we see an element of truth to this statement: It's inside the range of 22 to 54 days supported by test calendars and the law. We rate the claim Mostly False.
Lt. Gov. David Dewhurst interview with Mark Davis on Irving-based KSKY-AM 660, April 8, 2013
Email interview, excerpted, with Dewhurst spokesman Travis Considine, April 10-17, 2013
Email interviews with Debbie Ratcliffe, communications director, Texas Education Agency, April 10-16, 2013
Austin American-Statesman news story, "Texas House votes to reduce high-stakes testing, change graduation requirements," March 26, 2013
Wichita Falls Times Record News news story, "More testing days for schools," March 15, 2012
Corpus Christi Caller Times opinion column, "High-stakes testing is a perversion," March 27, 2013
Houston Chronicle opinion column, "Spring Branch Board Is Fed Up With Testing Monster," May 1, 2012
Texas Education Agency state testing calendars, 2012-13 and 2013-14
Houston Chronicle news story, "STAAR a break, or waste, for non-testing students," March 27, 2012
Browse the Truth-O-Meter
More by Sue Owen
Support independent fact-checking.
Become a member!
In a world of wild talk and fake news, help us stand up for the facts.