Stand up for the facts!
Our only agenda is to publish the truth so you can be an informed participant in democracy.
We need your help.
I would like to contribute
Passing a federal firearms "background check through the NICS database . . . typically takes 90 seconds."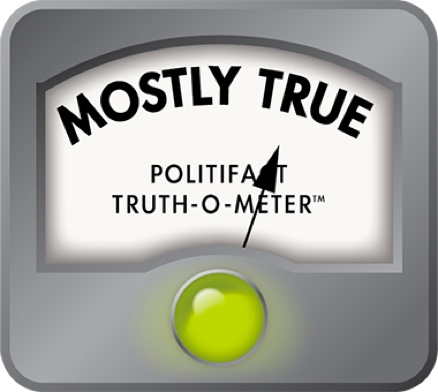 U.S. Rep. James Langevin says it takes just 90 seconds to pass a federal firearms background check
Imagine contacting the federal government and getting what you need in 90 seconds.
U.S. Rep. James Langevin says that's how long it takes to get a federal background check if you're seeking to buy a firearm.
The statement comes in a Dec. 3 news release, issued jointly with Rep. David Cicilline, calling for "a more effective background check process" that includes mental health records that Rhode Island, under law, is prevented from giving to the National Instant Criminal Background Check System (NICS).
(A General Assembly commission is exploring whether to modify the law.)
Langevin reports, "The Brady Handgun Violence Prevention Act of 1993 requires an individual to pass a background check through the NICS database before purchasing a firearm from a federally licensed dealer, a process that typically takes 90 seconds."
Why is the 90 seconds important to the gun control issue? Langevin spokeswoman Meg Fraser said it shows that "running a background check is generally a quick process, and adding additional records to the system would not result in a significant change or inconvenience to the customer."
There are days when we can't get a cup of coffee at Starbucks in 90 seconds, so we wondered if the background check process is really that quick.
We turned to people who use the system regularly.
Robert Carney, owner of Post Road Guns on Plainfield Pike, in Cranston, said it's true that it usually takes 90 seconds or less for the NICS to search its database and determine whether a customer is eligible to purchase a weapon. And he does it with a phone call, not with a computer.
The same is true for Adam Dacko, of Foster Bear Arms & Trading Post, in Foster. He estimated that 75 percent to 90 percent of the checks are completed within 45 seconds. Delays may occur if someone has a common name and doesn't provide a Social Security number, which is optional. "It takes longer for me to read off the form than it does for me to get a response," he said.  
Which brings up another point: That's not the whole process.
Carney showed us Form 4473 from the U.S. Bureau of Alcohol, Tobacco, Firearms and Explosives, which must be filled out first. It requires basic information such as height, weight and gender, along with questions about whether the would-be buyer is under indictment, has been convicted of a felony, has received a dishonorable discharge from the military, is addicted to any controlled substance, or is subject to a restraining order for harassing, stalking or threatening a child, "intimate partner or the child of an intimate partner."
It took us just under three minutes to fill out the form's 27 questions and sign it.
The seller must then confirm the buyer's identification, contact the NICS system, recite all the information on the form over the phone to an operator (or type it into the computer), and take down the confirmation information supplied through the NICS system. That would take a few more minutes.
Gun dealer Robert Swinehart of Arquebus Co., in West Warwick, said the whole process typically takes about five minutes.
Fraser then sent us a link to an FBI fact sheet about the NICS system, which claims that a "response is typically provided within 30 seconds." Swinehart said 30 seconds is typical for him when the buyer has a clean record.
Although the local firearms dealers are required to keep the form on file, federal authorities are required to delete the personal details received during each NICS inquiry once the sale is approved. If a buyer wants to purchase another gun the next day, the would-be purchaser has to go through the process all over again.
In addition to the federal check, local police are required to run a check as well, which can take a few days. It's all part of the state's seven-day waiting period.
Our ruling
James Langevin said in a news release that passing a federal firearms "background check through the NICS database . . . typically takes 90 seconds."
Gun dealers tell us the federal process is, in fact, usually very quick, barring some ambiguity with a person's record.
However, some readers might take Langevin's statement to mean that the whole process takes 90 seconds. It actually requires a few minutes for the customer to fill out the paperwork and the dealer to transmit the information to the NICS system.
Because the statement is accurate but needs clarification or additional information, we rate it Mostly True.
(If you have a claim you'd like PolitiFact Rhode Island to check, email us at [email protected] And follow us on Twitter: @politifactri.)
Langevin.House.gov, "Langevin, Cicilline Call for Stronger Background Checks," Dec. 3, 2014, accessed Dec. 4, 2013
Interviews, Robert Carney, Post Road Guns; Adam Dacko, Foster Bear Arms & Trading Post; and Robert Swinehart, Arquebus Co., all Dec 4-6, 2013
ATF.gov, "Firearms Transaction Record Part I - Over-the-Counter," Bureau of Alcohol, Tobacco, Firearms and Explosives," accessed Dec. 5, 2013
FBI.gov, "National Instant Criminal Background Check System Fact Sheet," undated, accessed Dec. 5, 2013
Browse the Truth-O-Meter
More by C. Eugene Emery Jr.
Support independent fact-checking.
Become a member!
In a world of wild talk and fake news, help us stand up for the facts.