Stand up for the facts!
Our only agenda is to publish the truth so you can be an informed participant in democracy.
We need your help.
I would like to contribute
There are twice as many gun shops as McDonald's in the United States.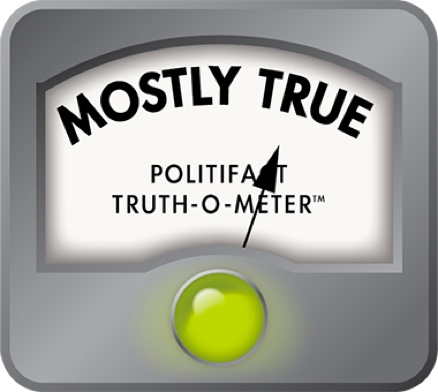 Are there more places to buy a gun than a Big Mac?
So what's easier to find? The golden arches or a gun shop.

The Rev. Markel Hutchins, an Atlanta-based civil rights activist, had an answer during a recent discussion about federal gun legislation on "The Ryan Cameron Show," which airs weekday mornings on V-103 FM in Atlanta.

"There are twice as many gun shops as McDonald's," Hutchins said.

McDonald's eateries are just about everywhere in America. PolitiFact Georgia was listening while stuck in traffic and wanted to find out whether Hutchins' claim is true that there are more places to buy a gun than to grab a Happy Meal.

Hutchins wants laws to restrict the availability of handguns across the country, particularly in urban areas such as Atlanta. He led a rally last week outside the headquarters of gun manufacturer Glock, located in Smyrna, a northern suburb of Atlanta. Hutchins says gun rights advocates are distorting the intent of the Second Amendment, saying it was written to allow Americans to arm themselves to protect the nation.

There had been a spate of high-profile shootings in Atlanta a week before Hutchins' interview. A 14-year-old boy was shot, allegedly by a 15-year-old boy, on the campus of an Atlanta middle school. The student who was wounded was not seriously injured. A day after that shooting, a Morehouse College student was shot inside a gym on the campus. The student was reportedly in stable condition and expected to make a full recovery.

Hutchins said he was indeed claiming that there are more gun shops nationwide than McDonald's restaurants. Hutchins sent us an ABC News article published in mid-December to back up his claim and said he did some additional research because he didn't believe it was true.

"My God, it was right there," he said.

The McDonald's website contains a number of facts and figures, including how many restaurants there are in the country. The latest tally, as of 2011, was 14,098 in the United States. There were 33,510 worldwide, the website shows.

The number on the restaurant's website matched what ABC reported. The news outlet reported there are 51,438 retail gun stores in America. Programs, such as American Public Media's "Marketplace," have reported the total is about 58,000. Some online research we did found others making similar claims that there are twice as many gun stores as McDonald's in America.

Those numbers, however, are more complicated than they first appear.

What Hutchins and some news outlets have referred to as "guns stores" are actually federal permits issued to sell guns. Those could represent retail establishments that primarily sell guns, larger retail vendors (such as Wal-Mart) that sell guns as part of a much larger retail venue or pawnshops that carry guns as part of their inventory. The numbers also refer to people who sell guns at gun shows several times a year and have no bricks-and-mortar store.

We attempted to make an oranges-to-oranges comparison here -- to compare McDonald's locations to free-standing stores that primarily sell guns.

It's hard to find detailed data on actual gun stores online. The U.S. Census Bureau does not keep data on gun stores. Neither does the U.S. Chamber of Commerce.

The U.S. Bureau of Alcohol, Tobacco and Firearms keeps a monthly log on its website of how many people and pawnbrokers are licensed to sell guns in the country and its territories. In January, the total was 58,725. About 51,000 of them were gun dealers. The rest were pawnbrokers. In Georgia, the total in January was 1,746.

In 2011, to be consistent with the most recent information we have about the number of McDonald's restaurants nationwide, there were 56,059 federally licensed firearms dealers and pawnbrokers in the country. That's quadruple the number of places to buy Chicken McNuggets.

The ATF does not track how many licensed dealers own a business that they sell guns from as opposed to those who may sell guns at a show. The ATF database has lists of every person licensed to sell guns. In Georgia, most people on the January list say they own a business. There were about 175 people on the list with a license who did not include the name of a business. About 100 of them are retail stores such as Wal-Mart, Dick's Sporting Goods and Academy Sports & Outdoors.

In some cases, the list contains the name of the person licensed to sell guns and the business
itself.

The leader of an organization of firearms retailers had a lower estimate of how many gun shops there are nationally. Andrew Molchan, president of Professional Gun Retailers Association, believes there are probably 9,000 "real" gun stores in America. His definition of a gun store is a place that regularly sells the weapons year-round. His estimate did not include businesses such as Wal-Mart because some of those stores do not sell any guns.

Molchan said it's tough to come up with a firm number of how many gun stores there are for several reasons. For example, he said some pawnshops sell only a handful of guns year-round.

"It's not hard and crisp," Molchan said of coming up with an actual estimate of how many gun shops there are in the U.S.

When told about Hutchins' claim, Molchan replied, "That's not necessarily wrong."

Some people, he said, may have a license to sell guns, but they don't sell any at all. He believes there are probably as many as 25,000 businesses that sell guns.

To sum up, Hutchins said there were twice as many gun shops than McDonald's restaurants in the United States. There are numbers we found that support his argument.

But this claim, like many we've tackled, is not as simple as it seems. His overall point seems accurate -- there are a lot of places to buy guns in the United States.

Our rating: Mostly True.
Radio interview with Rev. Markel Hutchins on V-103 FM, Feb. 4, 2013.

ABC News, "Guns in America: A Statistical Look," Dec. 14, 2012.
McDonald's 2011 financial highlights, accessed Feb. 6, 2013.
American Public Media's "Marketplace," "Final note: There are more than 58,000 gunshops in the U.S.," Dec. 14, 2012.
Telephone interview with Hutchins, Feb. 6, 2013.
Telephone interview with Andrew Molcham, Feb. 7, 2013.

U.S. Bureau of Alcohol, Tobacco and Firearms databases of federal firearm licenses.
U.S. Bureau of Alcohol, Tobacco and Firearms 2012 report on firearms, accessed Feb. 6, 2013.
Browse the Truth-O-Meter
More by Eric Stirgus
Support independent fact-checking.
Become a member!
In a world of wild talk and fake news, help us stand up for the facts.