Stand up for the facts!
Our only agenda is to publish the truth so you can be an informed participant in democracy.
We need your help.
I would like to contribute
Felony crimes in the city of Atlanta are the lowest they have been since 1969.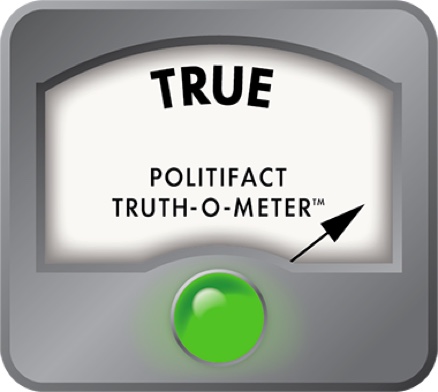 Mayor says felonies in Atlanta lowest in decades
Kasim Reed successfully campaigned for mayor in 2009 with the goal of making Atlanta a safer city.

In his recent State of the City speech before hundreds of business leaders and elected officials from across the region, Reed was very specific about the drop in major crimes last year.  

"Felony crimes are at the lowest they have been since 1969," the mayor said.

This claim was listed second in a glossy pamphlet called "30 Accomplishments in 3 Years" with Reed's picture on it.

Since public safety is such an important issue and Reed has highlighted this as an accomplishment, PolitiFact Georgia thought it would be worthwhile to fact-check whether the claim is correct.

Felony crimes consist of murder, rape, aggravated assault, robbery, burglary, larceny and auto theft. The FBI keeps data on felonies and other crimes that are collected from police agencies nationwide, and it puts them into an annual report. They are included in the FBI's Part I crimes category.

Atlanta police spokesman Carlos Campos said the claim was focused on the total number of felony crimes in the city in 2012. He forwarded us a report full of statistics that included felony crime totals from 1960 to 2010. Campos also gave us felony crime totals for 2011 and 2012.

The Police Department's and FBI's totals matched most years. The FBI does not have complete Atlanta data for 2012.

In 1969, Atlanta had 32,095 felony crimes. The total rose to slightly more than 40,000 in 1970 and nearly 50,000 by 1976. Felony crimes hit their zenith in 1989, when the total was 88,241. The annual totals have steadily declined since then. There have been a few years in the past decade in which the total was below 40,000. None, though, were as low as the 2012 total of 34,581.

As far as the annual totals, the city's numbers are correct.

Why is there a decrease?

Police departments across the country have reported a drop in crime in recent years. Washington, for example, was on pace in 2012 to have its lowest number of murders in nearly 50 years. New York City police report a major decline in homicides from 2,262 in 1990 to 515 in 2011. In 2011, the most recent year available, FBI data show violent and property crimes nationwide declined for the fifth year in a row.

Atlanta Police Chief George Turner told The Atlanta Journal-Constitution that his department, like many law enforcement agencies, uses computer mapping to determine crime trends and deploy officers to areas where there is a spike in criminal activity. The department also reconfigured the boundaries of its beats so officers would have less territory to cover, used video surveillance as a crime-fighting tool and has more cops on the force, which Turner believes are additional factors in the drop in crime.

PolitiFact Georgia has examined Atlanta crime statistics before, and we note that crime statistics are difficult to cross-check. Independent researchers or agencies don't typically do separate tallies or check the quality of crime statistics.

For a period starting in 1999, the department failed to count about 6 percent of rape reports. In 2003, an audit found that police were unable to find about 20,000 reports from the prior year. Rapes and robberies went unreported in the late 1990s as well.

We do note that there is no evidence that the city is currently underreporting its crime statistics.

One news site, Business Insider, analyzed the FBI crime data for 2011 and ranked Atlanta as the eighth-most-dangerous city in the U.S. by calculating Atlanta's violent crime rate and comparing it with other cities. The FBI advises against ranking agencies "[s]ince crime is a sociological phenomenon influenced by a variety of factors."

We did decide to take a closer look at Atlanta's felony crime rate to see whether it is also at its lowest level since 1969.

We used the FBI's formula for calculating the felony crime rate. We divided the number of felony crimes by the city's population for a particular year and multiplied that by 100,000.

PolitiFact Georgia must note a caveat about Atlanta's population estimates. As estimates, they can vary. We all believed Atlanta's population rose sharply between 2000 and 2009, particularly after 2005. In 2009, Atlanta's population was estimated at nearly 553,000 residents. Then the U.S. Census Bureau released its 2010 population estimate for Atlanta, which was done with the help of more counters than prior years. The total? An estimated 420,000.

In 2011, The Atlanta Journal-Constitution investigated why there was such a huge change in one year. The AJC found that a successful appeal by Fulton County government to the Census Bureau resulted in its 2005 population estimate rising by nearly 100,000 residents. Atlanta's population estimate rose that year by about 55,000 residents. The city appealed its estimate in 2006, and the Census Bureau agreed to increase its population by an additional 12,000 residents.

For our fact check, we used the adjusted census population estimates from 2000 to 2009, which were more conservative than the information used after the appeals.

The Atlanta Regional Commission estimates the city's population at 421,600 in 2012. Using that estimate, we found two years (1970 and 1971) in which there was a lower felony crime rate than 2012. The differences between those two years and 2012, though, was pretty small.

The most recent census population estimate for Atlanta was 432,427 in 2011. If we use that population estimate for 2012, that year wins as the city's lowest felony crime rate. The Census Bureau's 2012 estimate will not come out until March, we were told. Census estimates usually rise each year.

Our conclusion:

The mayor and city officials say felony crime is at its lowest since 1969. Indeed, the number of reported felony crimes is at its lowest since 1969. It's possible the felony crime rate was slightly lower in 1970 or 1971. It's possible, though, that the felony crime rate was lower in 2012.

Since it is possible the felony crime rate was lower in 2012, we're not going to quibble about 1970 or 1971. Our rating: True.
Mayor Kasim Reed's message.
Associated Press, "D.C.'s murder rate may hit 50-year low," Nov. 24, 2012.

The Atlanta Journal-Constitution, "How 121,000 people vanished in Atlanta," April 27, 2011.
The Atlanta Journal-Constitution, "Atlanta police department's improving numbers," Oct. 3, 2012.
The Atlanta Journal-Constitution, "Crime falls despite tough economy," Nov. 4, 2012.

Atlanta Regional Commission population estimates for 2011 and 2012.
Email from Carlos Campos, spokesman, Atlanta Police Department, Feb. 15, 2013.

Email from Gerson Vasquez, specialist, U.S. Census Bureau, Feb. 19, 2013.

FBI, "A word About UCR Data," accessed Feb. 22, 2013.
FBI crime statistics database, accessed Feb. 18, 2013.
FBI crime 2011 statistics for Georgia cities, accessed Feb. 20, 2013.
PolitiFact Georgia, "Atlanta police chief says despite fears, crime is down," April 18, 2011.
U.S. Census Bureau 2011 Quick Facts for Atlanta.
WXIA-TV, "Atlanta named no. 8 most dangerous city," Nov. 5, 2012.
Browse the Truth-O-Meter
More by Eric Stirgus
Support independent fact-checking.
Become a member!
In a world of wild talk and fake news, help us stand up for the facts.