Stand up for the facts!
Our only agenda is to publish the truth so you can be an informed participant in democracy.
We need your help.
I would like to contribute
"Rhode Island has a [inmate] recidivism rate of over 60 percent."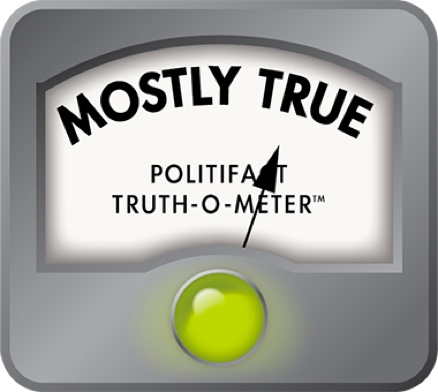 State Sen. Harold Metts says more than 60 percent of inmates end up back in prison
Even a short prison sentence can resonate through a person's life for decades.
In recent years, members of the General Assembly have proposed various bills intended to help reformed criminals avoid the stigma of their criminal record once they have completed their sentences at the Adult Correctional Institutions.
One such bill passed the Rhode Island Senate on June 6, 2013.
S-358, which is now before the House for consideration, would give the Parole Board the authority to issue a "certificate of recovery and re-entry" to any ex-convict who has paid all fines and other penalties imposed by a court and has exhibited good conduct for a certain period of time -- one year if he was convicted of a misdemeanor and three years if he was convicted of a felony.
Think of it as a "diploma" for graduating from ACI-U.
However, anyone convicted of a felony crime of violence or any ex-con with more than one felony on his record would not be eligible for a certificate.
State Sen. Harold M. Metts, D-Providence, told the Senate, "When you think that Rhode Island has a recidivism rate of over 60 percent, imagine the amount of money we can save taxpayers if we opened up the door for people to get gainful employment so they that they wouldn't have to go back to crime."
We wondered whether more than 60 percent of inmates actually get in trouble again and end up back in prison.
After leaving a message for Metts to ask about his source, we called the Rhode Island Department of Corrections.
Spokeswoman Susan Lamkins said the standard used there and at other prison systems is to count how many former inmates end up being sentenced for another crime and returned to prison within three years of their release.
The department is in the midst of its latest analysis, looking at how many of the 3,699 inmates released from prison in 2009 -- the Class of 2009, as it were -- end up back in custody.
According to the data from the first two years, the recidivism rate for those returning because they have been sentenced for a new crime is 42 percent.
(When such a study was last done, with the Class of 2004, that recidivism rate at the two-year mark was 46 percent, so it seems to be declining. The rate for three years was 54 percent, closer to Metts' "over 60 percent.")
When we got through to Metts, he said his estimate was "probably an old number."
He referred us to Nick Horton, program coordinator and policy specialist at Open Doors, a Providence organization that helps people who have been released from prison. He noted the 54 percent recidivism rate after three years from the study of inmates released in 2004
But Horton also focused on a very separate category in that study -- 64 percent of offenders released in 2004 ended up back at the ACI within three years because they had been rearrested, couldn't afford bail and were awaiting trial.
But there's a problem with that percentage: not all of those people were true recidivists, in the Corrections Department's definition. Some ended up being exonerated. Some received a sentence that didn't involve jail time. (In the most recent report, 50 percent of the Class of 2009 were brought back to prison to await trial.)
Of course, any study that only follows released inmates for three years is going to underestimate the lifetime recidivism rate because, as Metts noted, it fails to account for criminal cases that aren't going to be resolved until after the three-year mark.
"Those that are strong spiritually can last a little bit longer, but when you're out and you can't get a job because your record is haunting you, people lose hope," he said. "Even if I was wrong, 42 percent is still way too high and that's not helping the taxpayers. We need to change our public policy to allow people to reclaim their lives so that they can become productive members of society."
Our ruling
State Sen. Harold Metts said, "Rhode Island has a recidivism rate of over 60 percent."
For better or worse, recidivism rates are usually calculated based on how many former inmates are found guilty of a subsequent crime and end up back in prison within three years.
The most recent data from the Department of Corrections cover two years and the rate is 42 percent. The most recent study to look at a three-year period, which covered inmates released in 2004, put the rate at 54 percent.
The only way to get above 60 percent is to use the older study and look at an entirely different category: the number of ex-convicts who were brought back to the ACI because they had been charged with a new crime or with violating their probation. But that percentage is flawed as well because it includes at least some people who would never have seen a jail cell if they had been able to afford bail.
Metts offered his "over 60 percent" as a definitive statistic. It's not. Although most of the measures we saw offered a lower number, those studies only followed the former inmates for three years or less, an artificial cutoff that makes it easier to collect statistics yet doesn't reflect the fact that anyone who goes back to prison after three years is still regarded as a recidivist.
The bottom line: the longer inmates are followed, the higher the percentages get. And they get close enough that we regard Metts' claim as Mostly True.
(If you have a claim you'd like PolitiFact Rhode Island to check, e-mail us at [email protected] And follow us on Twitter: @politifactri.)
Interview, Harold Metts, Rhode Island state senator, June 11, 2013
Interviews and e-mails, Susan Lamkins, spokeswoman, Rhode Island Department of Corrections, June 7-12, 2013
DOC.RI.gov, "2004 Recidivism Study: Three-year Follow Up," October 2010, accessed June 11, 2013 and "2009 Recidivism Study: Two Year Follow Up," January 2013, accessed June 7, 2013
Browse the Truth-O-Meter
More by C. Eugene Emery Jr.
Support independent fact-checking.
Become a member!
In a world of wild talk and fake news, help us stand up for the facts.