Get PolitiFact in your inbox.
"Of the 18 stadiums built from 2004 to 2013, 47 percent of the total cost came from public sources."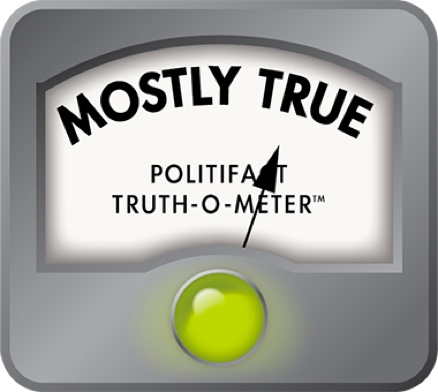 Atlanta official seeks touchdown on stadium claim
To build or to renovate?

That is the question Atlanta leaders are grappling with as the Atlanta Falcons have discussed plans with city and state officials to build a $1 billion retractable-roof stadium downtown and demolish the 20-year-old Georgia Dome.

The key to any deal is the City Council's approval of a commitment by Atlanta to finance about 20 percent of the total cost using bonds backed by a hotel-motel tax. That's a bargain when you compare it with other recent stadium deals across the country, some city officials say.

"Of the 18 stadiums built from 2004 to 2013, 47 percent of the total cost came from public sources," Atlanta Chief Operating Officer Duriya Farooqui said at the first public hearing on the proposed deal.

Her boss, Mayor Kasim Reed, is a vocal proponent of a new stadium.

The claim was included in a slide presentation Reed's staff prepared on stadium construction costs for the hearing in the City Council's chambers. The Feb. 13 meeting drew so much interest that additional spectators watched the proceedings on television from another room.

PolitiFact Georgia wanted to know whether the claim was accurate, or is the public investment in professional sports facilities far less than the mayor's staff is letting on?

Reed's spokeswoman, Sonji Jacobs, referred us to a report on the sports news website Deadspin.com that had the information the mayor's staff used in its presentation. Deadspin was the site that broke the Manti Te'o girlfriend hoax story.

"[P]rivate funding (53 percent) has actually surpassed public funding for the first time in decades," Deadspin wrote.

The percentage of public funding for sports facilities has decreased in recent decades, as taxpayers have become less tolerant of their money going to stadiums or arenas with teams owned by enormously wealthy owners.

Lawmakers have tried to become more creative in public financing of the construction of sports facilities, using lodging taxes on out-of-towners, a ticket tax, public parking revenue, taxes from car rentals and other sources. There are also the more traditional methods of funding these multimillion-dollar projects, such as collecting the money from sales taxes.

In the past decade, eight of the 18 facilities were built for Major League Baseball franchises, four for pro football, four for National Basketball Association teams and two for National Hockey League teams.

The cost of the stadiums range from as low as the $250 million to build the FedEx Forum in Memphis, Tenn., home of the NBA's Memphis Grizzlies, to $1.6 billion for MetLife Stadium in East Rutherford, N.J. The NFL's New York Giants and Jets share use of MetLife Stadium, the site of next year's Super Bowl.

By our own count, these 18 sports facilities cost a combined $11.7 billion to build. The public contribution toward these projects totaled about $5.6 billion, 48 percent of the total cost.

We wanted to look at the public investment in sports facilities that cost $1 billion or more to build since that is the projected cost of the proposed stadium in Atlanta. There were four venues in that category: MetLife Stadium; Cowboys Stadium in Arlington, Texas; the Barclays Center in New York City; and Yankee Stadium, also in New York City. The public investment in those facilities was about 18 percent. Again, the current discussion in Atlanta is a 20 percent public investment in a new football stadium downtown.

Jacobs, the mayor's spokeswoman, noted that most of the billion-dollar sports venues were built in the New York City area, where land and construction costs are typically higher. She also noted that MetLife Stadium is shared by two teams, and she believes that skews any comparison of the billion-dollar venues.

Four of the five teams that play in the billion-dollar venues have a higher net worth than the Falcons, who ranked 28th among the NFL's 32 teams, according to Forbes. Here's the most recent Forbes breakdown:

Dallas Cowboys:     $1.85 billion.
New York Yankees:    $1.85 billion.
New York Giants:    $1.3 billion.
New York Jets:    $1.23 billion.
Atlanta Falcons:    $814 million.
Brooklyn Nets:        $530 million.

The Falcons are owned by Arthur Blank (who has a reported net worth of $1.5 billion and whom Forbes lists at the 329th-richest American). Blank sits on the board of directors of Cox Enterprises, which owns The Atlanta Journal-Constitution.

But the owners of the teams in the billion-dollar venues are super rich. For example, Nets majority owner Mikhail Prokhorov is reportedly worth $13.2 billion. Cowboys owner Jerry Jones has a net worth of $2.7 billion, Forbes reports. Jets owner Woody Johnson is part of a family that is worth about $13 billion.

On the other end of the cost spectrum, the least expensive projects had a higher percentage of public funding. For example, the FedEx Forum was built through an authority created by the city of Memphis and Shelby County. The authority included a $1.15-per-ticket surcharge to help pay construction costs, according to newspaper accounts.

Since Farooqui's claim included smaller and, typically less-costly arenas, we also decided to break down the public investment in facilities solely used by baseball and football teams, since Atlanta is considering a football stadium. Our examination shows the public investment in those 12 facilities was 44 percent. That's pretty close to the claim.

Jacobs said the best comparison is between the Falcons' proposal and other multiuse stadiums. There were three retractable-roof stadiums built in the past decade. The public investment in them were 27 percent (Arlington), 68 percent (Phoenix) and 86 percent (Indianapolis).

Our conclusion:

Farooqui said in her presentation that 47 percent of the cost of 18 pro sports facilities built in the past decade came from public sources. Our examination of the claim showed the estimate is on target, even if you remove arenas.

The public investment, though, in other billion-dollar stadiums is much less than 47 percent. We believe this context is necessary to fully understand Farooqui's statement.

We rate Farooqui's claim as Mostly True.
City of Atlanta information on the proposed stadium.
City of Arlington, Tex. final stadium closing agreement with the Dallas Cowboys.
Conventions Sports & Leisure International, "NFL Stadium Funding Information," Dec. 2, 2011.
Deadspin.com, Animated Infographic: "Watch As America's Stadiums Pile Up On The Backs Of Taxpayers Through The Years," Dec. 4, 2012.
Emails from Sonji Jacobs, communications director for Atlanta Mayor Kasim Reed, Feb. 27, 2013

Forbes 2012 NFL team values.
Forbes 2013 NBA team values.
Forbes profile of Atlanta Falcons owner Arthur Blank.
New York City Independent Budget Office report on Barclay's Center.
Shelby County, Tenn., Public Building Authority information about the FedEx Forum.
Telephone interview with Rebecca Rodriguez, marketing communications director, city of Arlington, Texas, Feb. 27, 2013.
Browse the Truth-O-Meter
More by Eric Stirgus
Support independent fact-checking.
Become a member!
In a world of wild talk and fake news, help us stand up for the facts.