Stand up for the facts!
Our only agenda is to publish the truth so you can be an informed participant in democracy.
We need your help.
I would like to contribute
Says nearly 1 million people are "coming to town" in the next 20 years.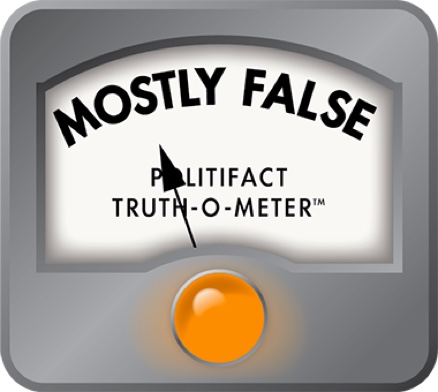 Mayor Leffingwell, with Spelman, says nearly a million people are "coming to town" in next 20 years
Austin's city-owned utility, Austin Energy, needs more expert oversight than the Austin City Council can provide, Mayor Lee Leffingwell suggested in an opinion article he wrote with Council Member Bill Spelman.

"We've got 20-odd departments to watch over and — with nearly a million people coming to town in the next 20 years — incredible housing, land use, and transportation problems," the pair said in the piece placed online by the Austin American-Statesman on May 5, 2013.

A million people on the way?

Pack.

The.

Bags.

Leffingwell spokeswoman Amy Everhart guided us to a Spelman aide, Ashley Fisher, who said by phone that the 1 million figure reflected what the city projects to be the metropolitan region's population gain within 20 years. Fisher said the reference to all those people "coming to town" was in keeping with how people think of Austin. Her point: "We're part of a region growing really fast," she said.

Separately, Ryan Robinson, the city's demographer, told us he has estimated the city's population at 824,750 as of April 1, 2013, which he said closely tracks the U.S. Census Bureau's estimate of 820,611 as the city's population as of July 2011.

Robinson said he projects the city to gain 330,000 residents, reaching a population of nearly 1.2 million, by April 2035.

That's not a gain of nearly 1 million. But Robinson, who also pointed out that Austin Energy has customers outside the city limits in Travis County burgs including Pflugerville, Manor, Manchaca and Westlake Hills, said he projects the population of the counties immediately around Austin--Travis, Bastrop, Caldwell, Hays and Williamson--to increase by about 1.6 million by April 2035. As of April 2013, he said, the same metropolitan area was home to an estimated 1.87 million residents.

About one third of the increase, Robinson said, is expected to come from area births outpacing deaths, what demographers call the natural increase. The remaining margin would trace to more people moving into the counties than moving out, he said.

Robinson's projections, dated January 2013, indicate the city's population, which was under 500,000 in 1990, will crest 1 million by 2025.

Hunting other population projections, we touched base with Census Bureau spokesman Robert Bernstein, who said the agency does not project the population of individual cities. Next, we consulted Rafael Gonzalez of the Texas State Data Center in San Antonio, who said similarly that the center does not project city population changes.
But Gonzalez helped us download a projection suggesting that the five-county Austin region's population, estimated at 1.8 million in 2013, would total nearly 2.6 million in 2033, assuming that migration occurs at half the pace of the first decade of this century--which Robinson, the city demographer, described as too conservative a rate for projecting Austin-area changes.

Under the slower growth scenario, the Austin region would see an increase of about 800,000 residents in 20 years.
Using the center's interface, we also checked population projections assuming the same migration into the counties that the region experienced during the century's first decade. Under this scenario, the counties would have more than 3.3 million residents in 2033, a nearly 1.5 million increase from 2013. Finally, we inquired into Travis County's estimated population on the interface. If the county experiences the same in-migration levels as the first decade of the century, its population would total nearly 1.6 million in 2033, up nearly 480,000 from 2013, according to the results.
Spelman, elaborating on the 1-million statement, told us by email: "If you want to split hairs and define 'town' as 'the current Austin city limits,'" then it's correct that the city's population is expected to increase by 332,244 by 2035.

"But please consider that our statement wasn't about residency; it was about demand for city services and the scope of the problems we need to solve," Spelman said in a footnoted statement. He added that according to a 2007 economic census by the Census Bureau, some 70 percent of jobs in the five-county Austin region were in Austin, an indication, he said, that the vast majority of more than 1 million additional residents of the region will depend, at least in part, on the city for their livelihoods.

"Even if new residents of San Marcos, Georgetown, Luling or Bastrop don't work in Austin," Spelman said, "many of them will visit Austin regularly to shop, find health care or have a good time. While they're here, these people will depend on the" city "for public safety, water and sewer, solid waste, flood control, parks and, of course, electricity." Spelman added that Austin also will share stresses on the region's housing and transportation infrastructure.
Our ruling

Leffingwell and Spelman wrote that nearly a million people are "coming to town" in the next 20 years.
Don't pack those bags just yet; the city projects Austin's population to increase by about 330,000--far short of a million--by 2035.
The claim retains an element of truth, though, in that the city stands to confront pressures related to many more additional residents expected in the region. Regardless, all those newbies are not predicted to be moving to town, making the published statement Mostly False.
Telephone interview, Ryan Robinson, city demographer, May 8, 2013

Telephone interview, Ashley Fisher, policy aide, Austin City Councilmember Bill Spelman, May 9, 2013

Document, "Austin Area Population Histories and Forecasts," 1940 to 2045, City of Austin (accessed May 13, 2013)
Charts, "Population Estimates and Projections, Austin-Round Rock Metropolitan Area (Five Counties)," assuming slower-growth scenario; "Population Estimates and Projections, Austin-Round Rock Metropolitan Area (Five Counties)," assuming faster growth scenario, "Population Projection for Travis County Using State Data Center Tool, Under 0.5 and 1.0 In-Migration Scenarios," all calculated by PolitiFact Texas using data interface from Texas State Data Center, San Antonio, May 13 and 15, 2013
Telephone interview, Rafael Gonzalez, research associate, Texas State Data Center, San Antonio, May 13, 2013
Paper, "Projections of the Population of Texas and Counties in Texas by Age, Sex and Race/Ethnicity for 2010-2050," Texas State Data Center and Office of the State Demographer, November 2012
Browse the Truth-O-Meter
More by W. Gardner Selby
Support independent fact-checking.
Become a member!
In a world of wild talk and fake news, help us stand up for the facts.