Facts are under assault in 2020.
We can't fight back misinformation about the election and COVID-19 without you. Support trusted, factual information with a tax deductible contribution to PolitiFact
I would like to contribute
As CFO, Alex Sink oversaw "a $27 billion loss in the state's pension fund."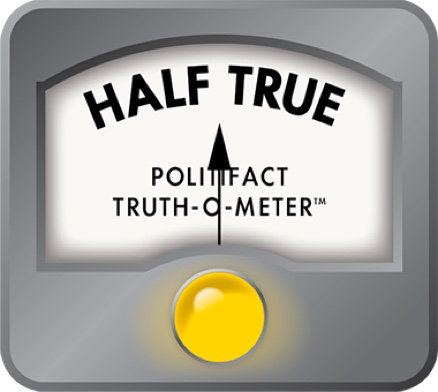 Florida GOP says Alex Sink oversaw $27B loss in pension fund
Just hours after Democrat Alex Sink announced her run for the congressional seat left vacant after C.W. Bill Young's death, the Republican Party of Florida started a full-court press attack.
The Florida GOP posted a YouTube video criticizing Sink on a host of issues, presumably attacks they pulled from their arsenal when she ran against Rick Scott for governor in 2010.
"As Florida's CFO, Alex Sink failed Florida taxpayers by using the state plane as her own personal charter, overseeing a $27 billion loss in the state's pension fund and supporting a $5.2 billion increase in Florida's debt," the video's text reads.
We'll examine other claims from the ad during the race, but in this fact-check we'll focus on looking into Sink's tie to the state pension fund. Is it accurate to say she oversaw $27 billion in losses?
As the state's chief financial officer, Sink's responsibilities included accounting, auditing and managing Florida's finances. She also served on the State Board Administration of Florida, the office that oversees the pension fund.
In their Feburary 2013 report, the SBA put the value of pension assets at $132 billion.
In 2007, the year Sink took office, the pension was worth $136.3 billion, according to the SBA. In 2010, her last year as CFO, that value was down to $109.3 billion. That makes the net loss $27 billion, as the ad said.
This claim echoes those made by the party when Sink ran for governor against Republican Rick Scott. As we've noted before, there are several important caveats to this claim.
The action of comparing how much the pension is worth at different points in history is not as devastating as it might sound.
There's no permanent loss in value until the assets are sold. Although the pension was temporarily worth less in 2010 than in 2007, the money isn't gone by any means.
When the nation started recovering from the recession a couple of years ago, the Florida pension followed suit.
"The pension fund is in pretty good shape right now," said Kurt Wenner, vice president for tax research at Florida TaxWatch, a business-backed institute focused on tax issues. "It certainly wasn't a critical situation."
Besides the figures not being permanent, the implication that Sink, as CFO, is to blame for the loss in value is also misleading.
Three SBA trustees jointly oversee the pension fund: the governor, the attorney general and the CFO. There's nothing that suggests Sink's responsibilities should be singled out above those of either former Gov. Charlie Crist  or former Attorney General Bill McCollum (who were both Republicans at the time, by the way).
Our ruling
The Republican Party of Florida said there was a loss of pension assets of $27 billion during Sink's term as the state's CFO. But that doesn't represent a permanent loss of funds. We also see no reason why Sink deserves more of the blame than the other two trustees. And, Sink was CFO during a historic recession. Given these sizeable caveats, we rate the Florida GOP's claim Half True.
Email interview with David Bergstein, Democratic Congressional Campaign Committee spokesman, Oct. 31, 2013
Email interview with Susan Hepworth, Florida GOP spokeswoman, Oct. 30, 2013
Republican Party of Florida, "Alex Sink's History of Failures," Oct. 30, 2013
Phone interview with Kurt Wenner, Florida TaxWatch vice president for tax research, Oct. 31, 2013
PolitiFact Florida, "GOP Says Alex Sink Gave Bonuses to State Pension Workers Who Lost Billions," Sept. 23, 2010
PolitiFact Florida, "Republican Party of Florida Says Alex Sink Was In Charge of Pension Losses," Oct. 6, 2010
SBA Florida, "About the SBA," accessed Oct. 30, 2013
SBA Florida, "Monthly Report to the Trustees," April 1, 2013
SBA Florida, "State Board of Administration Investment Report 2006-07," Nov. 30, 2007
SBA Florida, "State Board of Administration Investment Report 2010," Nov. 1, 2010
Tampa Bay Times, "Alex Sink is Running for C.W. Bill Young's Congressional Seat, Will Move to Pinellas," Oct. 30, 2013
Tampa Bay Times, "Defending Pension Blunder, GOP Leaders Undermine Campaign Slam of Alex Sink," Sept. 29, 2010
Tampa Bay Times, "Florida Pension Fund Plummets," Nov. 16, 2008
Browse the Truth-O-Meter
More by Julie Kliegman
Support independent fact-checking.
Become a member!
In a world of wild talk and fake news, help us stand up for the facts.