Get PolitiFact in your inbox.
Human activity is not "causing these dramatic changes to our climate."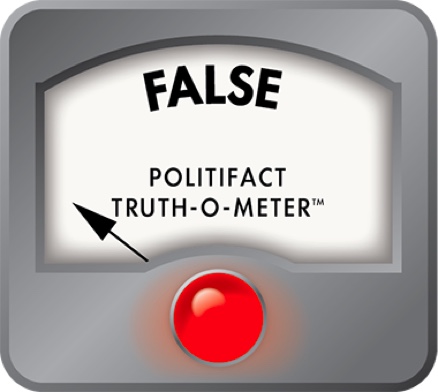 Marco Rubio says humans are not causing climate change
Scientists have been issuing more new reports on the irreversible effects of climate change in recent weeks. Two groups reported on May 12, 2014, that the global sea level will rise at least 10 feet, accelerating to a dangerous pace after the next century.
Just a day before those reports were released, Sen. Marco Rubio, R-Fla., sat down with ABC's Jonathan Karl on This Week. Talk turned to climate change, where the possible Republican presidential candidate denied a link between humans and the changing environment.
"I do not believe that human activity is causing these dramatic changes to our climate the way these scientists are portraying it," he said. "And I do not believe that the laws that they propose we pass will do anything about it. Except it will destroy our economy."
We've noted before that Rubio has disputed the basic science of climate change. So when Rubio said human activity isn't causing changes to the environment, he's got it all wrong.
In this case, Rubio framed his thoughts about climate change as his personal opinion. But the causes of global warming are backed up by thorough research, so we didn't see room for debate in Rubio's claim.
Rubio's said before, "I'm not a scientist, man." So PolitiFact reached out to scientists who could explain the facts behind climate change. We've rated similar claims False from Tim Pawlenty and Rick Perry, but we'll rate it again because it's a persistent claim we see year after year. Rubio's staff didn't return our request for comment.
How our climate is changing
Historically, the earth goes through periods of hotter and cooler temperatures. So how do we know global warming isn't a natural part of this cycle?
By taking measurements, said Leonard Berry, director of Florida Atlantic University's Center for Environmental Studies.
"We can measure the fact that the earth is warming. We can measure the fact that the ocean is warming," Berry said. "While geological history shows warming and cooling periods, as far back as we go, none shows the kind of warming and the kind of changes we're experiencing right now."
Scientists trace back this shift to the Industrial Revolution, which began in 1760. Since that period, carbon dioxide rose 40 percent and methane by 150 percent. High levels of these and other greenhouse gases in the atmosphere trap heat at the surface of the earth, warming the planet.
By burning fossil fuels, chopping down trees, and using fertilizer, humans have directly contributed to global warming.
The connection between increased levels of greenhouse gases and rising temperature has been confirmed by scientists for over a century, said Jennifer Francis, a Rutgers University marine and coastal sciences professor.
"There is as much uncertainty about this connection as there is about what will happen when you drop an object," Francis said. "It will fall."
The Intergovernmental Panel on Climate Change is also on board with human activity as a cause. They reported that were it not for human impact, the likely effect of natural changes to the environment would've been one of cooling, not warming. They cite "very high confidence" that human activities caused a change of course.
The U.S. Global Change Research program published a 2014 report on climate change. It doesn't debate whether human activity causes climate change. Rather, it focuses on what actions to take to lessen its effects.
A May 2013 report analyzing all scientific papers that address the causes of climate change showed 97.1 percent of findings that took a position agree that there's been a negative human impact on the atmosphere. Comedian John Oliver cleverly addressed the debate's conclusiveness on a recent Last Week Tonight episode by arranging a representative debate between 97 climate change scientists and three deniers.
As a politician from Florida, Rubio must contend with research that pegs Miami and Tampa as two of the U.S. cities most likely to be impacted by climate change. Rising sea levels will make them more prone to flooding.
"Whatever the cause of climate change, the impacts on Florida are already important and that it would be difficult for responsible people in Florida to ignore that fact," Berry said.
Our ruling
Rubio said human activity is not "causing these dramatic changes to our climate." An overwhelming majority of scientists agree that humans, by burning fossil fuels, contribute directly to global warming.
Not only is Rubio incorrect, but he's ignoring a mountain of concrete, scientific research. We rate his claim False.
CORRECTION: This story was updated on May 15 to clarify that 97.1 percent of the studies that took a position on global warming agreed that there's been a negative human impact on the atmosphere; more than half the studies did not take a position. Also, the story clarifies that the 2013 report looked at studies, not individual scientists.
Email interview with Jennifer Francis, Rutgers University Institute of Marine and Coastal Sciences research professor, May 12, 2014
Email interview with Mark Serreze, University of Colorado-Boulder National Snow and Ice Data Center director, May 12, 2014
IOP Science, "Quantifying the consensus on antropogenic global warming in the scientific literature," May 15, 2013
U.S. Global Change Research Program, "National Climate Assessment," 2014
New York Times, "Scientists warn of rising oceans as Antarctic ice melts," May 12, 2014
New York Times, "What could disappear," Nov. 24, 2012
Phone interview with Harold Wanless, University of Miami geological sciences professor, May 13, 2014
Phone interview with Leonard Berry, Florida Atlantic University Center for Environmental Studies director, May 12, 2014
PolitiFact, "Group backing Barack Obama says Marco Rubio is a 'climate change denier' " Aug. 16, 2013
PolitiFact, "Do scientists disagree about global warming?" Aug. 14, 2011
PolitiFact, "Rick Perry says more and more scientists are questioning global warming," Aug. 22, 2011
Vox, "How do we know humans are responsible for global warming?" May 3, 2014
Browse the Truth-O-Meter
More by Julie Kliegman
Support independent fact-checking.
Become a member!
In a world of wild talk and fake news, help us stand up for the facts.