Stand up for the facts!
Our only agenda is to publish the truth so you can be an informed participant in democracy.
We need your help.
I would like to contribute
"The insurance companies are making that choice (to cancel or change policies), not the president."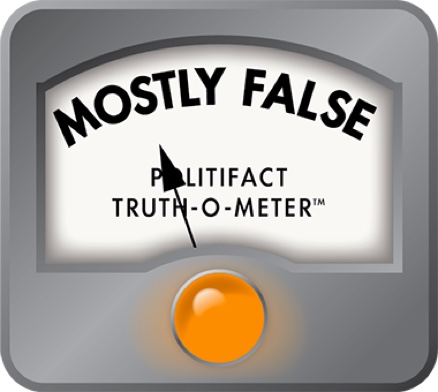 Ezekiel Emanuel says insurance companies canceling policies, not Obama
"If you like your health care plan, you can keep it," is an oft-repeated claim from Affordable Care Act proponents.
Most recently, the point sparked a lively debate on Fox News Sunday between Ezekiel Emanuel, a former health care adviser to President Barack Obama, and James Capretta, a conservative health policy expert.
"The president said you could keep your plan," Capretta said, arguing that Obama hasn't been upfront about cancellation notices.
Pressed by Capretta and host Chris Wallace, Emanuel offered a counterpoint designed to shift blame from the law to insurance companies themselves.
"No, the insurance companies are making that choice, not the president," he said. "The law does not require that."
Capretta and Emanuel reiterated different versions of their opposing points for the entire 15-minute segment. The debate got so heated that Wallace quipped, "Maybe I'll stop calling you gentlemen."
At PunditFact, we wanted to spell out how the law affects existing plans.
As we've noted before, the Affordable Care Act has certain standards for what qualifies as comprehensive health care coverage. Outlined in section 1302(a) of the document on page 163, these 10 "essential health benefits" include emergency services, maternity care and mental health care.
If policyholders bought plans before Obama signed his reform into law on March 23, 2010, they're considered "grandfathered in." They can keep their plans, so long as those plans don't change much.
However, insurance companies that don't provide people with all of the benefits listed cannot market those plans to new consumers. That's leading to insurance companies ending a lot of their grandfathered plans, which won't be as profitable long-term without the potential attraction of new buyers.
Many of the roughly 14 million people who buy their insurance individually (which means not through an employer) are receiving cancellation notices as insurers end those grandfathered plans.
Emanuel's claim indicates that blame for these plan cancellations technically falls on insurance companies, not Obama and legislators. In an email we received from him after we initially published our report, he emphasized that it's the insurers who are taking action to end the policies.
How often do these types of cancellations happen? The fact is, there's not good data available on the number of individual, non-employer cancellations, so it's impossible to say how many health policies are canceled in a normal year versus in 2013, said Alan Sager, a Boston University public health professor who favors Obamacare.
"Some of them may be doing that because they know it's good business to get into compliance with the law's requirements earlier," Sager said. "They may believe that offering better benefits gives them a competitive advantage."
That said, it's hard to argue that a sweeping health care reform law has no impact on changing behaviors of insurance companies in the absence of data. One of the law's intentions is to raise the bar for basic health benefits offered to consumers, so it's no surprise that individual policyholders with less comprehensive plans are finding themselves with cancellation notices.
Our ruling
Ezekiel's assertion that the law doesn't require insurance companies to cancel plans hinges on a technicality. It is up to insurers how they comply with the law, which mandates that policyholders be covered for 10 "essential health benefits," except for plans that are grandfathered in. But there's little doubt the new law is influencing their changes in coverage. The law was designed to eventually do away with insurance that doesn't meet minimum coverage standards. We rate Ezekiel's claim Mostly False.
Editor's note: This report has been updated to include a response we got from Emanuel after our initial publication.
Fox News Sunday, Nov. 3, 2013
Kaiser Health News, "Grandfathered Health Plans," Aug. 28, 2013
Los Angeles Times, "Obamacare Cancellation Blues," Nov. 1, 2013
NBC News, "Obama Administration Knew Millions Could Not Keep Their Health Insurance," Oct. 27, 2013
Phone interview with Alan Sager, Boston University health policy professor, Nov. 3, 2013
PolitiFact, "Valerie Jarrett Says 'Nothing in Obamacare Forces People Out of Their Health Plans,' " Oct. 30, 2013
U.S. Government Printing Office, "The Patient Protection and Affordable Care Act," March 23, 2010
Washington Post, "This is Why Obamacare is Cancelling Some People's Insurance Plans," Oct. 29, 2013
Browse the Truth-O-Meter
More by Julie Kliegman
Support independent fact-checking.
Become a member!
In a world of wild talk and fake news, help us stand up for the facts.