Stand up for the facts!
Our only agenda is to publish the truth so you can be an informed participant in democracy.
We need your help.
I would like to contribute
Says there's no language in the U.S. Constitution that prevents someone from running for Congress simultaneously in multiple states.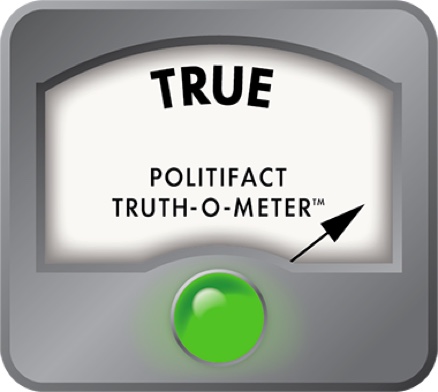 Candidate planning run for Congress in four states
Crazy.
That's how one constitutional expert described Cobb County resident Allan Levene's plan to simultaneously run for the U.S. Congress in Georgia and three other states.
"I may be crazy like a fox," Levene, a Republican, told us by telephone.
Levene, who lives in Kennesaw, recently posted an article on his campaign website claiming the U.S. Constitution does not prevent him from campaigning in multiple states. His plan is to run in Hawaii, Michigan and Minnesota.
Levene believes the only constitutional requirement is that he has to be a resident of one of those states before the general election in November 2014. He says he can run in numerous state primaries without living in those states. Levene said he only has to establish residency if he wins a primary and wants to be on the ballot for the general election.
PolitiFact Georgia first saw Levene's claim on The Atlanta Journal-Constitution's Political Insider blog. We wondered whether Levene is correct about what the Constitution says and does not say about candidates running for Congress in more than one state?
Several experts we interviewed said they had never heard of a candidate running for office in more than one state at the same time. We, too, were unfamiliar with any such situations by an aspiring politician. Our research showed Levene may be a fox in regards to this claim.
Levene was a late write-in candidate last year to unseat U.S. Rep. Phil Gingrey, R-Marietta, who represents Georgia's 11th U.S. House District, where Levene currently resides. Levene pulled 30 votes in 2012. Gingrey, who routed Democratic challenger Patrick Thompson, performed a little better, garnering 196,968 votes.
Levene wants to improve his odds next year. He read Article I, Section II of the U.S. Constitution and came up with his idea. It stipulates that a member of the House of Representatives must be an inhabitant of the state "when elected."
"It's like looking at a wall and the hieroglyphics and I saw an opportunity," Levene, a self-employed information technology expert, said of the section. "Hopefully, it will work."
One opportunity came when Gingrey announced his plans to run for the U.S. Senate in 2014, creating an opening, perhaps, for Levene. Maybe not. Several high-profile GOP candidates have announced plans to run for Gingrey's seat, such as former Congressman Bob Barr, state Rep. Ed Lindsey, state Sen. Barry Loudermilk, retired U.S. Army Col. Larry Mrozinski and Tricia Pridemore, a former executive director of Georgia's Office of Workforce Development who is also a close ally of Gov. Nathan Deal's.
In case Levene loses in Georgia, he's hoping he'll win the GOP nomination for a House seat in Hawaii, Michigan or Minnesota. Considering the recent cold spell here, we'd recommend Levene focus on the Aloha State.
Levene, 64, said he's too old to try the traditional route of "working your way" to Congress by serving on a city council or being mayor, then becoming a star in the state legislature before going to Washington.
Perhaps.
But doesn't the Constitution prevent his four-state strategy?
Here's the conclusion Levene posted on his website: "According to Article One, Clause Two you must inhabit the state when elected. Elections are held in November, not the primaries where the top contenders are selected, typically one Republican and one Democrat. A candidate is not elected at the primary; that election is the semi-final. Even if a candidate wins and no other party opposes him, the election is not official until November. So that one day in November tells the whole story."
The Federal Elections Commission would not formally rule on the constitutionality of Levene's plan, a spokesman said. Levene said he is awaiting approval from the federal agency on raising funds in multiple states.
Levene said he also contacted the Georgia Secretary of State's Office about his plan. Spokesman Jared Thomas said his office contacted the state Attorney General's Office for clarity about Levene.
"Mr. Levene will not be disqualified in Georgia as a candidate for Congress in the event he also qualifies in another state," Thomas said via email. "If he, however, wins (the general election) in Georgia and one other jurisdiction, then we will assess from a Georgia law and U.S. Constitution perspective."
Several constitutional scholars we interviewed also referred to that portion of the Constitution when offering their interpretation of the accuracy of Levene's claim.
Duke University law professor Guy-Uriel Charles: "That strikes me as correct as a matter of the U.S. Constitution."
Emory University law professor Robert Schapiro: "He doesn't have to be an inhabitant before" the primary.
University of Texas law professor Joseph Fishkin: "I think the guy is basically right about the main point -- that you don't have to live in the district when you put in your primary bid -- just when you win the election."
University of Virginia law professor Dan Ortiz: "I don't think there's any constitutional problem there. It's crazy. It's, politically, a crazy strategy."
Fishkin also had doubts Levene's strategy would work. But if Levene wins the primary in more than state, he presumably would have to withdraw from one of the races, Ortiz said.
To sum up, Levene said the U.S. Constitution does not prevent him from running for office in more than one state simultaneously. The one requirement, he said, is that he must be a resident of the state where he is running at the time of the general election. Several constitutional scholars agreed with his assessment.
Levene might have uphill political battles ahead.
But on his constitutional point, he's a winner.
Our rating: True.
Allan Levene, "Running for Congress in four states," Nov. 2, 2013.
Atlanta Journal-Constitution Political Insider, "Running for Congress, in Georgia and three other states -- at the same time," Nov. 6, 2013.
Email from Guy-Uriel Charles, law professor, Duke University, Nov. 12, 2013
Email from Joseph Fishkin, law professor, University of Texas, Nov. 13, 2013
Email from Georgia Secretary of State spokesman Jared Thomas, Nov. 18, 2013
Georgia Secretary of State Nov. 6, 2012, election results.
Telephone interview with Robert Schapiro, law professor, Emory University, Nov. 7, 2013
Telephone interview with Dan Ortiz, law professor, University of Virginia, Nov. 14, 2013
Telephone interview with Allan Levene, Nov. 14, 2013
U.S. Constitution link.
Browse the Truth-O-Meter
More by Eric Stirgus
Support independent fact-checking.
Become a member!
In a world of wild talk and fake news, help us stand up for the facts.