Stand up for the facts!
Our only agenda is to publish the truth so you can be an informed participant in democracy.
We need your help.
I would like to contribute
Says Ken Cuccinelli supported a law that could allow people to carry missile launchers into airports.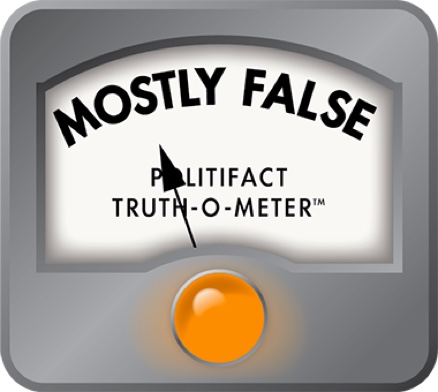 McAuliffe says Cuccinelli fought law banning missile launchers in airports
In Republican Ken Cuccinelli's Virginia, people could walk through airports with loaded missile launchers. So says Terry McAuliffe, Cuccinelli's Democratic opponent for governor.
"In 2004, Ken Cuccinelli voted against making it a misdemeanor to carry a missile into an airport terminal," McAuliffe tweeted on Aug. 23.
The tweet contains a picture of an airport sign with the silhouette of a loaded missile launcher.  The sign says:
"Attention Passengers
Passengers are now permitted to carry missiles in Virginia airports.
Your safety is our priority.
--Gov. Ken Cuccinelli."
Underneath the sign, McAuliffe wrote, "This is Cuccinelli's Virginia."
We checked whether Cuccinelli really has voted to allow armed missile launchers in airports. McAuliffe is not the only Democrat making this explosive claim. It began Aug. 19 when American Bridge 21st Century, a pro-Democrat PAC, tweeted, "Missiles in Airports? In 2004, Ken Cuccinelli voted against legislation to ban missiles and guns in airports in Virginia."
That same day, an entity called Terry4Gov tweeted a doctored picture of a smiling, dark-haired, man with a heavy beard carrying a launcher on his shoulder in an airport terminal while a missile rises to his right, tailing smoke.
Terry4Gov describes itself on Twitter as an "unaffiliated grassroots group." We tried to reach a spokesperson, but group does not offer any contact information. Brian Coy, a spokesman for the Democratic Party, said he does not know anything about Terry4Gov, other than it is not affiliated with the party or McAuliffe's campaign.
The basis for all the claims -- including McAuliffe's tweet, four days after the others -- is a 2004 bill that banned bringing a "gun or other weapon designed or intended to propel a missile or projectile of any kind," into an airport terminal. That included any "frame, receiver, muffler, silencer, missile, projectile or ammunition designed for use with a dangerous weapon." Passengers checking firearms, law enforcement officials and approved airline employees were exempted.
"Critics of the legislation fought unsuccessfully to exempt holders of concealed weapons permits," the Roanoke Times said in a March 13, 2004 article.
That's exactly where Cuccinelli, then a state senator, took issue with the legislation. He was concerned that the bill could prevent people with concealed carry permits from possessing their firearms at airport drop-off areas, according to Anna Nix, a spokeswoman for Cuccinelli's gubernatorial campaign.
Despite Cuccinelli's opposition, the legislation passed the Senate on a 23-16 vote and was signed by then-Gov. Mark Warner.
There are a few points to make about the bill. First, the state has limited jurisdiction over airports. It can legislate items that may be brought into a terminal, but once a person gets to security checkpoints, federal laws take over. According to Transportation Safety Administration rules, travelers may only transport unloaded firearms in a locked, hard-sided container as checked baggage. All firearms, ammunition and firearm parts, including firearm frames and receivers, are prohibited in carry-on baggage.
Another point: The sign in McAuliffe's tweet implies that  state law defines "missile" as a warhead that's fired from a rocket launcher. But Virginia's code offers no definition of the term. State laws ban shooting or throwing missiles at vehicles, at or inside buildings and pointing or holding a weapon, including missiles, to induce fear. It also illegal to carry weapons, including missiles, into courthouses unless the person is a law enforcement official on duty.
In 2007, Jessica Hall of Jacksonville, N.C. spent two months in a Virginia jail after angrily hurling a large McDonald's cup filled with ice into the open window of another car in stalled traffic on I-95. Although no one was hurt, a Stafford County jury convicted Hall of maliciously throwing a missile into an occupied vehicle. According to an article in The Washington Post, the jury was instructed that "any physical object can be considered a missile. A missile can be propelled by force, including throwing."
Finally, it should be noted that automatic firearms and other destructive devices, such as grenades and military-style missiles, are tightly regulated and difficult for individuals to acquire. Such weapons require registration under the National Firearms Act. The size of those weapons are restricted and someone interested in owning automatic firearms or any form of rocketry would need to find a registered dealer, undergo an extensive background check and pay federal taxes to do so.
Our ruling
McAuliffe, in a tweet bearing a picture of a loaded missile launcher, says "Cuccinelli voted against making it a misdemeanor to carry a missile into an airport."
In 2004, Cuccinelli was one of 16 people in the 40-member state Senate that voted against a bill barring people from entering an airport terminal carrying a "gun or other weapon designed or intended to propel a missile or projectile of any kind." It can be argued that the description does  encompass missile launchers, but that's an interpretation that doesn't weigh the debate at the time the bill was considered.
A 2004 news article said Senate opponents were concerned that the bill undercut the rights of some gun owners. The article made no mention of missile launchers.
McAuliffe's tweet focuses on the term "missile" and suggests that the bill's purpose was to ban warheads from airports. But the term "missile" is undefined in state law and could mean bullets, rocks, or even a cup of soda if it's thrown maliciously.
So there's a trace of truth to a deeply distorted and inflamed statement by McAuliffe. We rate his claim Mostly False.
Twitter, Terry4Gov picture, posted Aug. 19, 2013.
Republican Party of Virginia, "RPV Releases the Following Statement Regarding McAuliffe Supporter's Hostile & Offensive Tweet," Aug. 20, 2013.
Transportation Safety Administration, "Firearms and Ammunition: Traveling with Special Items," accessed Aug. 21, 2013.
TSA, "Law Enforcement Officers Flying Armed," accessed Aug. 21, 2013.
TSA, "Prohibited Items," accessed Aug. 21, 2013.
Bureau of Alcohol, Tobacco, Firearms and Explosives, "National Firearms Act Handbook," accessed Aug. 21, 2013.
Legislative Information System, State Law 18.2-154, accessed Aug. 21, 2013.
LIS, State Law 18.2-279, accessed Aug. 21, 2013.
LIS, State Law 18.2.282, accessed Aug. 21, 2013.
LIS, State law 18.2-283.1, accessed Aug. 21, 2013.
LIS, 2004 SB 660, accessed Aug. 21, 2013.
LIS, 2004 HB 530, accessed Aug. 27, 2013.
The Roanoke Times, "Senate Passes Bill to Prohibit Guns, Other Weapons in Airport Terminals," March 13, 2004.
MWAA, Metropolitan Washington Airports Authority Regulations, accessed Aug. 27, 2013.
Capital Region Airport Commission, "Rules and Regulations," accessed Aug. 27, 2013.
Email from Robert Bowen, deputy executive director at Norfolk International Airport, Aug. 28, 2013.
Interview with Philip Van Cleave, president of Virginia Citizens Defense League, Aug. 27, 2013.
The Daily Press, Associated Press story "Cops Note Rise in Gun-toting," July 17, 2004.
The Roanoke Times, "City Removes Words from Park Sign," May 29, 2004.
Email from Josh Schwerin, McAuliffe spokesman, Aug. 28, 2013.
The Washington Post, "McMissile Moment Lands Mom in Jail," Feb. 18, 2007.
The Washington Post, "Judge Cuts Sentence in Flying Cup Case," Feb. 22, 2007
Browse the Truth-O-Meter
More by Nancy Madsen
Support independent fact-checking.
Become a member!
In a world of wild talk and fake news, help us stand up for the facts.