Stand up for the facts!
Our only agenda is to publish the truth so you can be an informed participant in democracy.
We need your help.
I would like to contribute
The U.S. Supreme Court decided in 1982 that non-citizen children must get free K-12 education.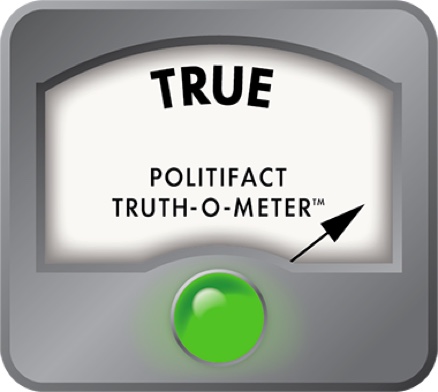 1982 Supreme Court decision in Texas case said public schools must educate non-citizen children
Running for Texas land commissioner, Republican David Watts noted in a campaign email Sept. 16, 2013, that a big part of the job is managing public land to generate money for public schools. To make that money go farther, he said, Texas should use it only for educating children here legally.
"Unfortunately," Watts wrote, "the (U.S.) Supreme Court decided in 1982 (Plyler v. Doe) that non-citizen children of illegal immigrants (children born in another country and brought into the U.S. by their illegal immigrant parents) must be given a free K-12 education."
We wondered about the details of this 30-year-old decision in a Texas case that is sometimes compared to the landmark Brown v. Board of Education anti-segregation ruling but has "none of the same fame," as a Dallas Morning News retrospective news story said June 11, 2007.
"It is absent from Texas history lessons. … Yet the Plyler case has been used as a defense against countless proposals aiming to deny rights to illegal immigrants," the News story said, because it affirmed that a constitutional protection covered people who were illegally living in the United States.
Watts, a businessman who lives outside Longview, emailed us links to the Plyler opinion and analysis of it, plus a Dec. 5, 2010, Dallas Morning News news story that used data from the Pew Hispanic Center, state government and other sources to estimate that 3 percent of Texas schoolchildren in 2009 were in the United States illegally and educating them cost the state more than $1 billion per year.
Texas' Legislature, the Plyler opinion said, changed state education law in 1975 to let school districts refuse entry to children who weren't legal U.S. residents and to allow the state to hold back money being sent to districts to educate such students.
Two years later, Tyler's school district began charging $1,000 tuition per year for children without legal documentation. A class-action lawsuit naming Tyler school superintendent James Plyler went to Judge William Wayne Justice's U.S. District Court for Texas' Eastern District. In his 1978 ruling, Justice, already known for groundbreaking decisions in civil rights cases, agreed with the plaintiffs that Texas' law (and Tyler's policy) broke the 14th Amendment "equal protection" guarantee that laws in the U.S. be applied to all people in the same way.
Undocumented children, Justice found, have the same right to attend public schools in Texas as U.S. citizens. His decision was upheld by the 5th U.S. Circuit Court of Appeals and then, in 1982, by the U.S. Supreme Court, which extended the right nationwide.
Texas had argued, in part, that illegal immigrants were not protected by the 14th Amendment. Justice found, and the Supreme Court affirmed, that though not citizens of the U.S., they were "within its jurisdiction," as the amendment puts it, and so effectively denying the children an education because of their illegal status was unconstitutional.
We checked Watts' claim against the Supreme Court's words.
Watts specified that the ruling applied to "non-citizen children of illegal immigrants (children born in another country and brought into the U.S. by their illegal immigrant parents)" and that the Supreme Court said they   "must be given a free K-12 education."
The parents' legal status wasn't at issue in this case, and how the children entered the country was raised in the legal debate -- typically it was held that the children were not responsible for breaking immigration law because their parents made the decisions -- but it also was not an essential part of the law or the court rulings.
The high court's Plyler opinion begins, "The question presented by these cases is whether, consistent with the Equal Protection Clause of the Fourteenth Amendment, Texas may deny to undocumented school-age children the free public education that it provides to children who are citizens of the United States or legally admitted aliens."
K-12, kindergarten through 12th grade, spans elementary education plus middle school and high school, which is what Texas school districts provide at no cost to students, though families and others pay school-supporting taxes. Public state universities offer "higher" education, but charge tuition and also depend on tax-generated aid. (Texas and some other states, using logic similar to that in the Plyler decision, offer in-state tuition rates to non-citizens who graduated from the state's public schools.)
Texas' 1975 election law changes, as quoted in Justice's opinion, said any child who was "a citizen of the United States or a legally admitted alien" could attend Texas districts' public schools and benefit from state education dollars.
The Supreme Court decision, which was delivered by Justice William Brennan and frequently cited Justice's findings, examined the parts of Texas' argument that hinged on the children's illegal status and concluded Texas had not proven it was justified in singling them out.
Texas argued it was in the state's interest to keep resources focused on educating legal residents. In the Supreme Court opinion, Brennan wrote that because citizenship was a federal status, Texas' law had to fit in with the purposes of federal laws. If Texas was claiming it would help keep illegal immigrants out of the U.S., Brennan said, then this education law was a poor way to achieve that. If Texas was claiming that these children imposed a financial burden that lowered the statewide quality of education, Brennan said, then it had failed to provide (as Justice wrote) "any credible evidence" that was so.
Finally, Brennan said, Texas appeared to be suggesting that these children were less likely to stay in the U.S. because of their legal status, meaning the state would not benefit from their future productivity -- so using their legal status as a criterion for keeping them out was justified. Brennan said Texas had no way to know whether any schoolchildren, legal or not, would use their education in Texas, and that "the record is clear" many non-citizen children would stay in the U.S.
"It is difficult to understand precisely what the state hopes to achieve by promoting the creation and perpetuation of a subclass of illiterates within our boundaries, surely adding to the problems and costs of unemployment, welfare, and crime," he wrote.
"It is thus clear that whatever savings might be achieved by denying these children an education, they are wholly insubstantial in light of the costs involved to these children, the state, and the nation."
Brennan concluded, "If the State is to deny a discrete group of innocent children the free public education that it offers to other children residing within its borders, that denial must be justified by a showing that it furthers some substantial state interest. No such showing was made here. Accordingly, the judgment of the Court of Appeals in each of these cases is affirmed."
Our ruling
Watts said the Supreme Court decided in 1982 that non-citizen children must get a free K-12 education. We rate his statement as True.
------------------------------------------------------------------------------------------
TRUE – The statement is accurate and there's nothing significant missing.
Click here for more on the six PolitiFact ratings and how we select facts to check.
David Watts campaign email, Sept. 16, 2013
Telephone and email interviews, excerpted, with David Watts, Sept. 17, 2013
Dallas Morning News news story, "25 years ago, Tyler case opened schools to illegal migrants," June 11, 2007.
Cornell University Law School Legal Information Institute, "Plyler v. Doe," June 15, 1982
Dallas Morning News news story, "An educated guess on Texas students in the U.S. illegally," Dec. 5, 2010
United States District Court, Eastern District of Texas, Tyler Division, ruling, Sept. 14, 1978
Browse the Truth-O-Meter
More by W. Gardner Selby
Support independent fact-checking.
Become a member!
In a world of wild talk and fake news, help us stand up for the facts.