Get PolitiFact in your inbox.
Gov. McAuliffe's budget would "raid school, other $$ 4 Obamacare in VA."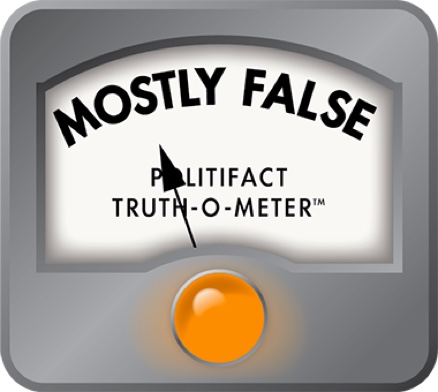 Virginia GOP says McAuliffe budget would `raid' school funds to pay for Obamacare
The Republican Party of Virginia says Gov. Terry McAuliffe is planning to help fund Medicaid expansion in Virginia by taking money from education and other state services.
A March 26 tweet on the RPV website said, "@TerryMcAuliffe Not only did the GOP read your budget, we found the part where you were going to raid school, other $$ 4 Obamacare in VA.,"
We wondered whether the governor's Medicaid plan really calls for such a diversion of funds.
McAuliffe, a Democrat, has been urging the General Assembly to expand eligibility in the state's Medicaid program to an additional 400,000 low-income and disabled Virginians. Under provisions of the Affordable Care Act, also called Obamacare, the federal government would pay the entire expansion cost for the next three years and 90 percent of it down the road.
The Republican-led House of Delegates has twice refused to broaden the program, saying the federal government can't be trusted to pay its promised share. A stalemate between the House and the Democratic-controlled Senate is delaying passage of a two-year state budget.
We asked Garren Shipley, the state GOP's communications director, for evidence that McAuliffe plans to "raid" education and other services to pay for Obamacare. Shipley referred us to a paragraph in the thick budget plan released by the governor last month.
On Page 516, it says, "The Director of the Department of Planning and Budget is hereby authorized to transfer appropriations among agencies and programs as needed so as to implement coverage for newly eligible individuals pursuant to 42 U.S.C. §1396d(y)(1)[2010] of the Patient Protection and Affordable Care Act."
That sequence of numbers, letters and parentheses in the paragraph refer to the section of U.S. law that spells out Uncle Sam's obligations for paying most of long-term costs for Medicaid expansion.
Shipley said the paragraph allows the administration to move money from any agency or department to fund Medicaid expansion. Shipley said if McAuliffe "intended" to do otherwise, the language would not be in his budget plan.
But Brian Coy, a spokesman for McAuliffe, called the claim "an absurd allegation on its face."
"That language is there for a very discrete purpose," he said. "It will allow the Department of Planning and Budget to distribute money that would come into the Commonwealth for closing the coverage gap for Medicaid expansion."
If Virginia broadens eligibility, the new federal funds would flow into the Department of Medical Assistance Services, which runs the state's Medicaid program. But to fully benefit from the expansion, DMAS would need to transfer some of the money to other state departments -- something is not empowered to do.
Under expansion, for example, Medicaid would cover the treatment of inmates that needed  to stay in non-prison hospitals for more than 24 hours. Funds would need to be shifted from DMAS to the Department of Correctional Services. The conduit for that transfer would be the Department of Planning and Budget.
Expansion also would broaden Medicaid services for mental health and substance abuse. That would require money to be shifted from DMAS to the Department of Behavioral Health. Again, the Department of Planning and Budget would be the pipeline.
Secretary of Finance Ric Brown said that because the transfer language sits in a section of the budget dealing with Medicaid expansion, the administration believes it applies only to those limited uses. But Brown added that wording of the provision could be improved.
"The language could be tightened down," he said. "It could be tweaked to make sure it's specific."
We sought an opinion on the provision from retired state Sen. John Chichester, a former chairman of the Senate Finance Committee. Chichester, a Republican who crossed party lines last fall and endorsed McAuliffe for governor, said the amendment would give the administration power to take money from other areas of the budget for Medicaid. But he questioned whether such a policy would be wise.
Coy said such an effort would be unwise. He noted that the governor's budget uses $225 million in expected savings from Medicaid expansion to fund pay raises for state employees and teachers, boost the Virginia Retirement System and increase benefits to workers who face hazardous duty.
"The budget is taking the savings from Medicaid money and puts it into programs," Coy said. "We're not going to then pull money from those programs into Medicaid."
Our ruling
The state Republican Party tweeted that within McAuliffe's budget, "we found the part where you were going to raid school, other $$ 4 Obamacare in VA."
McAuliffe invited some concern by submitting a budget amendment that can be interpreted as giving him authority to transfer money in and out of Medicaid from other state programs. The governor disputes that the provision gives him such power.
In any case, "can" does not mean "will." The GOP goes overboard in saying McAuliffe is "going to raid" schools and other state programs to help pay for Medicaid expansion -- an endeavor that almost entirely would be supported by federal funds. The Republicans offer no proof that this is McAuliffe's plan. In making the sensational claim, the GOP ignores that the governor has proposed using savings from Medicaid expansion to bolster other state programs, including education.
So the GOP tweet has a grain of truth, but ignores critical facts that would give people a different impression. We rate it Mostly False.
RPV tweet, March 26, 2014.
Emails from Garren Shipley, communications director for the RPV, March 26 and 27, 2014.
Interviews with Brian Coy, spokesman for Gov. Terry McAuliffe, March 27 and April 2, 2014.
Emails from Coy, March 26 and 27, 2014.
Legislative Information Services, Governor's amendments to budget, March 24, 2014.
Richmond Times-Dispatch, "McAuliffe proposes Medicaid expansion in two-year pilot," March 24, 2014.
McAuliffe, "Governor McAuliffe Releases FY2015-16 Budget as Special Session Begins," March 24, 2014.
Interview with John Chichester, former state senator and chairman of the Senate Finance Committee, April 1, 2014.
Interview with Vince Callahan, former delegate and chairman of the House Appropriations Committee, April 2, 2014.
Interview with Ric Brown, Virginia secretary of finance, April 4, 2014.
Browse the Truth-O-Meter
More by Nancy Madsen
Support independent fact-checking.
Become a member!
In a world of wild talk and fake news, help us stand up for the facts.