Get PolitiFact in your inbox.
Austin mayoral candidate "Mike Martinez takes corporate money."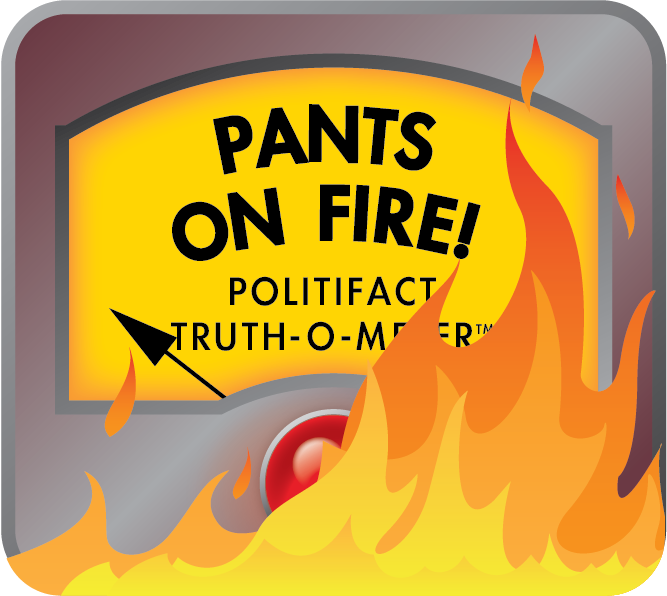 Adler supporter's Mike Martinez money claim unsupported, ridiculous
A supporter of an Austin mayoral candidate declared that another candidate accepts corporate donations--which would be illegal, he did not add.
In a July 29, 2014, Facebook post, Eugene Sepulveda of Austin, treasurer for attorney Steve Adler's mayoral campaign, declared Adler isn't taking "corp money, PAC money or bundled contributions," meaning money gathered from multiple sources by a single person.
Commenting below Sepulveda's post, Austin political consultant Mark Littlefield, who supports City Council member Mike Martinez for mayor, asked: "Are other candidates taking corporate money?"
Sepulveda replied: "Mike Martinez takes corporate money. Steve won't."
A Martinez backer, Jose Velasquez, asked us to check Sepulveda's claim.
We wondered first if perhaps laws have changed dramatically so that Texas candidates may accept corporate donations.
Not so, we were reminded, in that Texas adopted its ban on corporate donations to candidates more than a century ago.
A September 2013 Texas Ethics Commission guide for candidates for local office specified that state law bars contributions to candidates for state and local office from labor unions and most corporations. More recently, Austin lawyer Tim Sorrells, the commission's former general counsel, advised candidates for city office in an April 2, 2014, blog post: "In Texas, it is still a felony of the third degree for a corporation or labor organization to contribute directly to a candidate or a candidate committee."
We asked Sepulveda, a social entreprenuer and philanthropist, to elaborate on his Facebook statement. By email, he told us: "I should have said Mike was taking money from business entities. I was referring to his acceptance of contributions from LLCs as well as PACs and bundlers." LLCs are Limited Liability Companies.
"My bad for not being more specific," Sepulveda wrote. In another email, he said that when Velasquez asked him about the corporate claim, "I used the term corporate generically, even referring him to the documents filed with the city clerk. If I'd been trying to mislead anyone, I certainly wouldn't have pointed them to the candidate-filed reports."
Sepulveda, who said he made his Facebook comments as an Adler supporter and not as a spokesman for Adler's campaign, elaborated that according to a campaign-finance filing, Martinez fielded contributions from 13 businesses, which we confirmed from Martinez's July 15, 2014, campaign finance report, which showed the cited contributions ranging from $50 to $350.
We noticed the business contributors included several limited liability companies, which prompted us to ask an election-law expert, Trey Trainor of Austin, if such companies can legally give to candidates for local office. By phone, Trainor said LLCs may legally make donations so long as none of their members are corporations. Also by phone, Austin lawyer Ed Shack, who said he has helped Adler's campaign, said the same.
Martinez campaign spokesman Nick Hudson told us the campaign earlier confirmed from state records and by contacting each contributor that none of the LLCs giving to Martinez's effort had corporate members. Hudson agreed it would be illegal for Martinez to accept corporate donations.
Meanwhile, Sepulveda replied to us that he had since posted a comment on Facebook, below his original claim, stating he should have said Martinez accepted donations from business entities including LLCs rather than corporations. It appeared the afternoon of Aug. 4, 2014.
Our ruling
Sepulveda said on Facebook that Martinez takes corporate donations.
That's not so. In fact, corporate donations remain forbidden and accepting such could lead to a felony charge. However, any candidate may field contributions from PACs and LLCs (so long as a donor LLC has no corporate members).
This advocate's claim, which he clarified on Facebook six days later, shakes out as incorrect and ridiculous. Pants on Fire!
---
PANTS ON FIRE – The statement is not accurate and makes a ridiculous claim.
Click here for more on the six PolitiFact ratings and how we select facts to check.
Publication, "CAMPAIGN FINANCE GUIDE FOR CANDIDATES AND OFFICEHOLDERS WHO FILE WITH LOCAL FILING AUTHORITIES," Texas Ethics Commission, last revised Sept. 1, 2013 (accessed Aug. 4, 2014)
Blog post, "Austin Election Season and Campaign Finance Law Myths," Tim Sorrells, partner, Tuggey Calvoz LLP, April 2, 2014 (viewed Aug. 5, 2014)
Document, Campaign finance report for Austin mayoral candidate Mike Martinez, City of Austin, July 15, 2014 (fetched Aug. 5, 2014)
Emails, Eugene Sepulveda, Aug. 4, 2014
Telephone interview, Trey Trainor, partner, Beirne, Maynard & Parsons, L.L.P., Austin, Aug. 5, 2014
Telephone interview, Ed Shack, attorney, Austin, Aug. 5, 2014
Telephone interview, Nick Hudson, consultant to Mike Martinez campaign, Austin, Aug. 5, 2014
Browse the Truth-O-Meter
More by W. Gardner Selby
Support independent fact-checking.
Become a member!
In a world of wild talk and fake news, help us stand up for the facts.