Stand up for the facts!
Our only agenda is to publish the truth so you can be an informed participant in democracy.
We need your help.
I would like to contribute
Says David Perdue made tens of millions of dollars piling a firm with billions in debt.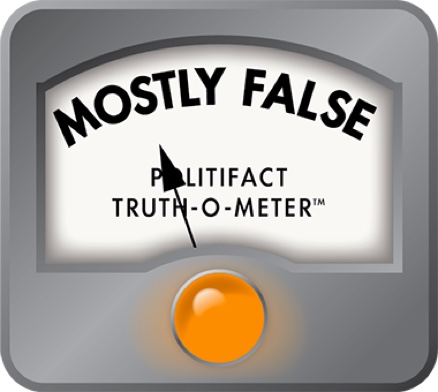 Democrats' claim mischaracterizes deal
The battle to succeed retiring U.S. Senator Saxby Chambliss is being fought by two self-proclaimed outsiders who say their private sector experience will help whip Washington into shape.
Michelle Nunn – the outsider whose dad was a U.S. Senator for 24 years – wants voters to see her nonprofit work as proof she can work across party lines and be a problem solver.
David Perdue – the outsider whose cousin served two terms as Georgia's governor – believes voters should view his time as a CEO and upper-level manager as the experience needed to tackle the financial issues before Congress.
Not surprisingly, each side scoffs at the other's experience, as evidenced by this recent press release from the Democratic Party of Georgia:
"Perdue made $1.7 million in just a few months steering one company toward bankruptcy, led efforts to ship thousands of jobs overseas at another and made tens of millions of dollars piling yet another firm with billions in debt," the emailed release from July 28 read.
PolitiFact Georgia already vetted that first statement about bankruptcy, which refers to the collapse of textile firm Pillowtex shortly after Perdue's brief stint as CEO. We found blaming him for the woes of the long-struggling firm a stretch.
We're saving the question of outsourcing thousands of jobs for a new fact check soon so we can focus on Perdue's most recent CEO job, as head of Dollar General.
Perdue was the first person outside the founding family to serve as CEO of Dollar General when he took over in 2003. The company grew from 5,900 to 8,500 stores under his tenure, according to SEC filings.
Michael Smith, spokesman for the state Democrats, pointed to separate filings that show the firm's debt also grew by $3.8 billion in those four years. The figures speak for themselves, he said, declining further comment.
The missing context, though, is why Dollar General's debt ballooned from $346.5 million in 2002 (and $282 million in 2003, Perdue's first year as CEO) to $4.282 billion in 2007.
The debt came from a leveraged buyout, when Perdue successfully convinced the board of directors for Dollar General to be acquired by private equity firm KKR for $7.3 billion.
As with all leveraged buyouts, it was KKR as the buyer, not Dollar General as the seller, that financed the deal - and the debt.
Perdue acknowledged making $42 million over two years when KKR bought out his contract as part of the deal.
But he defended the buyout, noting 99 percent of shareholders OK'd the deal that paid $22 in cash for each Dollar General share, a 31 percent premium.
"It worked for everybody," Perdue said. "We saved thousands of jobs with that deal, and I feel like we did it responsibly."
Smith pointed to several lawsuits from those remaining shareholders, alleging Perdue and other top executives undervalued the company in the deal. The discount chain paid out $42 million in 2009 to settle those suits.
Dan Wewer, the managing director of equity research at Raymond James in Atlanta, described those lawsuits as common in nearly all leveraged buyouts.
And in all such transactions, Wewer said, it is the private investors finance the deal.
Perdue is off the hook for the debt, then. Wewer, who follows the retail industry, said a more critical look would assess why Dollar General was a target for a buyout in the first place.
Dollar General's operating profit margin was 7.5 percent in 2003, meaning 7.5 percent of revenues were profit before taxes. That dropped to 2.6 percent in 2007 under Perdue's leadership.
Likewise, pre-tax profit dropped from $487 million in 2003 to just $96 million in 2007, Wewer said.
After KKR bought out Perdue's contract and replaced him with its own CEO, Dollar General saw a lifetime high of 10.3 percent operating profit and $1.5 billion in pre-tax earnings in 2012.
"Saying he added the debt at Dollar General is totally inaccurate," Wewer said. "But it is accurate to say he was the CEO during a period when the company's profitability dramatically dropped and created a situation where a new buyer came in and replaced him with a CEO who was able to turn the company around."
That was not the focus from Democrats, though. They look only at Dollar General's filings to claim Perdue saddled the company with billions in debt at a time he made millions himself.
The claim mischaracterizes how leveraged buyouts work, putting the buyer in debt instead of the seller. Perdue also could not act unilaterally to sell the firm but needed his board and shareholders to agree.
Moreover, it was not up to Perdue to stay. KKR paid him $42 million to leave, so it could install its own CEO.
We rate the claim Mostly False.
Interviews and emails with Michael Smith, spokesman for Democratic Party of Georgia, between Aug. 4 and Aug.13, 2014
Interview with David Perdue, Republican candidate for U.S. Senate, Aug. 12, 2014
Interview with Dan Wewer, equity analyst with Raymond James in Atlanta, Aug. 15, 2014
PolitiFactGeorgia, "Pillowtex accusations overstate point," July 1, 2014
"The New Tycoons: Inside the Trillion Dollar Private Equity Industry That Owns Everything," by Jason Kelly. Published by John Wiley & Sons, Inc, 2012.
The Atlanta Journal Constitution, "David Perdue's business record mixed," May 4, 2014
Wall Street Journal, "KKR, Goldman Exit From Dollar General Stake With $252 Million Stock Sale," Dec. 12, 2013
Newsweek, "How KKR scored with Dollar General," June 10, 2009
CNNMoney.com, "Dollar General to be Acquired by KKR," March 12, 2007
Bloomberg, "KKR seals deal for Dollar General," March 12, 2007
Reuters, "S&P, Fitch downgrade Dollar General's rating," March 12, 2007
KKR shareholder lawsuit
Browse the Truth-O-Meter
More by April Hunt
Support independent fact-checking.
Become a member!
In a world of wild talk and fake news, help us stand up for the facts.