Get PolitiFact in your inbox.
"We've seen highway fatalities actually decrease in Colorado" since marijuana use was legalized.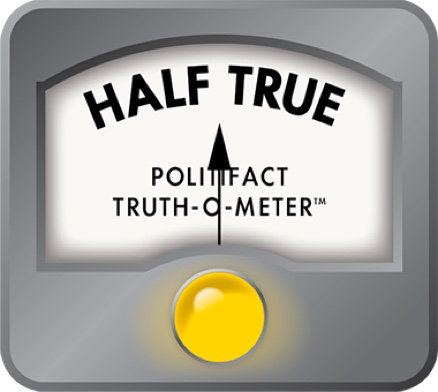 Have Colorado highway fatalities decreased since marijuana use was legalized?
Oregon voters will have the chance in November to join only Colorado and Washington as states where recreational use of marijuana is legal.
Not surprisingly, the issue is already heating up, with those for and against staking out positions they hope will sway voters on Measure 91.
The claim:
Anthony Johnson, the measure's chief petitioner and director of the advocacy group New Approach Oregon, made his pitch recently when the City Club of Portland met to debate the merits of nine political issues, legal marijuana among them.
When an opposition speaker questioned why Oregon should follow the lead of Colorado and Washington into the relatively uncharted territory of legal pot, Johnson noted the pluses of regulation and taxation.
Addressing opposition predictions that driving accidents would spike in those states, he added, "We've seen highway fatalities actually decrease in Colorado" since recreational use of marijuana became legal there in January.
Since the effect legalization might have on impaired driving is a big topic in Oregon in the lead up to November, PolitiFact Oregon checked the numbers.
The analysis:
Colorado's medical marijuana law took effect in 2002, giving the Centennial State a relatively long history of dealing with the drug in an other-than-illegal capacity. However, recreational use has been in effect for only seven months, making any numbers suspect in terms of how longer-term trends might play out.
That said, we figured that comparing the number of traffic fatalities recorded during the first seven months of this year with the first seven of 2013 would the fairest way to evaluate Johnson's claim.
We called Emily Wilfong, a Colorado Department of Transportation spokeswoman. As of Aug. 22, 2014, she said, 295 people had died in motor vehicle crashes in the state. That compared with the 313 deaths reported as of the same time a year ago.
A difference, yes, but one of less than six percent.
But even so, Wilfong added, those two figures don't reveal a useful picture when it comes to assessing traffic deaths in the age of legal marijuana.
For starters, neither figure includes the icy dangers of Colorado's winter driving season, which begins around mid- to late-October, she said. Hazardous conditions could easily skew the number of traffic fatalities dramatically.
For another, neither includes an analysis of exactly how the deaths occurred.
"There could well be a big decrease in the number of pedestrian fatalities," Wilfong said. "There's nothing in these figures to show that impaired driving has been reduced to any measurable degree."
Muddying the numbers further is the fact that toxicology reports showing what drivers had in their systems may not come back for months, she said.
"So we have some numbers," Wilfong said, "but we're not at all certain what they mean at this point. It's way too early to tell."
Trooper Josh Lewis, Wilfong's Colorado State Patrol counterpart, agreed.
"Statistically, we're essentially neck and neck with last year," he said. "But there's nothing to say that marijuana use is reducing the number of fatalities or that there's any correlation between the two. It could well be months or years before we have gathered that sort of data."
We tried to reach Johnson, but were told he was out of the office. The Yes on 91 campaign referred us to Art Way, senior drug policy manager of the Drug Policy Alliance (Colorado).
Over the past decade, he said -- or roughly the time that Colorado began loosening its marijuana laws -- total highway fatalities are down. Statistics bear that out, but the margin is slim and there are other factors such as improvements in vehicle safety and trauma medicine.
The ruling:
Anthony Johnson, chief petitioner for Measure 91, which would legalize recreational marijuana use in Oregon, pointed to Colorado's brief seven-month experience with legal pot and noted that traffic fatalities have decreased there over that stretch.
Colorado's most recent statistics show that 18 fewer people have died so far this year in fatal traffic accidents than did during that same time period in 2013.
Nothing in those numbers, however, supports any contention that legal marijuana had anything to do with a drop that's as much as a blip as anything. Johnson's statement is true, but it omits important details and context.
We rate it Half True.
Thoughts on our ruling? Click on over to OregonLive/politics.com and leave your comments.
(This fact-check has been edited. An earlier version mischaracterized one of Anthony Johnson's arguments regarding driving and recreational marijuana. It did not change the ruling.)
Telephone interviews, Emily Wilfong, spokeswoman, Colorado Department of Transportation, Aug. 21/22, 2014.
Telephone interview, Trooper Josh Lewis, spokesman, Colorado State Police, Aug. 21, 2014.
Telephone interview, Art Way, director, Drug Policy Alliance, Aug. 22, 2014.
Telephone interview, Peter Zuckerman, communications manager, New Approach Oregon, Aug. 22, 2014.
Email from Zuckerman, Aug. 22, 2014.
Audio recording, Ballot-Palooza, City Club of Portland, Aug. 20, 2014.
Highway fatalities, Colorado (2013 and 2014), Fatal Analysis Reporting System, Colorado Department of Transportation.
Report: "The Legalization of Marijuana in Colorado, Vol. 2, Aug. 2014," Rocky Mountain High Intensity Drug Trafficking Area.
Browse the Truth-O-Meter
More by Dana Tims
Support independent fact-checking.
Become a member!
In a world of wild talk and fake news, help us stand up for the facts.