Get PolitiFact in your inbox.
"TSA WILL ACCEPT DRIVERS PRIV CARDS FOR ID AT THE AIRPORT"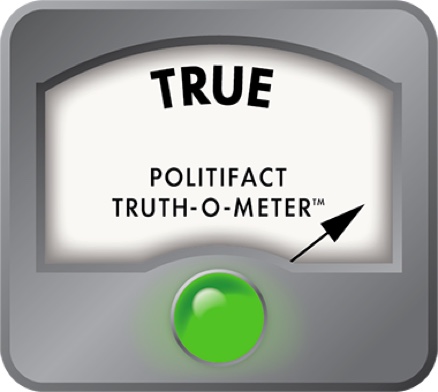 Lars Larson says Oregon driver card could be used to board a plane; is he right?
Conservative radio talk show host Lars Larson makes no bones about where he stands on Oregon's Measure 88 – the driver card initiative.
If voters approve it in November, Oregon would join 10 other states and the District of Columbia in issuing driver cards to those who can't prove they are in the U.S. legally.
Larson staunchly opposes the measure and takes every opportunity to say so on his daily broadcast.
The claim:
He recently sent us a series of emails, which he said verified one of his assertions about the cards: That the Transportation Security Administration will accept "driver privilege" cards as valid identification to board a commercial aircraft.
"I have talked to the tsa and have emails to back up the fact that TSA WILL ACCEPT DRIVERS PRIV CARDS FOR ID AT THE AIRPORT," he wrote in one.
The ballot title for the measure, however, says: "The driver card may not be used as identification for air travel, to enter a federal building, to register to vote or to obtain any government benefit requiring proof of citizenship or lawful presence in United States."
Could the ballot measure's own language be wrong? PolitiFact Oregon decided to check.
The analysis:
Several newspaper opinion pieces, including one written by former Hillsboro Police Chief Ron Louie, say driver cards will not be valid for boarding an airplane.
Causa Oregon, a leading immigrant-rights group, agrees. "Ballot Measure 88 clearly states that it will be issued only to grant driving privileges, and prohibits use of the driver cards for anything other than the listed purposes," spokesman Erik Sorensen wrote us in an email.
But Oregon's Driver and Motor Vehicles Services division added confusion in a "frequently asked questions" document prepared for Measure 88.
In response to the question, "Can I use a Driver Card as identification to board an airplane?" the document says: "It will be up to the TSA or the individual airport to determine whether to accept the Driver Card as identification."
A TSA spokesman in Washington D.C. wrote to Larson, according to an email he shared with us: "Driver's licenses are a valid form of ID for TSA."
We contacted a TSA official on our own, Nico Melendez, a Western Region TSA spokesman in California.
Melendez, after checking with Oregon officials and administration attorneys, said in a telephone interview: "State-issued driver cards would be acceptable forms of identification for our document-checkers at the airport. At this point, the understanding is that a card like this would be an acceptable form of identification."
Whether an air passenger shows a TSA representative a driver's license or driver card doesn't matter, he said.
"What we are doing is verifying that the person who shows the card is the person who is traveling," Melendez said. "It's not an immigration check."
The ruling:
Oregon voters on Nov. 4, 2014, will decide the fate of Measure 88, which, if passed, will allow DMV to issue driver cards to Oregon residents who can't prove legal residency.
Supporters and the ballot measure itself say the cards could not be used to board airplanes. But TSA officials – the people checking passengers onto planes -- say otherwise.
We rule Larson's claim True.
Emails from Lars Larson, radio talk show host, Oct. 2, 2014.
Telephone interview with Nico Melendez, spokesman, Transportation Security Administration, Oct. 7, 2014.
Email, Erik Sorensen, communications director, Causa Oregon, Oct. 7, 2014.
Oregon Department of Motor Vehicles website, "Frequently Asked Questions," Measure 88.
Ron Louie, "Should Oregon offer driver cards to undocumented immigrants?" Nov. 15, 2013.
Transportation Security Administration website.
Browse the Truth-O-Meter
More by Dana Tims
Support independent fact-checking.
Become a member!
In a world of wild talk and fake news, help us stand up for the facts.