Stand up for the facts!
Our only agenda is to publish the truth so you can be an informed participant in democracy.
We need your help.
I would like to contribute
At "least a quarter of those apprehended" at the border "have criminal records."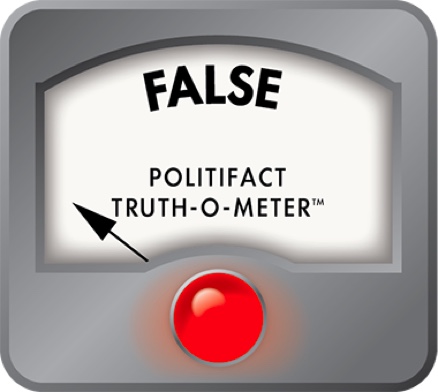 Unsupported claim: 1 in 4 apprehended border crossers have criminal convictions
Texas Lt. Gov. David Dewhurst, backing Gov. Rick Perry's decision to direct National Guard troops to the Texas-Mexico border, expressed concern about stopping criminals from entering the country.
As quoted in a July 21, 2014, news story on Breitbart.com, Dewhurst said there is a huge "criminal element" at the border that includes significant gang activity. "We've seen estimates that at least a quarter of those apprehended have criminal records," Dewhurst said.
A reader asked us about that 25 percent statement.
We rode an explanatory roller coaster before finding there is no research bearing out this claim.
By email, Dewhurst spokesman Andrew Barlow pointed out a former Border Patrol official, Ronald Coburn, saying in a Fox News interview July 19, 2014: "One in ten of every adult male crossers in this day and age more than likely already has a violent criminal record here in the United States, has been removed and is returning. Another one in ten, making it one in five, is bringing with him or her their violent criminal tendencies and records from their own countries of which we don't know yet," according to video posted by Breitbart.com. At least in the video snippet placed online, Coburn didn't declare a source for his figures.
In his email, Barlow further noted reports covering the federal fiscal year through September 2013. That year, the U.S. Border Patrol said, its officers apprehended 420,789 individuals. The same year, according to Immigration and Customs Enforcement, ICE "removed 106,695 criminals apprehended at the border while attempting to unlawfully enter the U.S."
Contrast those numbers, Barlow said, and it looks like 25 percent of apprehended individuals had criminal convictions.
Following Barlow's lead, we devised a slightly different calculation by focusing on the 414,397 individuals reportedly apprehended by the Border Patrol in the U.S.-Mexico border region. That contrast suggests 26 percent of the apprehended individuals already had a criminal conviction.
Also, we noticed the ICE report directly presented an analysis of individuals with prior convictions. "In FY 2013, ICE removed 235,093 recent border crossers," the report said. "Many of those apprehended along the border had a prior criminal or civil immigration violation in the United States. Of those recent border crossers removed, 106,695 had a criminal conviction." This seemed to signal 45 percent of recent border crossers removed by ICE that year already had a criminal conviction.
So, Dewhurst's statement seemed to hold up.
Federal cautionary note
That was before we heard back from ICE and the Border Patrol.
Dallas-based ICE spokesman Carl Rusnok responded to our email seeking comment on these percentages by saying it's "inappropriate to compare Border Patrol apprehension statistics and ICE deportation statistics to come up with an accurate statistic on criminal aliens apprehended."
We asked why and didn't hear back. But separately, Nestor Rodriguez, a University of Texas sociologist expert on immigration, said a weakness in using the percentages of individuals with criminal convictions deported by ICE to analyze the backgrounds of people caught near the border is that ICE may be deporting immigrants apprehended in previous years. Rodriguez said, too, that ICE in recent years has concentrated on removing individuals convicted of crimes, so it's understandable many deportees would have U.S. convictions.
Doug Mosier, an El Paso-based Border Patrol spokesman, struck a similar cautionary note about drawing conclusions about the criminal histories of people detained at the border from the backgrounds of people deported by ICE. By email, Mosier said: "It is almost impossible to quantify ICE vs USBP numbers being that there are so many processes that can take place when a subject is apprehended at the border. Secondly, it is rare for ICE to apprehend people at the border; that mainly occurs in the interior."
Mosier added: "What ICE removes will not fully represent illegal immigrants that USBP might process and repatriate on its own (in the case of Mexico, for example). Even though ICE deports them, it doesn't mean that Border Patrol necessarily caught them; and just because they were deported/removed that year, does not mean that they entered that year. (Many of those persons that ICE removes are subjects that have either completed sentences in prisons or have exhausted their immigration benefits/hearings/processes, which can take some time)."
Less than 1 in 5 individuals apprehended near border have U.S. criminal/immigration violations
Asked if the government has a sense of the U.S. criminal records of people the Border Patrol catches near the border, Mosier provided figures indicating that in both fiscal 2013 and the first nine months of fiscal 2014, less than 5 percent of immigrants captured by its agents near the southern border had a prior U.S. immigration or criminal conviction.
Individuals Apprehended With Prior U.S. Criminal Convictions
U.S. Border Patrol, Southwest Sector
Fiscal 2013 and Fiscal 2014 (October 2013 through June 2014)
| Time Period | Total Individuals Apprehended | Apprehended Individuals With Prior U.S. Criminal/Immigration Conviction | Percentage of Apprehended Individuals With Prior Conviction |
| --- | --- | --- | --- |
| Fiscal 2013 | 414,397 | 15,466 | 3.7 % |
| October 2013 through June 2014 | 422,146 | 18,422 | 4.4 % |
Source: Email and telephone interview, Doug Mosier, spokesman, U.S. Border Patrol, El Paso, Aug. 13, 2014
We shared this information with Dewhurst's office. Barlow replied by email we'd misinterpreted what Dewhurst originally said in that the Texan was referring both to "re-crossers" convicted in U.S. courts and to individuals "whose past criminal activity occurred in their country of origin or in the U.S. prior to their deportation-for-cause instead of a trial."
Dewhurst ultimately offered no data on the share of people apprehended at the border who had criminal convictions abroad--and that information might not be available. By email, Mosier of the Border Patrol told us that while every apprehended undocumented immigrant is screened for his or her immigration and U.S. criminal histories, home-country convictions and a person's "international criminal history" isn't usually available from federal data systems.
Our ruling
Dewhurst said at "least a quarter of those apprehended" at the border "have criminal records."
Dewhurst's described basis for this statement was a methodologically unsound mash-up fueled by the U.S. criminal histories of deported immigrants. In reality, less than 5 percent of people apprehended by the Border Patrol near the U.S.-Mexico border from October 2012 through June 2014 had a U.S. criminal conviction or immigration violation. Public data on home-country criminal records don't appear to be available.
We rate this statement False.
---
FALSE – The statement is not accurate.
Click here for more on the six PolitiFact ratings and how we select facts to check.
Emails, Andrew Barlow, communications director, Lt. Gov. David Dewhurst, July 23 through Aug. 13, 2014
Report, "United States Border Patrol Sector Profile - Fiscal Year 2013," U.S. Border Patrol, undated (accessed Aug. 5, 2014)
Report, "FY 2013 ICE Immigration Removals," Immigration and Customs Enforcement, undated (accessed Aug. 5, 2014)
Email, Carl Rusnok, director of communications, Central Region, Immigrations and Customs Enforcement, Aug. 11, 2014
Emails and telephone interview, Douglas T. Mosier, public affairs officer, U.S. Customs and Border Protection, El Paso, Aug. 13 and 29, 2014
Telephone interview, Néstor P. Rodríguez, professor of sociology, University of Texas, Austin, Aug. 14, 2014
Browse the Truth-O-Meter
More by W. Gardner Selby
Support independent fact-checking.
Become a member!
In a world of wild talk and fake news, help us stand up for the facts.