Stand up for the facts!
Our only agenda is to publish the truth so you can be an informed participant in democracy.
We need your help.
I would like to contribute
"What is and isn't a Schedule I narcotic is a job for Congress."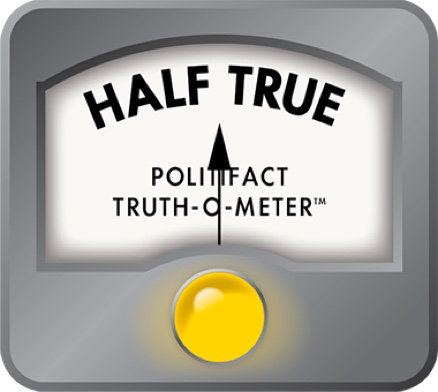 Barack Obama says it's up to Congress to change how feds classify marijuana
The buck may stop at the president, but does the blunt stop at Congress?
For the second time in recent weeks, President Barack Obama was asked to publicly weigh in on the debate over decriminalization and legalization of marijuana.
During an interview aired Jan. 31, 2014, CNN's Jake Tapper asked Obama whether he would consider changing marijuana's status as a Schedule I narcotic, a distinction that bans the substance from sale or use for medicinal or recreational purposes.
"Well, first of all," Obama contended, "what is and isn't a Schedule I narcotic is a job for Congress."
"I think it's the (Drug Enforcement Administration) that decides," Tapper offered.
"It's not something by ourselves that we start changing," Obama replied. "No, there are laws undergirding those determinations."
The back and forth was emblematic of the confusion surrounding the federal government's position on cannabis, particularly in Washington and Colorado, where new state laws legalizing marijuana technically run afoul of federal bans.
But in this particular case, who is right, Tapper or Obama?
Congress, the White House and controlled substances
As usual, Obama has chosen his words carefully. He says that determining the classification of marijuana is "a job for Congress," not "the job of Congress." That could mean Obama philosophically believes that Congress should ultimately decide the fate of marijuana, even if his administration has some control over it.
And to be clear, it does. But it's complicated and not without roadblocks.
First, a quick history lesson.
Congress passed the Controlled Substance Act in 1970, and it was signed by President Richard Nixon later that year. The law set up guidelines to regulate and enforce the usage, production, sale and importation of various drugs and substances.
In the law, Congress created five schedules to classify drugs and narcotics by medical use and potential to incite substance abuse. At one end of the scale is Schedule V drugs, which include substances like cough medicines with small amounts of the narcotic codeine.
On the other end of the spectrum are Schedule I substances. These drugs have no accepted medical use and "are considered the most dangerous class of drugs with a high potential for abuse and potentially severe psychological and/or physical dependence," according to the Drug Enforcement Administration. Distribution, manufacturing or possession of a Schedule I substance is a federal offense.
When Congress passed the Controlled Substance Act, lawmakers singled out several dozen drugs that fall under this category. Among opiates, like heroin, and amphetamines, Congress included marijuana.
Congress could amend the law to reschedule marijuana or exempt the substance altogether, as it did for alcohol and tobacco products.
But there is another way to lawfully reclassify marijuana and it does involve the executive branch.
According to the Controlled Substance Act, the attorney general, through the Drug Enforcement Administration, has the power to change the classification of a substance or remove it entirely, but only if the drug meets certain criteria.
First, the attorney general reviews eight factors to determine what schedule to assign a substance, according to the law.
The drug's actual or relative potential for abuse

Scientific evidence of its pharmacological effect, if known

The state of current scientific knowledge regarding the
drug

Its history and current pattern of abuse

The scope, duration, and significance of abuse

What, if any, risk there is to the public health

The drug's psychic or physiological dependence liability

Whether the drug is an immediate precursor of a substance already controlled under the Controlled Substances Act.
If the DEA feels a substance should be reclassified, the agency can request a scientific and medical evaluation from the U.S. Department of Health and Human Services to determine if there are safe medical uses for the drug in question. Anyone from a drug company to a local government or even an individual citizen can also petition for review of a drug.
Whatever conclusion HHS determines "shall be binding on the attorney general as to such scientific and medical matters," according to the law. That means the DEA cannot change the classification of a drug unless HHS says there are medical uses and it's safe for consumption.
The Food and Drug Administration, the agency under Health and Human Services that handles these reviews, has continually reaffirmed that "the scientific evidence to date is not sufficient for the marijuana plant to gain FDA approval." While research continues, the FDA said because marijuana can be addictive and clinical testing on the benefits of marijuana are not conclusive, it won't give the DEA the go-ahead to reclassify the drug.
In 2001 and 2011 the DEA, citing FDA research, turned down petitions to reclassify marijuana, and in 2006, the FDA upheld that "smoked marijuana has no currently accepted or proven medical use in the United States." Guidelines updated as recently as 2012 reflected that opinion.
Many scientists have debated the merits of the FDA's ruling, but in an email to PolitiFact, the White House reiterated that the agency's findings serve as the basis for any action from the Justice Department.
So basically, there is a mechanism for the executive branch to change the schedules. But it's an arduous process and not something Obama can change by decree. And while the FDA is an executive agency that includes presidential appointees, the FDA's recommendations are supposed be based on science, not politics.
But Obama has found other ways to get around the FDA's unwillingness to concede the medical benefits of marijuana to appease states that have gone a different direction.
Schedule I substances cannot legally be used for medical purposes; however, 20 states and the District of Columbia have passed laws legalizing medical marijuana. In 2009, the Obama administration told federal law enforcement agencies to stop targeting medical marijuana dispensaries, signaling a change from the approach of President George W. Bush.
Similarly, last year the Department of Justice said it would not target new laws in Colorado and Washington legalizing recreational marijuana.
So even though marijuana remains a Schedule 1 substance, the current administration, through various memorandums, has not always treated it as one under the law.
Our ruling
Obama said "what is and isn't a Schedule I narcotic is a job for Congress." While Obama may feel that way philosophically, there is a process by which the executive branch can reclassify marijuana to allow for its medical use or completely remove it from the list of controlled substances. It's not an easy process, but it's there.
And Obama's Justice Department has often given tacit approval, or at least turned a blind eye, when states have taken steps to ignore the federal government's classification.
We rate his statement Half True.
President Barack Obama interview with CNN, aired Jan. 31, 2014
CNN, "CNN Exclusive: President Obama says he's not recalibrating ambitions," Jan. 31, 2014
Drug Enforcement Administration Office of Diversion Control, "Title 21 United States Code (USC) Controlled Substances Act," accessed Feb. 3, 2014
Drug Enforcement Administration Office of Diversion Control, "Denial of Petition To Initiate Proceedings To Reschedule Marijuana," July 8, 2011
Drug Enforcement Administration, "Drug Schedules," accessed Feb. 3, 2014
Drug Enforcement Administration, "Drugs of Abuse: 2011 Edition," 2011
Drug Enforcement Administration, "Denial of Petition; Notice: Federal Register / Vol. 66, No. 75," April 18, 2001
U.S. Government Printing Office, Public Law 91-513, accessed Feb. 3, 2014
National Institute on Drug Abuse, "Drug Facts: Is Marijuana Medicine?" accessed Feb. 3, 2014
National Conference of State Legislatures, "State Medical Marijuana Laws," January 2014
The New York Times, "F.D.A. Dismisses Medical Benefit From Marijuana," April 1, 2006
The New York Times, "Obama Administration to Stop Raids on Medical Marijuana Dispensers," March 18, 2009
The Washington Post, "Obama administration will not block state marijuana laws, if distribution is regulated," Aug. 29, 2013
National Academy of Science Institute of Medicine, "Marijuana and Medicine: Assessing the Science Base," 1999
Email interview with Rafael Lemaitre, spokesman for Office of National Drug Control Policy at The White House, Feb. 3, 2014
Phone interview with Barbara Carreno, spokesman for the Drug Enforcement Administratin, Feb. 3, 2014
Browse the Truth-O-Meter
More by Steve Contorno
Support independent fact-checking.
Become a member!
In a world of wild talk and fake news, help us stand up for the facts.