Facts are under assault in 2020.
We can't fight back misinformation about the election and COVID-19 without you. Support trusted, factual information with a tax deductible contribution to PolitiFact
I would like to contribute
Says Alex Sink "failed Florida homeowners by using predatory lending practices."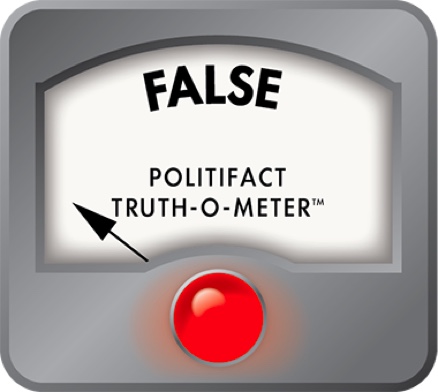 GOP accuse Alex Sink of 'using predatory lending practices'
The Republican Party of Florida wasted no time attacking former Florida CFO Alex Sink in her bid for Congress. The GOP started its campaign long before the Jan. 14 Republican primary, which clinched the nomination for David Jolly.
A video posted Oct. 31, 2013, begins with Sink taking a break at a CNN/Tampa Bay Times debate in 2010, during which a makeup artist showed Sink an email message from one of the candidate's advisers. The incident broke the debate's rules against coaching, and became a sensational talking point about the Democrat cheating.
After flashing a sentence accusing Sink of having "failed the public's trust by cheating during a debate," the video then declares it wasn't her only failure, launching into several attacks, including the claim that Sink "failed Florida investors by allowing for deceptive sales practices … and failed Florida homeowners by using predatory lending practices."
With the March 11 general election matchup set, we decided it was time to lend Sink's past some of our attention.
Sink's banking background
Before being elected Florida's chief financial officer in 2006, Sink's extensive banking career included 26 years working for Bank of America, formerly NationsBank. She was promoted to president of Florida operations in 1993 and oversaw tremendous growth. In 1997, NationsBank acquired Jacksonville-based Barnett Bank, then merged with California's BankAmerica Corp. the following year. The new company took the Bank of America name. Sink retired as Florida president in 2000.
The GOP said the "deceptive sales practices" that "failed Florida investors" was referring to a time between 1998 and 2002 when NationsBank and subsidiary NationsSecurities paid more than $13 million in fines to the federal government and the SEC. That led to a class-action lawsuit by investors; the bank in 2002 agreed to compensate their former customers with an $8.1 million settlement. Even though Rick Scott brought up the NationsSecurities fiasco during the same gubernatorial debate being referenced in the ad, Sink said the lawyer bringing the case declared she "had nothing to do with the situation." We found her statement Mostly True in 2010.
The part of the ad we are checking, however, is about predatory lending. The video doesn't give a time frame, and it would be understandable if your first thoughts went to the housing crash of 2008. But when we asked, the GOP told us their accusation actually goes back before that, to NationsBank's August 1997 merger with Barnett, which was the largest commercial bank in the state at the time. The merger included Barnett subsidiary EquiCredit, which specialized in home loans for low-income borrowers at high interest rates, or subprime lending.
EquiCredit was accused of predatory lending on multiple occasions, eventually leading to several lawsuits. The accusations gained steam after a May 2000 hearing before the U.S. House of Representatives Committee on Banking and Financial Services.
William J. Brennan, an Atlanta Legal Aid Society attorney, told the committee that EquiCredit and NationsBank's own subsidiary, NationsCredit were "the worst I have ever seen" in terms of predatory lending. EquiCredit's delinquency rate -- the share of mortgages either 90 days past due or in foreclosure -- was much higher than average, and targeted minorities, women and the elderly, he said.
The company charged higher than average interest rates, which is common in subprime lending. The difference, Brennan alleged, is that EquiCredit willfully deceived vulnerable consumers into taking on loans they could not easily pay, with terms they could rarely understand. At the end of 1999, Bank of America held more than $22 billion in subprime loans, the most of any bank in the country.
But Sink was in charge of Florida operations, not national lending for EquiCredit -- that company was run out of two offices in Dallas and Jacksonville, and it used independent brokers, not Bank of America employees. Sink has repeatedly said she did not work with the mortgage side of the business and "never had any involvement with them." Her team reiterated to PolitiFact Florida during the current campaign that she "was not engaged in these disreputable practices."
EquiCredit operated as a national entity, with about 150 units across 43 states (22 of which were in Florida). Sink's Bank of America Florida operations existed alongside the division, but EquiCredit took orders from the bank's Charlotte, N.C., headquarters.
Amid pressure from regulators, lawsuits and consumers, Bank of America closed NationsCredit and sold off EquiCredit by the end of 2001. Officially, both were shuttered because Bank of America no longer considered them profitable. By 2001, one of every 18 EquiCredit loans nationwide went bad, compared to one in 60 of Bank of America's overall loans. These practices preceded the post-9/11 housing bubble that thrived on subprime lending -- in fact, one of the reasons cited for the closure was the poor economy that initially resulted from the 2001 terrorist attacks.
Our ruling
The Republican Party of Florida accused Sink of having "failed Florida homeowners by using predatory lending practices," citing the subprime lending practices of Bank of America's NationsCredit and EquiCredit during her time as the bank's Florida president.
The EquiCredit problems were a nationwide issue, though, not just in the Sunshine State. And EquiCredit used brokers to sell their products, not Bank of America Florida employees. Sink would have had no control over that. The video also seems to imply Sink was somehow responsible for the precipitous loss in property values since 2008, but that timeline doesn't match up, either.
There doesn't seem to be much of anything at all to tie Sink with EquiCredit, other than they both answered to Bank of America HQ in Charlotte. The Florida subsidiary of PolitiFact rates this claim False.
YouTube video, "Alex Sink's History of Failures," Oct. 31, 2013
Los Angeles Times, "NationsBank to Buy Barnett in Record Deal," Aug. 30, 1997
Florida Times-Union, "NationsBank takes legal reins," Jan. 9, 1998
PR Newswire, "NationsCredit appoints division heads," June 19, 1998 (accessed via Nexis on Jan. 14, 2014)
U.S. House of Representatives Committee on Banking and Financial Services, Hearing on predatory lending practices, May 24, 2000
The Morning Call, "NationsCredit Closes Last 100 Offices Across U.S.," Oct. 19, 2000
Chicago Tribune, "Bank builds minority subprime share," April 1, 2001
Chicago Tribune, "Bank to end high-risk lending," Aug. 16, 2001
Florida Times-Union, "Questions follow Bank of America's EquiCredit move," Aug. 17, 2001
Florida Times-Union, "EquiCredit gets new owner," Dec. 11, 2001
Philadelphia Inquirer, "Bank to refund fees in 'predatory-lending' cases," April 26, 2002
Orlando Sentinel, "McBride's wife discloses her tax returns," Sept. 21, 2002
Tampa Bay Buzz blog, "GOP attempt to tarnish Alex Sink sullies Jeff Atwater," May 21, 2009
Tampa Bay Times, "Two candidates for Florida governor have lengthy ties to banking industry," May 23, 2009
Business Observer, "Shhhhh… Sink was a banker," Oct. 8, 2010
Newsmax, "Who is Alex Sink?," Oct. 13, 2010
Tampa Bay Times, "Alex Sink mastered banking, but political ease is a stretch for the bookish candidate," Oct. 15, 2010
Tampa Bay Times, "Cheating flap grows as Alex Sink's campaign winds down," Oct. 26, 2010
PolitiFact Florida, "Alex Sink faces her own fraud charges at CNN/St. Petersburg Times gubernatorial debate," Oct. 26, 2010
PolitiFact Florida, "Alex Sink says lawyer backs up claims she didn't know about NationsBank investment scheme," Oct. 26, 2010
Tampa Bay Times, "After devastating loss, Alex Sink pauses her political journey," Sept. 27, 2013
U.S. District Court, Eastern District of Pennsylvania, Equicredit vs. Samuel, accessed Jan. 14, 2014
Interview with Susan Hepworth, Republican Party of Florida spokeswoman, Jan. 13, 2014
Interview with David Bergstein, Democratic Congressional Campaign Committee spokesman, Jan. 14, 2014
Browse the Truth-O-Meter
More by Joshua Gillin
Support independent fact-checking.
Become a member!
In a world of wild talk and fake news, help us stand up for the facts.