Stand up for the facts!
Our only agenda is to publish the truth so you can be an informed participant in democracy.
We need your help.
I would like to contribute
Says he lived in a colonia while working as a farm worker.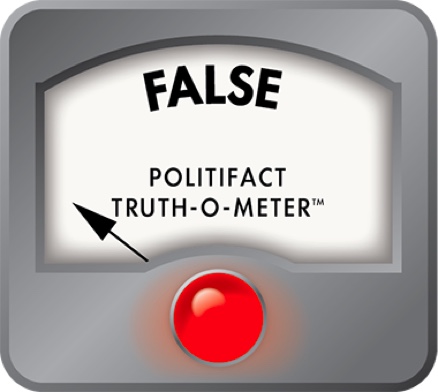 David Alameel lived in La Colonia in California, but it wasn't a colonia
David Alameel, the Democratic nominee challenging Republican U.S. Sen. John Cornyn of Texas, told delegates to his party's state convention last month he'll fight for immigration reforms including a path to citizenship for residents living here without legal permission.
Then Alameel, a wealthy Dallas investor, revealed a biographical detail potentially making him unique among all the Texans ever nominated for statewide office--saying he once lived in a colonia.
According to the Texas Secretary of State, a colonia is "a residential area along the Texas-Mexico border that may lack some of the most basic living necessities, such as potable water and sewer systems, electricity, paved roads, and safe and sanitary housing." Per federal law, such colonias also persist in the states of Arizona, California and New Mexico.
Here's what Alameel said as he touched on immigration reform: "My wife's family is from Zacatecas, Mexico. I have a large Mexican-American family. When I was working in the fields, we lived in the Colonia. Where people wanted me to go and see when I was running, I told them, 'I lived ... I know what colonia is all about, I know what they need.' "
When we followed up, Alameel said by phone that in 1973-74 he and his wife lived with her parents in a humble house in an Oxnard, Calif., neighborhood called the Colonia. He picked chiles and strawberries in the area before enlisting in the U.S. Army. His campaign spokesman, Sergio Cantu, emailed us a photograph of what he described as a family reunion at the house several years ago.
Photo of home in Oxnard, Calif., taken within the past few years. (Provided by David Alameel campaign.)
Alameel told us the three-bedroom, one-bath house that was his home had typical amenities including running water and electricity and sewer services. The house also was safe and clean, he said, and the streets outside were paved.
So, the Colonia neighborhood of Alameel's past doesn't fit the definition commonly used in Texas to describe a residential area lacking basic utilities.
Still, "we were poor," Alameel said, and the neighborhood "was considered the roughest and toughest part of Oxnard."
We found more history about La Colonia and Southern California's Latin American community in a Nov. 1, 1992, Los Angeles Times news story. It called the area "Ventura County's most notorious pocket of poverty" with "a reputation as a violent, drug-choked neighborhood to be avoided."
The story said residents "charge, and some city officials admit privately, that a practice of neglect has mired the old barrio in a tangle of social ills deliberately perpetuated to keep the area separate and not equal."
The Times said the neighborhood "was born in the late 1800s to segregate Oxnard's Mexican work force from the gentry of the city." It quoted a newspaper from the early 1900s as saying: "While the east end of town was a rip-roaring slum . . . where crime and other illegal activities were concentrated, the westside was listening to lecture courses and classical music."
By 1947, the story said, the barrio "was overcrowded and mostly inhabited by transient farm laborers who rented houses already considered substandard. La Colonia has been and remains a stop on the underground railroad for Mexican immigrants heading north."
After World War II, "as veterans returned to a barrio of unpaved streets and outhouses, newly created political groups" drove the election of a Latino member of the Oxnard City Council," the story said, continuing: "During the consciousness-raising Chicano movement of the 1960s, when riots broke out in La Colonia to protest lousy conditions, residents elected the city's second Latino council member… Both elections brought measures of public improvements."
In what proved to be our first interview, Alameel described another part of his life. For his first eight to 10 years, he said, he lived in one-room house in Haifa, Israel, its tin roof topped by stones. The house had no electricity and no running water, Alameel said, making his life tougher than what he'd encounter as an American.
Alameel later called back, saying he didn't mean to suggest in his speech that he lived in a colonia meeting any federal definition. His point, he said, was that he'd lived among migrant workers in the poorest, toughest neighborhood. He said he meant to convey he knows what it's like to be poor.
Our ruling
Alameel told Democrats he once lived in a colonia.
Not so. Alameel resided for a couple of years in a low-income Oxnard, Calif., neighborhood called La Colonia. By his account, though, that home had basic services like water and utility lines that are often absent from houses in Texas colonias.
We rate this statement as False.
---
FALSE – The statement is not accurate.
Click here for more on the six PolitiFact ratings and how we select facts to check.
Telephone interviews, David Alameel, July 1, 2014
Web page, "What Is A Colonia?," Texas Secretary of State, undated (accessed July 1, 2014)
News story, "Barrio Life Going From Bad to Worse : La Colonia: Oxnard elections offer hope for improvements. But residents say the city treats the violent and impoverished area like an unwanted stepchild," Los Angeles Times, Nov. 1, 1992 (accessed July 1, 2014)
Browse the Truth-O-Meter
More by W. Gardner Selby
Support independent fact-checking.
Become a member!
In a world of wild talk and fake news, help us stand up for the facts.