Stand up for the facts!
Our only agenda is to publish the truth so you can be an informed participant in democracy.
We need your help.
I would like to contribute
Says Mitch McConnell voted to raise Medicare costs for a current Kentucky senior by $6,000.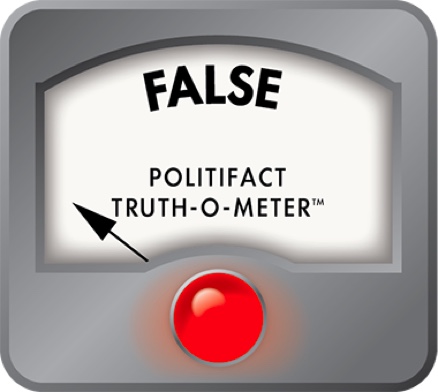 Did Mitch McConnell vote to raise a senior's Medicare costs by $6,000?
It's not officially election season until candidates start claiming one side is trying to snatch grandpa's benefits.
Welcome to the 2014 election season.
In a folksy new ad in the Kentucky Senate race, Democratic challenger Alison Lundergan Grimes shares the screen with Don Disney, a retired Kentucky coalminer, who has a question for Senate Minority Leader Mitch McConnell, Grimes' Republican opponent.
"I want to know how you could have voted to raise my Medicare costs by $6,000," says Don Disney. "How are my wife and I supposed to afford that?"
A long silence ensues as Grimes and Disney stare at the camera.
"I don't think he's going to answer that," Grimes offers. "I approve this message because I'll work to strengthen Medicare, not bankrupt seniors like Don."
Medicare became a contentious talking point in 2011, when Rep. Paul Ryan unveiled a budget proposal that Democrats said would "end Medicare." We named that our Lie of the Year.
Does Grimes' claim fair any better? We decided to hop in the wayback machine to find out.
Where does the $6,000 figure come from?
According to the Grimes campaign, the $6,000 number comes from several studies on the effect of the Ryan budget on retirees.
The Ryan budget has had several incarnations over the years. This ad focuses on his 2011 proposal, according to supporting material we got from the Grimes campaign. Under the 2011 Ryan plan, Medicare would have undergone a drastic change for future retirees. Instead of the government paying doctors and hospitals for services they provide for seniors, beneficiaries would be given a voucher they could use to purchase private health insurance to cover their care.
Here's our first hurdle: Did McConnell vote for the Ryan budget?
Yes, but there are two important points.
First, McConnell voted for a motion to proceed on the Ryan budget, which would have allowed it to the floor for further debate and amendments. It was not a vote on final passage. It was a preliminary vote that even the Washington Post wrote was "mostly symbolic" because it had no chance of succeeding in the Democratic Senate. (The plan passed in the Republican-controlled House.) The motion ultimately failed 40 to 57.
Second, budget resolutions are not legally binding. Presidents do not sign them. It is a general outline of spending priorities that, when agreed upon, is a helpful guide. But it would require subsequent legislation to actually change Medicare programs to accomplish Ryan's goals.
Still, it's probably fair to say McConnell was on the record supporting the Ryan budget, at least enough to get it to the Senate floor. But did it actually increase Disney's Medicare costs by $6,000?
The Congressional Budget Office, the top fiscal scorekeeper for lawmakers, said implementing the 2011 Ryan plan would lead to an increase in out-of-pocket costs for seniors. How much? Instead of paying 27 percent of all their health care costs, seniors would be paying about 61 percent. (Worth noting: Ryan subsequently changed his plan to try to reduce the cost-sharing burden on seniors in later versions of his budget.)
In real dollars, the Kaiser Family Foundation said the average senior would pay about $6,800 a year more in health care costs. The Grimes campaign also pointed us to 2011 studies by Sen. Bob Casey, D-Pa., and the Center for Budget and Policy Priorities, a liberal think tank, that put the figure at about $6,350.
But here's the catch: these figures looked at what a 65-year-old would pay in 2022. That's because under the Ryan plan, wholesale changes to the Medicare program would not directly affect anyone 55 or older.
We learned from the Grimes campaign that Disney, the retiree in her ad, is 75 years old. So under no version of the Ryan plan would Disney be liable for the $6,000-plus in additional out-of-pocket costs that future beneficiaries would have faced if the proposal had passed.
The Grimes campaign responded that in addition to changing Medicare for future beneficiaries, the Ryan budget also repealed the Affordable Care Act. That would affect current seniors in at least one way: prescription drug costs.
How? Before the Affordable Care Act, seniors were required to pay 100 percent of prescription costs after the first $2,850 until they surpassed $4,550, at which point they would qualify for catastrophic coverage. By 2020, the Affordable Care Act eliminates that gap.
If Obamacare was repealed, this benefit would disappear for seniors, including those currently 65 or older. So some seniors would pay more in prescription drug costs, though we don't know how much on average.
Ryan's budget also would have cut federal spending for Medicaid, the joint federal-state program for low-income individuals, and converted the program into block grants that states could decide how to spend, Grimes' campaign added. While we don't know how states would have used the money, it's possible changes to Medicaid could have impacted low-income seniors who receive both Medicare and Medicaid benefits. Again, that figure is not concrete.
These are both relevant talking points and worthy of consideration in the grand debate on Ryan's proposal. However, they have little to do with the $6,000 figure used in the ad.
Our ruling
In the Grimes campaign ad, a Kentucky resident claims that McConnell "voted to raise my medicare costs by $6,000." The $6,000 figure cited in multiple studies measures a specific amount: The average out-of-pocket costs a new senior would pay in 2022 if Medicare changed to a more privatized system. People who turned 65 prior to 2022, like the retiree in Grimes' ad, would remain in the current Medicare system and would not incur those costs.
The counterpoint from the Grimes campaign is existing seniors will have to pay some costs if the Ryan plan passes. That may be true, but the $6,000 figure is completely unrelated to that discussion, and using a statistic about future retirees to make a broader point about current retirees makes for a misleading ad.
We rate the claim False.
Alison Lundergan Grimes campaign ad, "Question from Don," July 8, 2014
Email with Charly Norton, spokeswoman for Grimes, July 8-9, 2014
Email with Allison Moore, spokeswoman for Sen. Mitch McConnell, July 9, 2014
PolitiFact, "Barack Obama ad says Paul Ryan's Medicare plan could raise costs for Medicare beneficiaries by $6,000 each," Aug. 23, 2012
Congressional Budget Office, Long-Term Analysis of a Budget Proposal by Chairman Ryan, April 5, 2011
Washington Post, "Senate rejects GOP budget plan that would overhaul Medicare," May 25, 2011
United States Senate, U.S. Senate Roll Call Votes 112th Congress - 1st Session No. 77, May 25, 2011
Report by the U.S. Congress Joint Economic Committee Chairman's Staff (Sen. Bob Casey), The Republican Medicare Plan: Health Care Expenditures Would Double for Elderly in Every State, May 20, 2011
Kaiser Family Foundation, "ProPosed Changes to MediCare in the 'Path to Prosperity': Overview and Key Questions," April 2011
Center on Budget and Policy Priorities, "CBO Report: Ryan Plan Specifies Spending Path That Would Nearly End Most of Government Other Than Social Security, Health Care, and Defense by 2050," April 7, 2011
PolitiFact, "Lie of the Year 2011: 'Republicans voted to end Medicare,'" Dec. 20, 2011
Medicare.gov, Costs in the Coverage Gap, accessed July 9, 2014
Browse the Truth-O-Meter
More by Steve Contorno
Support independent fact-checking.
Become a member!
In a world of wild talk and fake news, help us stand up for the facts.