Get PolitiFact in your inbox.
"Tourism and retirees are the dominant economic engines in our state."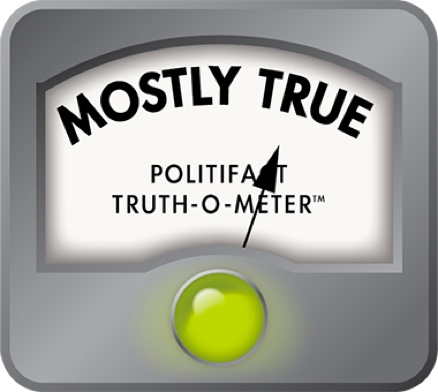 Nan Rich says tourism and retirees dominate Florida's economy
Florida is famous for its tourists and retirees. They spend plenty of bucks in the Sunshine State -- but is the state reliant on them for its economic strength?
Former state Sen. Nan Rich, the underdog who's challenging former Gov. Charlie Crist in the Democratic gubernatorial primary, touched on that topic during a speech to the Florida Press Association in Coral Gables on July 11, 2014. (Crist spoke a day earlier; Republican Gov. Rick Scott declined an invitation to speak.)
"Our state's economy is unlike any other in the country," Rich told the association, according to Miami Herald reporter David Smiley who attended the speech. "Today, tourism and retirees are the dominant economic engines in our state. And while they do create jobs, they are mostly lower-paying service industry jobs."
Since the economy is a top issue in the battle for governor, we decided to check her statement that tourism and retirees are the dominant economic engines in Florida.
A look at the data
We found no cut-and-dried answers to the question of which sectors are Florida's dominant economic engines. However, we did find evidence that shows tourism and retirees play an important role in the state's economy -- too important, some say.
Rich told PolitiFact Florida that she was relying on a 2014 report by the LeRoy Collins Institute, a public-policy group at Florida State University, titled, "Tougher Choices: Shaping Florida's Future." It was written by professors Jim Dewey and David Denslow with the Bureau of Economic and Business Research at the University of Florida.
The report examines state spending, demographics and jobs. Among the conclusions is that "Florida's reliance on retirees and tourists comes at a price as the demands of older residents and tourists are disproportionately linked to lower-paid service jobs. … Compared to the rest of the nation, Florida has relatively fewer high-skill high-wage jobs and relatively more low-skill low-wage jobs, many serving tourists and retirees."
Without the negative spin, the state's official 2013 economic development plan concurs on the importance of tourism and population growth, which has traditionally been driven by retirees. "Historically, Florida's economy has been driven by agriculture, tourism, the military, and population growth, which in turn produced gains in construction, real estate, retail trade, and services," the plan says.
About 19 percent of Florida's population was at least 65 years old as of 2013, according to the U.S. Census. Bureau. Florida had the highest percentage of seniors in the nation as of 2010.
We turned to the U.S. Bureau of Economic Analysis to look at real gross domestic product by industry in the state of Florida -- the total amount of economic activity by sector, adjusted for inflation. Unfortunately, the data does not include "tourism" or "retirees" as an industry.
One category that combines arts, entertainment, recreation, accommodation and food service -- a rough approximation of "tourism" -- produced $46.9 billion in GDP in 2012. That was substantially smaller than the state's biggest generator of GDP -- "finance, insurance, real estate, rental and leasing," at $161.8 billion. But the latter category also includes some sectors relevant to Rich's claim, such as real estate purchased by retirees.
Other categories that exceeded the arts and entertainment sector included professional services, education and health care, and government. Some of these also generate economic activity due to seniors, particularly health care.
The actual answer, apparently, appears to be more of an assumption than a provable fact.
A Visit Florida spokeswoman told PolitiFact Florida that tourism is "the state's No. 1 industry" and generates 23 percent of the state's sales tax revenue and employs about 1.1 million Floridians.
However, when we asked what economic measures prove that tourism is the top industry, Visit Florida spokeswoman Kathy Torian said: "It's an aspirational statement rather than a scientific fact. ... We feel that the combination of sales tax revenue, employment and economic impact from visitor spending make the case for the tourism industry."
Experts' views
We also interviewed four economists who study the state's economy, and they generally agreed that tourism and retirees play a vital role in Florida's economy, though with some quibbles.
Bill Seyfried, an economist at Rollins College, said he'd prefer the term "important engines" rather than "dominant."
"Clearly, both tourism and retirees have strong impacts on the Florida economy -- more than most other states -- but the state economy is becoming more diversified as evidence by deeper integration with the global economy, which is likely to get a further boost with the expansion of the Panama Canal, as well as increased growth in professional/technical services, growing aerospace and life-science sectors," he said.
Seyfried examined state GDP data from 2011-2013 and found that growth came from "many sectors, not dominated by a few related to tourism. One can question whether some of the growth from 2011-2013 reflects a rebound from the crash, but the growth across sectors suggests a lack of overdependence on a few factors," such as tourism and retirees.
Kwame Donaldson, an economist at Moody's, told PolitiFact Florida that the state's large senior population influences many other aspects of the state's economy.
"Because of Florida's large retiree population, its residents are more dependent on nonwage income than in any other state, which means that long periods of stock market gains (like the one we currently enjoying) provide an extra charge to Florida's economy," Donaldson said. "In many, many ways, Florida's economy depends on its senior population, so I think it is accurate to describe this population as an economic engine."
Our ruling
Rich said, "tourism and retirees are the dominant economic engines in our state."
We didn't find a simple way to quantify whether tourism and retirees are the dominant economic engine in Florida, but a combination of statistical data and expert analysis suggests that both are important engines, and possibly too important, due to the low-wage jobs they bring.
We rate this claim Mostly True.
LeRoy Collins institute, "Tougher Choices: Shaping Florida's Future" February 2014
Naked Politics, "News is grim in report by Collins Institute and UF," Feb. 20, 2014
Tampa Bay Times, "Nan Rich rips Charlie Crist for not debating," July 11, 2014
U.S. Bureau of Economic Analysis, Regional data GDP, 2012
Florida Department of Economic Opportunity, Florida Strategic Plan for Economic Development, 2013
Visit Florida, Annual report, 2013
Visit Florida, Research about tourism spending, Accessed July 11, 2014
Palm Beach Post, "Nan Rich rips Charlie Crist's credentials but says she'll support him if he wins primary," July 11, 2014
Interview, Nan Rich, Democratic primary candidate for governor and former state senator, July 11, 2014
Interview, Kathy Torian, Visit Florida spokeswoman, July 11, 2014
Interview, David Denslow, retired University of Florida economist, July 11, 2014
Interview, Bill Seyfried, Rollins College economist, July 11, 2014
Interview, Jessica Sims, Florida Department of Economic Opportunity spokeswoman, July 11, 2014
Interview, Kwame Donaldson, Moody's economist, July 11, 2014
Interview, Sean Snaith, director of the University of Central Florida's Institute for Economic Competitiveness, July 21, 2014
Browse the Truth-O-Meter
More by Amy Sherman
Support independent fact-checking.
Become a member!
In a world of wild talk and fake news, help us stand up for the facts.