Stand up for the facts!
Our only agenda is to publish the truth so you can be an informed participant in democracy.
We need your help.
I would like to contribute
Between June 30 and July 10, CNN interviewed "17 Israeli public officials versus one" Palestinian official.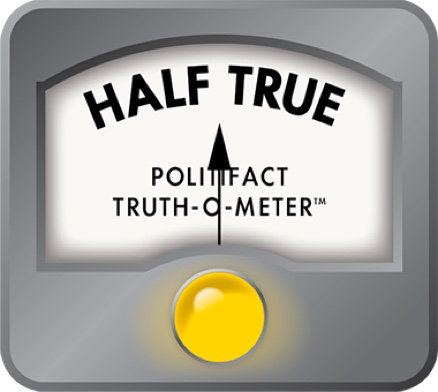 Fact-checking Rula Jebreal's claim that CNN interviewed 17 Israeli officials vs. 1 Palestinian
Palestinian journalist Rula Jebreal accused CNN of presenting a one-sided picture of the fighting in the Gaza Strip in a heated July 22 interview on MSNBC. A day earlier, she called MSNBC's coverage "disgustingly biased" toward Israel.
PunditFact wanted to see if Jebreal had a point, using the evidence she laid out in her interview with MSNBC's Chris Hayes. (Watch the video for more from their chat.)
Jebreal told Hayes that on CNN "between June 30 and July 10, you had 17 Israeli public officials vs. one" Palestinian public official.
While the statistic doesn't necessarily prove bias, it does suggest lopsided coverage of the Israel-Gaza crisis. Is Jebreal right?
The source of her count
Biased coverage of the Israel-Gaza crisis has been a constant cable news subplot.
ABC News' Diane Sawyer acknowledged she mislabeled a Palestinian family assessing damage after an Israeli bomb strike as an Israeli family. NBC News raised questions for pulling reporter Ayman Mohyeldin off the story for a script he wrote about four Gaza children killed by a bomb on a beach because it was allegedly seen as too sympathetic to Palestinians.
Jebreal emerged as a Middle Eastern voice in Western media after sharing her experiences about growing up in the West Bank and reporting in Egypt during the Arab Spring.
While Jebreal did not respond to our attempts to reach her, we were able to find the source of her claim about CNN.
Two years ago, Yousef Munayyer, executive director of The Jerusalem Fund and The Palestine Center, reviewed transcripts of CNN's coverage of Gaza fighting from Nov. 14, 2012, when Hamas military commander Ahmed Jabari was killed in an Israeli airstrike, until Nov. 21, 2012, the day a cease-fire was announced.
During that week, he found officials from Israel appeared on the network 45 times, compared to five appearances by Hamas officials and 20 combined appearances of spokespersons for the Palestine Liberation Organization, Palestinian Legislative Council and Hamas.
Munayyer revived the media watching to document the current crisis, and on July 10, Munayyer tweeted new observations of CNN. Munayyer again relied on available transcripts of CNN programming.
In @CNN coverage of Israel/Palestine since 6/29 they have had 35 guests on the topic this is how they break down (1/2)

— Yousef Munayyer (@YousefMunayyer) July 11, 2014
17 Israeli officials 4 Israel lay persons 1 Palestinian official 4 Palestinian lay persons 8 Unaffiliated 6 Michael Oren appearances (2/2)

— Yousef Munayyer (@YousefMunayyer) July 11, 2014
In an interview with PunditFact, Munayyer said the exercise shows CNN alarmingly favored Israeli perspectives. Munayyer said a more thorough analysis will be done whenever the conflict ends.
Munayyer started analyzing coverage to coincide with the discovery of the bodies of three missing Israeli teens in the West Bank on June 30. (The boys had been missing since June 12, the tipping point of the conflict. And Israeli Prime Minister Benjamin Netanyahu announced June 15 that Hamas was responsible "for a fact.") On July 2, a retaliatory killing of a Palestinian teen escalated the fighting. Four days later, the beating of an American-Palestinian teen by Israeli police made the U.S. airwaves. On July 8, the Israelis launched an official offensive operation known as "Protective Edge." When Munayyer tweeted on July 10, the death toll in Gaza had reached at least 78.
Who did Munayyer count? For starters, he was looking at appearances, not individual guests.
He counted Israel's ambassador to the United States, Ron Dermer, as six Israeli officials because he gave six interviews. Mark Regev, spokesman for the Israeli Prime Minister's office, was also counted six times. Israel Defense Forces spokesman Peter Lerner was counted twice and Prime Minister Benjamin Netanyahu was counted once. President Shimon Peres was counted twice, bringing Munayyer's tally to 17 appearances from Israeli officials. (However, Munayyer told us he counted two more appearances from Peres on July 10, the same day as his tweet, upping the total for that period to 19. He says he thinks he sent the tweet without "closing out" the July 10 appearances.)
Former Israeli ambassador Michael Oren got his own category in Munayyer's tally because he is now CNN's Middle East analyst.
Conversely, Munayyer counted just one Palestinian official, -- Palestinian Ambassador Maen Areikat, though there were other Palestinian "lay persons" invited as CNN guests, including lawyers for the Tampa teen beaten up by Israeli police, and Muyanner himself.
Munayyer told us he focused on CNN because it's more mainstream than MSNBC and Fox News and typically throws more resources on the ground to cover international crises. His team reviewed transcripts for every hour of news coverage to see who was invited to weigh in. He excluded interviews within correspondent's reports, looking instead for pundits and analysts asked to provide their take of the situation by phone or in-studio.
"The question we're trying to ask is, who is CNN trying to give a platform on this issue, and is it done in a balanced way?" Munayyer said. "My hunch is there's going to be slight improvement over 2012, but there's still a lot of work to do to get towards parity."
In the interview with Jebreal, Hayes argued one reason for the uneven coverage is the difficulty of booking a spokesperson for the militant group firing rockets into Israel, Hamas. Still, Munayyer told us, "that doesn't mean there aren't Palestinian voices who can speak to the situation on the ground from an informed Palestinian perspective that would provide a greater sense of balance to all of the Israeli perspectives that are there."
In a statement, CNN said, "Our team of correspondents, anchors and contributors have been reporting live from the Mideast fairly across all our platforms. Our reporting represents all sides (Israeli, Palestinian and Hamas) daily. We're comfortable with the Palestinian voices we have included from Gaza, Qatar, Washington, D.C., and New York when supplemented with our countless live reports from Gaza with three correspondents on the ground."
Our own tally
We set out to match up Munayyer's preliminary analysis with our own, using a computer program we subscribe to called Critical Mention. The program allows us to search video going back 30 days for all major news networks, and it allows us to search using the closed captioning transcript.
We scanned the network's discussion of Israel, Gaza and Palestine from June 29 to July 10, the same window as Munayyer.
Our findings suggest Munayyer undercounted the number of Palestinian officials CNN had on air.
The following breakdown somewhat mirrors the categories Munayyer outlined, which do not include voices from correspondents' news packages. There is no perfect way to do this, however, as it's awkward to classify appearances by people with neutral titles and biased commentary and vice versa.
With that note, here's what we found (and here's a link to our chart of who appeared when):
20 appearances by Israeli public officials (four of these were replays);

2 appearances by Israeli laymen;

5 appearances by Palestinian officials;

11 appearances by Palestinian laymen, including Munayyer himself;

6 appearances by Michael Oren.
While Munayyer found one appearance by a Palestinian official, we found five. Four were by Palestinian Ambassador Maen Areikat, and one was a prerecorded interview with PLO committee member Hanan Ashrawi.
Other "pro-Palestinian" voices included four appearances by Palestinian-American relatives and lawyers commenting on the case of Tariq Abu Khdeir, the Tampa teen beaten by Israeli security.
Former PLO legal adviser and spokesperson Diana Buttu accounts for five "layman" appearances, though one appearance was cut before it began when CNN lost the phone connection. Another former PLO adviser and current Brookings Institution fellow, Khaled Elgindy, appeared once on CNN.
It's also worth noting efforts to incorporate more Palestinian voices that fall outside of the timeline Munayyer and Jebreal talked about, closer to daily news. CNN host Jake Tapper, for example, interviewed Hamas spokesman Ghazi Hamad by phone on July 18.
Seem complicated? It is.
What drives the disparity
Marda Dunsky, a former journalist who teaches at Northwestern University's Medill School and author of Pens and Swords: How the American Mainstream Media Report the Israeli-Palestinian Conflict, said the imbalance of Israeli and Palestinian news sources in most mainstream coverage is well documented, but it does not necessarily imply a deliberate attempt to mislead.
It's an accessibility issue. The shortage of Palestinian voices is more often a symptom of two very different warring societies, she said.
"The Israeli government has people in many different branches who are trained specifically to speak to the media," she said. "The Palestinian government is not as well developed, and as a result it lacks the same depth of field when it comes to official sources."
Buttu, the former PLO spokeswoman and legal adviser, told us in an interview that her CNN appearances are a "drop in the bucket" compared to Michael Oren, the network's on-hand Middle East analyst and former Israeli ambassador to the United States.
"No matter what any Palestinian commentator says on the show, at the end of the day they always have Michael Oren," she said. "That's quite problematic. Can you imagine if a former Palestinian ambassador of the United States served as a commentator on Fox, don't you think they would be up in arms in that? It's accepted as commonplace at CNN."
Buttu's bigger issue is with the style of questions directed at Palestinian guests, and that she is often asked about the official Palestinian position even though she has not been an official for years.
Another thing to remember: Both sides point to bias in reporting. Countering Munayyer's media-monitoring group are U.S.- and Israel-based organizations such as the Committee for Accuracy in Middle East Reporting in America (CAMERA) and HonestReporting.
Our ruling
Jebreal said, on CNN "this time around, you have, between June 30 and July 10, you had 17 Israeli public officials vs. one" Palestinian public official.
She is referencing a preliminary tally of Israeli and Palestinian officials' voices during that time by a pro-Palestinian media watcher. Our tally confirms there was a disparity, but it was not quite as lopsided as Jebreal said. We found 20 appearances by Israeli public officials on CNN compared to 5 appearances by Palestinian officials.
Also, the tally is measuring appearances, not the number of officials from each side who appeared. And it's worth noting that any look at the media coverage is incomplete because the story is continuing to unfold.
Because of those caveats, we rate Jebreal's claim Half True.
Interview with Yousef Munayyer, executive director of The Jerusalem Fund and The Palestine Center, July 23, 2014
Interview with Diana Buttu, July 24, 2014
Interview with Marda Dunsky, Northwestern University journalism professor and author, July 23, 2014
Yousef Munayyer tweets on July 10, part one and two
The Jerusalem Fund, "Cable news nonsense: How the Gaza attacks were covered," Nov. 28, 2012
Email interview with Juan Cole, University of Michigan professor, July 23, 2014
Daily Beast author page, Rula Jebreal, 2011 to 2014
The New York Times, One Turbulent World Readied Her for Another, Mar. 23, 2011
Critical Mention searches of CNN programming, July 23-24, 2014
Google chart showing Israeli and Palestinian voices on CNN, July 24, 2014
Browse the Truth-O-Meter
More by Linda Qiu
Support independent fact-checking.
Become a member!
In a world of wild talk and fake news, help us stand up for the facts.