Stand up for the facts!
Our only agenda is to publish the truth so you can be an informed participant in democracy.
We need your help.
I would like to contribute
"The Obama Administration agreed to take thousands of illegal immigrants from Australia."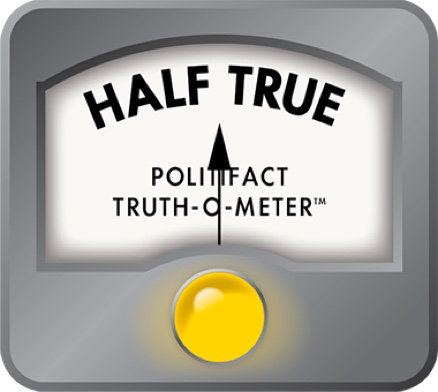 Trump claims Obama made deal to take thousands of illegal immigrants from Australia
Did Donald Trump really hang up on the Australian prime minister?
That's what a Washington Post report based on anonymous sources says.
Reportedly, the heated Jan. 28 exchange was about a refugee agreement between the United States and Australia, countries that are usually close allies.
We can't know how the call really went down, but a few days later, Trump slammed the agreement publicly on Twitter.
"Do you believe it? The Obama Administration agreed to take thousands of illegal immigrants from Australia. Why? I will study this dumb deal!" Trump tweeted Feb. 1.
Trump's tweet mischaracterizes the deal in two ways. First, the deal involves fewer than 2,000 people. That's not "thousands." Second, the individuals would not come to the United States illegally, but through the legal refugee program.
Background on the Australian deal
Australia has a strict policy against illegal maritime arrivals. The country has intercepted migrants at sea and sent them to regional processing centers on Pacific islands away from Australia, specifically Nauru and Manus. (Manus is part of Papua New Guinea).
Instances of abuse have been reported at the centers, with the United Nations calling for the closure of the Nauru facilities after claims of "violence, sexual assault, degrading treatment and self-harm."
Papua New Guinea's Supreme Court in April 2016 ruled that detaining refugees at the Manus facility was illegal, because they had not willfully entered the island. Australian officials said in August they would close the Manus facility but still would not accept the detainees into their country.
Australian Prime Minister Malcolm Turnbull said in November 2016 that his government reached an agreement with the United States for the resettlement of refugees held in its regional processing centers. Most of those refugees are from Iran, Iraq and Somalia.
The centers held 1,254 individuals — not "thousands" as Trump said — as of a November 2016 immigration detention report.
"The priority under this arrangement will be for resettlement of those who are most vulnerable, namely women, children and families," Turnbull said in a statement.
He also said the United States would assess the refugees and decide which ones would be resettled in America. He said the United Nations High Commissioner for Refugees was supporting the arrangement.
Worldwide, the United States accepted 84,994 refugees in fiscal year 2016 (Oct. 1, 2015-Sept. 30, 2016) out of a cap of 85,000, according to data from the State Department's Refugee Processing Center.
Obama's administration last year said it would raise the refugee admission ceiling to 110,000 in fiscal year 2017. But in his Jan. 27 executive order, Trump said the entry of more than 50,000 refugees in fiscal 2017 "would be detrimental to the interests of the United States, and thus suspend any such entry until such time as I determine that additional admissions would be in the national interest."
Up to Jan. 27, the United States had admitted 32,125 refugees.
After extensive vetting, refugees arrive legally in the United States and are required by law to apply for a green card one year after their arrival.
The fate of the deal
The U.S.-Australian deal resurfaced after Trump signed an executive order on Jan. 27 temporarily halting the refugee admission program and the admission of nationals from seven countries -- Iraq, Syria, Iran, Sudan, Libya, Somalia and Yemen -- flagged by the Obama administration as terrorist hotbeds.
The White House's official readout of the next day's phone call simply states, "Both leaders emphasized the enduring strength and closeness of the U.S.-Australia relationship that is critical for peace, stability, and prosperity in the Asia-Pacific region and globally."
Turnbull told reporters on Jan. 30 that he and Trump had a "constructive" conversation, adding, "We also discussed the resettlement arrangement of refugees from Nauru and Manus, which had been entered into with the previous administration, and I thank President Trump for his commitment to honour that existing agreement."
The White House has given conflicting signals about the fate of the deal.
Sean Spicer, Trump's press secretary, said during a Jan. 31 press briefing that the deal to take in 1,250 refugees would go on, applying extreme vetting to potential arrivals as was agreed in the deal.
The day after Trump's tweet, Turnbull told the Wall Street Journal that Australia was still negotiating refugee agreements with other governments, but couldn't accept them given its laws banning the resettlement of asylum seekers coming by boat.
"Our expectation naturally, given the commitments that have been made, is that it will go ahead," Turnbull said. "The only option that isn't available to (the refugees) is bringing them to Australia for the obvious reasons that that would provide a signal to the people smugglers to get back into business."
Spicer, at a press briefing Feb. 2, said the president was "unbelievably disappointed" by the "horrible deal" cut by the Obama administration, but said the process would continue under "extreme vetting" conditions.
Given his opposition to the deal, Trump would be able to walk back on it, as it appears to be an executive-to-executive agreement, said Stephen W. Yale-Loehr, an immigration law professor at Cornell Law School. "The new U.S. executive could back away from what Obama agreed to," Yale-Loehr said.
Our ruling
Trump tweeted, "The Obama Administration agreed to take thousands of illegal immigrants from Australia."
Trump's referring to a deal for the United States to take in 1,250 people -- mostly from Iran, Iraq and Somalia -- held by Australia in offshore detention centers. The detainees were caught at sea by Australian officials as they tried to illegally land on the island.
The United States is expected to vet the individuals and determine who will be accepted as refugees. Refugees arrive in the United States legally.
Trump's claim is partially accurate but leaves out important details. We rate it Half True.
https://www.sharethefacts.co/share/e3995915-11af-4036-a175-903c2c7a4786
Twitter, @realDonaldTrump tweet, Feb. 1, 2017
Washington Post, 'This was the worst call by far': Trump badgered, bragged and abruptly ended phone call with Australian leader, Feb. 2, 2017
The Guardian, Sean Spicer confirms US will take up to 1,250 refugees from Australia – video, Jan. 31, 2017
Australian government, November 2016 immigration detention report
Australian government, Refugee resettlement from regional processing centers, Nov. 13, 2016
Australian Broadcasting Corp., Refugee deal with US in doubt amid conflicting claims from White House and State Department, Feb. 1, 2017
Reuters, U.S. to apply 'extreme vetting' in refugee swap deal with Australia, Jan. 31, 2017
PolitiFact, Wrong: Donald Trump says there's 'no system to vet' refugees, June 13, 2016
Email interview, Stephen W. Yale-Loehr, an immigration law professor at Cornell Law School, Feb. 2, 2017
United Nations, Australia and Nauru must end offshore detention; investigate claims of abuse – UN rights office, Aug. 12, 2016
The New York Times, Papua New Guinea Finds Australian Offshore Detention Center Illegal, April 26, 2016
The New York Times, Australia Will Close Detention Center on Manus Island, but Still Won't Accept Asylum Seekers, Aug. 17, 2016
BBC, US-Australia refugee deal: Trump in 'worst call' with Turnbull, Feb. 2, 2017
Refugee Processing Centers, Admissions & Arrivals
Browse the Truth-O-Meter
More by Linda Qiu
Support independent fact-checking.
Become a member!
In a world of wild talk and fake news, help us stand up for the facts.