Stand up for the facts!
Our only agenda is to publish the truth so you can be an informed participant in democracy.
We need your help.
I would like to contribute
Says Jason Carter has "gotten David Axelrod to come down and be his campaign advisor."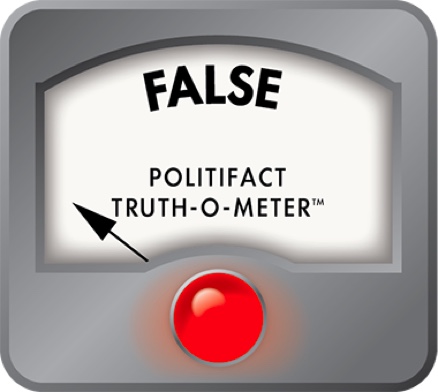 Deal wrong, Axelrod not working for Carter
Gov. Nathan Deal was on radio recently to address allegations that two of his aides pressured the director of the state ethics commission to settle cases against his campaign.
WSB radio's Erick Erickson asked the governor what he thought of Democratic opponent Jason Carter's call for an independent investigation.
Deal said it wasn't surprising "now that Carter has gotten David Axelrod to come down and be his campaign advisor."
Axelrod, a longtime political strategist, is closely tied to President Barack Obama. He was campaign manager when Obama won the presidency in 2008 and followed Obama to Washington to serve as White House senior advisor. He left the administration in 2011 to become senior strategist for Obama's successful 2012 re-election campaign.
Deal is hardly the first candidate in this year's elections to try to link an opponent to Obama, who has a low 42-percent job approval rating nationally, worse in Georgia.
In the state's GOP Senate race, for example, U.S. Rep. Jack Kingston tried to tar opponent David Perdue by pointing out that a company with Perdue on its board of directors had accepted money from Obama's stimulus program. Perdue, meanwhile, attacked Kingston for voting to put money into president's Cash for Clunkers program.
But in this case, Deal got it wrong.
Axelrod isn't working on Carter's campaign. He's running the Institute of Politics at the University of Chicago.
But AKPD Message and Media, a political consulting firm that Axelrod founded and sold in 2009, is working for Carter, a two-term state senator and the grandson of former President Jimmy Carter who was born in Georgia but grew up outside of Chicago.
AKPD is doing media consulting for Carter's campaign for governor and, as of the last disclosure reports, had been paid $67,908. The Chicago firm boasts of a successful track record for Democratic candidates.
Jen Talaber, spokeswoman for Deal's re-election bid, said the campaign wasn't aware Axelrod had sold the firm five years ago. It was an "honest mistake," she said an email.
But Talaber said the governor's underlying point still stands.
"Carter's campaign team and consultants are Obama insiders, and his national fundraising list shows the Obama brain trust is in full force," she said.
Bryan Thomas, communications director for the Carter campaign, said Deal's claim about Axelrod "was no slip of the tongue.
"Gov. Deal will do anything he can to distract from his ethical quagmire, including lie about his opponent," Thomas said. "It's not surprising that a governor who plays it so loose with the laws is playing loose with truth, too."
Earlier this month, The Atlanta Journal-Constitution obtained a memo in which Holly LaBerge, head of the state ethics commission, said she was threatened and pressured by Deal's office in 2012 to "make (ethics) complaints" against the governor "go away."
The complaints included claims Deal improperly paid for use of a private aircraft for campaign travel and questioned his use of campaign funds to pay legal fees during his 2010 campaign.
The ethics commission wound up dismissing the major complaints against Deal. He agreed to pay $3,350 in fees for technical defects to his campaign disclosures.
Now, the Deal campaign isn't the only one spreading word of an Axelrod connection.
The Georgia Republican Party has a web page on "Chicago liberals," with images of Carter, Axelrod and Obama.
It states: "Sadly, Chicago-style politics have come to Georgia. Atlanta liberal Jason Carter has hired Barack Obama's trusted ally, David Axelrod."
It goes on to say: "Liberals know they can't hit Gov. Deal on jobs, the economy, or education. So they've resorted to attacking Gov. Deal's character … Tell Jason Carter, Barack Obama, and David Axelrod we don't need Chicago liberals running around Georgia attacking our conservative values.
AKPD's website touts the firm's founding by Axelrod and has a quote from him on its homepage.
We reached out to firm executives just to ask point blank if Axelrod were in someway connected to them or the Carter campaign.
We heard back from Isaac Baker, a partner in the firm,  who said Axelrod "does not work for our firm" and "is not involved in any way in the Jason Carter campaign."
To summarize, David Axelrod is not working as a campaign advisor to Jason Carter. But the firm he founded and sold five years ago is.
Talaber, Deal's campaign spokeswoman, said the governor made an "honest mistake" when he said in a radio interview that Axelrod was working for Carter. But she said the underlying point still stands -- that Carter's campaign team and consultants are "Obama insiders."
That doesn't change the fact that the governor was incorrect in saying that Jason Carter has "gotten David Axelrod to come down and be his campaign advisor."
We rate Deal's statement as False.
Deal interview on Political Insider blog, July 17, 2014. To hear the governor's comment on Axelrod go to third audio clip, 7:35 mark.
Institute of Politics, University of Chicago
Georgia Republican Party website claim on Axelrod
Emails with Jen Talaber, Deal campaign spokeswoman.
Interview with Bryan Thomas, communications director for Carter for Governor
Email with Larry Sabato, director of the Center for Politics, University of Virginia
Isaac Baker, partner in AKPD Message and Media in a phone voicemail
Campaign disclosure reports for Jason Carter
"Millions for Axelrod in Sale of Firm," Politico, April 6, 2009
Browse the Truth-O-Meter
More by Nancy Badertscher
Support independent fact-checking.
Become a member!
In a world of wild talk and fake news, help us stand up for the facts.